6 Best Apartments in Riomaggiore: Affordable Places to Stay - Airbnbs & VRBO's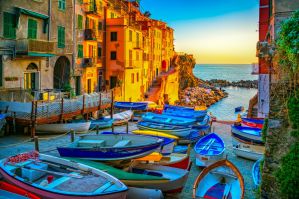 Riomaggiore is considered one of the more scenic of the five towns that make up the Cinque Terre, as it's main street is lined with colorful houses that spill down the steep mountainside into the clear blue water. It's no surprise that this town is so popular with visitors.
If you're looking for an affordable place to stay in Riomaggiore, look no further. This town has plenty of places to stay in the form of apartments for rent. As the town is made up mostly of private homes, apartments and small houses really are the best way to stay in this town, and the most affordable, too.
The Best of Riomaggiore's VRBO's, Apartments & Places to Stay
Contents: Riomaggiore Apartment with Beautiful Views | Arancio Apartment | Riomaggiore Vacation House with Terrace | Casa Dena | Cinque Terre D'Amare | Verdementa Apartment
Riomaggiore
,
Liguria
Italy
This beautiful sea view apartment is just a short walk from the train station. The windows offer sweeping views of the blue water. The apartment is beautifully maintained and it's central to everything the town has to offer. While it's close to the train station, there are a number of steep steps that can be tricky to navigate with luggage. It's well worth the effort though.
Riomaggiore
,
Liguria
Italy
This charming apartment is perfect for couples. It has a balcony that looks out on both the sea and the town. It's the perfect place to enjoy a morning cup of coffee or watch the sunset with a glass of wine. The furnishings are nice and the apartment is beautifully maintained. It's also just a short walk from the beach and central to everything you might need in town.
Riomaggiore
,
Liguria
Italy
With room for a small family, this beautiful 1 bedroom home makes a perfect Riomaggiore vacation rental. It's just steps from the beach and it looks out over the port and the historic part of town. The balcony offers a chance to spend time outdoors, enjoy coffee, and soak up the Italian atmosphere.
The house is historic, but the furnishings are modern. There's a kitchen that is perfect for preparing meals. The home is spread out over three floors, giving everyone a bit of privacy.
Conveniently located near everything you need, and not far from the train station, this is a great option in Riomaggiore.
Make sure you also see Hostels in Cinque Terre, Italy for Budget Travellers, Female Travellers, and Groups, The Best Vernazza VRBOs, Monterosso AirBnB's and Places to Stay, Places to Stay in Corniglia, and Places to Stay in Manarola if you're interested in more places to stay in Cinque Terre.
Riomaggiore
,
Liguria
Italy
This beautiful rental property is located away from the tourist crowds and noise of town. It's in the upper village near the Church of San Giovanni, but it's still accessible to great restaurants and anything you might need. It's about a 10 minute walk from the train station.
The house has two bedrooms and space for four people. The views and the large terrace make this property truly unique. You can enjoy meals outside while watching the sunset, and take in the unique views over the town. It's the perfect place to for visitors who want to enjoy Cinque Terre's unique atmosphere without the town's hustle and bustle.
Riomaggiore
,
Liguria
Italy
This is a 2-bedroom, 1-bathroom apartment that is roomy and gorgeous. It can accommodate 4 guests and is perfect for families traveling with kids. It's in a quiet area outside of the center of town and it offers spectacular views of the sea and town below. There's a nice balcony where you can soak up the atmosphere.
You'll find nice furnishings in both bedrooms and everyone can spread out in the living room and dining area, too. The kitchen is convenient, well stocked, and of course has everything you need to cook all of your own meals. There's also a washer and a dryer available, making this a nice option for a longer stay.
Riomaggiore
,
Liguria
Italy
For anyone that wants a fun-filled vacation in Riomaggiore, this 1-bedroom, 1-bathroom apartment is a great vacation rental. It can accommodate 4 people and is perfect for smaller families or couples. There's also a kitchenette.
The apartment is less than a 10 minute walk from the beach and offers beautiful views and a comfortable space. It is right by the main church and is filled with personality and atmosphere.
Some photos are courtesy of VRBO.com.
Share This Article