The Best Corniglia Airbnbs & VRBO's: 7 Affordable Places to Stay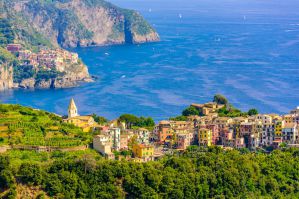 Corniglia sits higher up on a hill than the other towns in the Cinque Terre, so may of the buildings have fantastic views looking out over the sea. As the middle of the five towns, from here you can hike in either direction to reach the others, as you are centrally located. Corniglia is one of the more affordable towns in the park, too, which makes it popular for budget travelers. It also feels a little more quiet. Rest easy, though, as there are still plenty of shops and restaurants in the town for you to explore. So, here's our list of some of the best affordable rental apartments and houses in Corniglia in the Cinque Terre.
The Best Affordable VRBO's & Apartments in Corniglia
Contents: Lady Bug's Nest | The Apartment Stella Marina | Casa Pergola31 | Stone Room Camera | Starfish Room Suite | Landscape Upstairs Apartment - Corniglia | Casa Panorama
Corniglia
,
Vernazza
,
Liguria
Italy
This vacation rental offers two bedrooms and space for up to 4 people. It's a nice option for a couple or a small family. The unit is simple but comfortable at an affordable price. The location is convenient, near restaurants and a grocery store, but it's also tucked away in a quiet setting with breathtaking views.
If you're looking for affordability and convenience, with first class service, then this rental is a great option.
Corniglia
,
Vernazza
,
Liguria
Italy
This two bedroom rental offers plenty of space and all of the conveniences you might need. It's decorated with a charming style and there is space for up to five people, making it a good option for families.
The property is right off the main square near walking trails and everything you might need. It's also in a quiet setting so you can enjoy a good night's sleep.
Corniglia
,
Vernazza
,
Liguria
Italy
This 2 bedroom property can sleep up to 8 people, making it a good option for a family. It offers a true Italian atmosphere and guests really appreciate the rooftop deck with beautiful views. The service is excellent, but it is a bit of a trek from the train station.
Make sure you also see Hostels in Cinque Terre, Italy for Budget Travellers, Female Travellers, and Groups, The Best Vernazza VRBOs, Affordable Apartments in Riomaggiore, Monterosso AirBnB's and Places to Stay, and Places to Stay in Manarola if you're interested in more places to stay in Cinque Terre.
Corniglia
,
Vernazza
,
Liguria
Italy
This beautiful place has impressive views and a stunning setting. It's a 1-bedroom, 1-bathroom apartment with nice furnishings and is a perfect setting for couples. The terrace is the perfect place to enjoy breakfast or a meal, and the location is impressive. It is a bit of a hike from the train station though.
Corniglia
,
Vernazza
,
Liguria
Italy
This beautiful one bedroom apartment has a stunning outdoor terrace that is almost as big as the apartment. The views are truly stunning and the setting can't be beat. You'll end up spending most of your time outdoors, enjoying meals and sunset views from your own private terrace.
There's a kitchenette where you can cook and a comfortable bed as well. The property is about a 13 minute walk from the train station. There's also parking available for guests.
Corniglia
,
Vernazza
,
Liguria
Italy
This beautiful but affordable property is located at the edge of Corniglia near the Panoramic Terrace. It offers stunning views and a simple but comfortable setting that is perfect for couples. If you enjoy hiking, then this location is very convenient. Just a heads up that there are a number of steep stairs to the unit, but this is pretty common throughout Cinque Terre.
Corniglia
,
Vernazza
,
Liguria
Italy
This beautiful vacation rental is located about halfway between Corniglia and Vernazza. It's the perfect location for hikers and the setting is quiet with absolutely stunning views.
There are two well furnished bedrooms as well as a nice outdoor space that lets you take full advantage of this beautiful location.
Some photos are courtesy of VRBO.com.
Share This Article