7 Best Apartments in Riomaggiore: Affordable Places to Stay & AirBnB's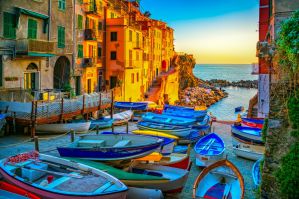 Riomaggiore is considered one of the more scenic of the five towns that make up the Cinque Terre, as it's main street is lined with colorful houses that spill down the steep mountainside into the clear blue water. It's no surprise that this town is so popular with visitors.
If you're looking for an affordable place to stay in Riomaggiore, look no further. This town has plenty of places to stay in the form of apartments for rent. As the town is made up mostly of private homes, apartments and small houses really are the best way to stay in this town, and the most affordable, too.
The Best of Riomaggiore's AirBnB's, Apartments & Places to Stay
Contents: Marina's House | La Casa di Paola | Giovanna dei Rocca | Arancio 1BR | La Casetta Colorata - Blue Baobab | 5 Sensi di Mare - Harbour Apartment | Scirocco a Riomaggiore
This perfect two bedroom apartment can comfortably sleep up to 5 people. As it has been recently renovated, everything is modern and clean. The kitchen and bathroom are both nicely decorated. The balcony is one of the best features of this apartment, but that's not to say that the rest of it is lacking in any way. The main bedroom has a large bed, while the second bedroom has a twin bed which is perfect for a child. Another sofa bed is located in the living room area. The fantastic kitchen has everything you'll need to prepare your own meals if you don't want to venture out into town. Wi-Fi, air conditioning, a TV, and more amenities are also included. Check out the photos and you'll see that this place is perfect for a family, group of friends, or just a couple on a romantic getaway.
This fantastic 2 bedroom apartment has a great little kitchen and a balcony overlooking the main street through the middle of Riomaggiore. Sip your coffee in the mornings as you watch the colorful town come to life. Up to 4 people can sleep here in the 2 bedrooms. One room has a larger bed, while the second bedroom has a single bed, and another sofa-bed is in the living room. Wi-Fi, air conditioning, and a TV are also included. The bathroom is modern and comfortable. The kitchen is also modern and recently renovated. It has a stove, oven, sink, refrigerator, coffee maker, and everything you could need.
With gorgeous sea views, a modern kitchenette, and sleeping space for up to 3 people, this is the perfect room for a couple or a small family with one child. The location is perfect, as it overlooks the harbor and the main street of the town. Just like the room itself, the bathroom is also modern and clean.
For more ideas about places to stay in Cinque Terre, you might also be interested in Hostels in Cinque Terre, Italy for Budget Travellers, Female Travellers, and Groups, The Best Vernazza AirBnBs, Monterosso AirBnB's and Places to Stay, Places to Stay in Corniglia, and Places to Stay in Manarola.
This cute one bedroom unit is perfect for a couple, as it has beautiful sea views and a nice little balcony. The bedroom is modern and has everything you'd need. The room also has a microwave and a small refrigerator, which is great if you bring back leftovers from one of the many fantastic restaurants in the town. With a central location, you'll be steps to everything in town here.
This great 2 bedroom apartment can house up to 6 guests. The first bedroom has a queen bed, while the other bedroom has a double bed, and a sofa-bed is located in the living room. The fully stocked kitchen lets you cook your own meals. The bathroom is clean and comfortable, too. This apartment also has wi-fi, air conditioning, and other amenities to make your stay comfortable. This apartment is perfect for a family, some couples traveling together, or a group of friends looking for the perfect place to stay in Riomaggiore.
This perfectly located and well decorated 2 bedroom apartment is perfect for a couple or for a family. It has a private entrance, so you'll have the place to yourself. The main bedroom has a queen bed, while the other bedroom has two twin beds. The balcony offers great views overlooking the harbor and main street of the town (check out the photos). The authentic kitchen is fully stocked and has everything you need to cook your own meals, including a stove, oven, sink, microwave, and more. The bathroom is spacious, clean, and modern, too. The hosts have gone out of their way here to provide a guide to the city, including restaurants and hiking trails. They also offer tours in their boat.
This small and simple bedroom for rent has a bathroom and is located in a perfect, central location in town. The quaint narrow alleyways lead to this very affordable room that is perfect for a couple on a budget. It has a refrigerator and a water kettle, too.
Some photos are courtesy of airbnb.com.
Share This Article