The Best Vernazza AirBnBs: 8 Affordable Apartments & Places to Stay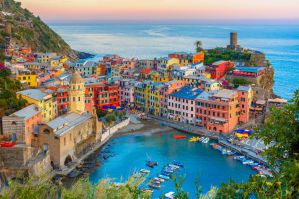 As one of the most scenic towns along the Liguraian coast in Italy, Vernazza sits in the heart of the Cinque Terre. Many visitors to Cinque Terre consider Vernazza to be the most attractive of the five towns, but honestly it's hard to judge as they are all stunningly gorgeous. With the steep vineyard-filled mountains plunging into the sea and the colorful buildings clinging to the shore, Vernazza, and Cinque Terre as a whole are on many travelers' wish lists.
And if you're planning to visit, you should absolutely stay in a private apartment or rent a room from a local. This is mainly because the number of hotels and hostels is limited in all of these towns due to the small size and residential nature of the towns.
So, let's find a place to stay in Vernazza! Here are the best vacation rentals in this beautiful town. Some of them are single rooms for solo travelers or couples on a budget, while others are multi-room apartments large enough for a family. And all of them are reasonably priced.
The Best of Vernazza's AirBnB's, Apartments, & Places to Stay
Contents: Sea View Apartment | La Bloo Studioflat | Gianna Rooms 1BR | Sea View Apartment for 4 | Historic Cozy Room | Tramontana Room | Manuela 2BR Apartment | Central 1BR Apartment
This one bedroom apartment can house up to 4 guests, as the main bedroom has a king bed and it also features sofa-beds in the living room. With a fantastic terrace overlooking the main town square which sits on the little harbor, you'll feel like you live here as you watch the people mill about in the square every morning. The kitchen has a small sink, microwave, and a fridge so that you can have a light meal or snacks, drinks, or leftovers from the fantastic restaurants in town, too. The apartment has free Wi-Fi and air conditioning, too.
This recently renovated studio apartment has plenty of modern amenities and is located near the shore. Perfect for a couple, this romantic place has its own entrance, free Wi-Fi, air conditioning, and a sea view. The bed is large, and the bathroom is modern, clean, and comfortable, too. With a small kitchenette, you can prepare a few simple meals, as it has a small refrigerator, stove, and sink. The light and airy atmosphere of this place is perfect for a romantic getaway and makes a great base to explore the region.
This romantic and charming one bedroom apartment has a private bathroom and plenty of comforts. Climb the winding stairs from the base of the castle to get to this perfect spot overlooking the sea. With a TV, wi-fi, a private bathroom, and more amenities to make your life in Vernazza comfortable, you really can't go wrong here. This is essentially a hotel-room style apartment with easy access to everything in town and the region.
Make sure you also see Hostels in Cinque Terre, Italy for Budget Travellers, Female Travellers, and Groups, Affordable Apartments in Riomaggiore, Monterosso AirBnB's and Places to Stay, Places to Stay in Corniglia, and Places to Stay in Manarola if you're interested in more places to stay in Cinque Terre.
Great for families or those that want more space, this large apartment can house up to 4 people with a queen bed in the single bedroom and a sofa-bed in the living room area. With a large, fully stocked kitchen (stove, oven, refrigerator, sink, microwave, table & chairs), you can cook your own meals after you visit the local markets. This is a great apartment for a family as the rooms are separated and it offers plenty of room. The bathroom is also large enough for everyone. The location can't be beat, as it's right on the main street near the town square. A TV and Wi-Fi are also included.
This is one of the most affordable apartments in Vernazza, and can sleep up to 3 people. It's a one bedroom apartment with room for the 3rd person on the sofa-bed in the living room area. While it does not have a full kitchen, it does have a small refrigerator and a water kettle. The location is perfect, as it's right in the old historic center on the town square of Vernazza. The bathroom is also clean and fully equipped.
Another very affordable option, this large apartment room can sleep up to 3 people in its one bedroom which has a double and a twin bed. This could be a good option for a couple or a family with one child, or perhaps even a small group of friends. The location is near everything in town, too. The bathroom is modern and comfortable, and the room includes air conditioning (hard to find at this price!), wi-fi, and sheets and towels. It does not have a kitchen, partly because it's so affordable. However, you're close to all of the restaurants and market shops.
This fantastic 2 bedroom apartment is located close to the castle in the center of town. With room for up to 4 people, it also has a modern bathroom as well as a full kitchen with a stove, sink, refrigerator, and an oven. (The unit is actually split up between two floors, so it's possible to rent all or only part of it if you like. Inquire with the manager.)
This affordable apartment has been recently renovated. It's a one bedroom unit with a kitchen, and can sleep 3 people, so it's good for a couple or a family with one child. The simple kitchen has a small stove, sink, microwave, and refrigerator. One of the best features is the very large balcony where you'll have plenty of room to admire the surrounding town and watch the people pass by below. For this affordable price you also get air conditioning, wi-fi, a TV, and a modern, clean bathroom with everything you need.
Some photos are courtesy of airbnb.com.
Share This Article