Jordan On a Budget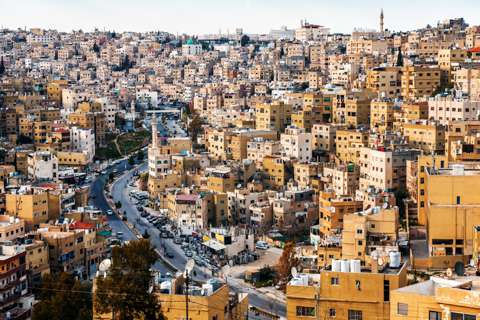 Jordan is located in the Middle East and bordered by Israel, the West Bank, Syria, Iraq & Saudi Arabia. It is most frequently visited for the famed sight of Petra, but there are many natural and cultural destinations that are also worth the trip. Although most visitors come to Jordan as part of a one day organized tour to Petra, traveling through the country independently is quite possible and very worthwhile.
Northern Jordan is the most developed region in the country and it includes the capital city of Amman. Other cities in the area include, Ajlun, a hill town with the ruins of Ajlun Castle, Irbid, which is the second largest metropolitan area in the region, Jerash, which are the largest Roman ruins in the Middle East, and Salt, which was once the country's capital.
King's Highway is a popular destination for visitors. The name comes from the ancient trade route that runs through it. A typical trip to Petra can start in Madaba. You can then visit the canyon of Wadi Mujeb that is 950 meters deep. After crossing the canyon you reach Karak where you can visit a Crusader castle. You can then make your way through the mountains and on to the famed Petra.
At A Glance
Many people travel around Jordan with either public and private buses or a service taxi. Major bus companies include the JETT bus company and Hijazi Company. Minibuses connect many of the smaller towns but service can be irregular and they typically don't leave until they're full. A more convenient, but more expensive option is service taxis. They generally cover the same routes as buses and are white or cream colored. Make sure you negotiate your price before leaving for your destination to ensure there is no confusion.


Most visitors to Jordan actually arrive as part of an organized tour. A large percentage of these visitors are on one day tours from Israel to Petra. Because Jordan's most dramatic scenery is only accessible with a 4x4 vehicle, organized tours are also the most popular option to visit the country's natural beauty. Tours provide a vehicle, driver, and guide who is familiar with the area. You can also hired local guides from the visitor centers at the different eco-nature reserves. The most popular ones are Wadi Rum, Dana Reserve and Iben Hamam.


There are plenty of accommodation options throughout Jordan that accommodate all budgets. In downtown Amman you'll find plenty of cheap 1 and 2 star hotels. 3, 4 and 5 star hotels are plentiful as well, particularly near the major tourist destinations. Do be aware that there are essentially two standards for star ratings. International chains such as the Sheraton and Crowne Plaza are considered 5 star and are typically the highest standard. Local 5 star hotels are closer to 3 star by international standards but their prices are more affordable and your money is more likely to stay in the local community, so take this into account when selecting your hotel.


Food options during Ramadan are greatly reduced. The streets will fill with traffic and a "rush hour" will occur just before sunset.Then the streets will completely empty after the Muslim population reach their houses to break the fast. Shops, malls, and restaurants open later in the evening but your options will be limited during the daytime hours. This is less common around the most popular tourist destinations but very common in Amman.


Renting a car in Jordan is generally easy and affordable (compare prices here). Although the highways are in good shape, the drivers can be quite reckless. You should avoid driving after dark if at all possible. It is not uncommon for drivers to drive in the dark with their headlights off, making the situation even more dangerous.
Related
Looking for a
hostel in Delhi
or
Goa
? Heading to
Kathmandu
or want a
party in Tel Aviv
?
Top Tourist Attractions
Petra:
This is the highlight of a trip to Jordan. Petra is an ancient Nabataean city located in the southern part of the country. It's breathtaking beauty is often experience as part of an organized tour, but it's very easily visited independently as well. There are many hotels for all budgets nearby.
The Dead Sea:
Jordan's Dead Sea is on the eastern coast. It is the lowest point in the world at 394.6 meters below sea level. Visitors enjoy floating in the sea as the buoyancy is quite high due to the high salt content. The coast is a three hour drive from Aqaba.
Wadi Rum:
Known as the Valley of the Moon, this valley is carved into sandstone and granite rock. Located in southern Jordan 60 kilometers east of Aqaba, it has become a major tourist attraction, and is one of the
top things to do in Jordan
. In particular, trekkers and rock-climbers enjoy visiting the area. Camping under the stars is also a wonderful experience.
Popular Foods
Food in Jordan is similar to that found throughout the Middle East. The most common meats are either chicken or lamb and rice is a common staple. Yogurt based sauces are common and many are made very fresh. Nuts are often used to flavor dishes, as are a range of spices, although food is generally not "spicy".
Mansaf:
This is the national dish or Jordan but it is most frequently served during special occasions. It's a large platter that is made with "shraak" (a crepe-like bread) that is layered with mounds of rice and pieces of lamb. The sauce is made with jameed and spices and either almonds or pine nuts are sprinkled on top.
Maklouba:
This dish is often prepared for celebrations and is made with meat, rice and vegetables (
recipe here
). The word literally translates to "upside-down" because the pot with all of these ingredients is flipped upside down to serve it. Vegetables often include fried tomatoes, potatoes, califlower and eggplant. The meat is usually chicken or lamb.
Freeke:
Freeke is an ancient grain that is usually prepared with a meat such as lamb or chicken, nuts, vegetables or a yogurt based sauce.