Amman On a Budget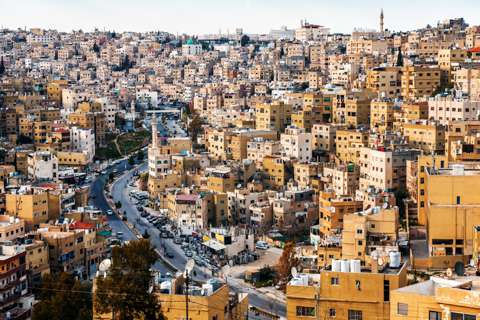 Amman is the largest city in of the Hashemite Kingdom of the country of Jordan. It is also the capital city of Jordan and has a population of over four million people. Many people use Amman as a base for venturing out into the rest of Jordan and other surrounding countries. There are many things to see and do in Amman.
Sights
Amman's Roman Amphitheater is a beautiful and historic sight in the city. Entrance to the theater also gets you access to a folklore and popular culture museum. Another museum that is worth seeing is the new Jordan Museum. It is very close to the city center of Amman and is also free. This museum is interactive with tons of exhibits that involve hands-on exhibits.
There are many buildings to see while visiting Amman. One is the
Citadel
, which is in the center of Amman. Another is the Ummayad Palace, which is actually a part of the citadel. The Temple of Hercules and the Byzantine Church are also historic buildings to see.
Neighborhoods
In general, there are two main regions of Amman. Western Amman is more of a lively and modern part of the city. This area is most likely where travelers would stay during their visit. Eastern Amman is much more residential and is where the working class lives. The newer downtown area of Amman is called Abdali Boulevard, while the old downtown area is called The Balad. Here you can get lost in alleyways and explore the small roads that wind all over the neighborhood. There are tons of markets in this area where you can buy foods and other goods.
Activities
A great activity is to watch the sunset from the viewing point at the Citadel. The view is outstanding and it is even more spectacular if you are there during the time of the muezzin call.
There are tons of places to shop around the city. As mentioned above, The Balad is very popular among tourists. There are not only markets here but also many different coffee shops, cafes, restaurants, spice shops, and tons of street art. Rainbow Street is another place to spend the day. It is a cobblestone street that has many shops and restaurants. Many say that this street has a hint of a European feel.
If you want to get out of the city, one of the best places to
visit is the ancient city of Jerash
. Here you'll find some fantastically preserved ruins and historical reenactments.
Food and Dining
Not only is there a plethora of traditional Middle Eastern restaurant in Amman, there are also tons of places to get Western food and other types of food from around the world.
Traditional Arabic food usually consists of lamb or chicken, rice, flat bread, tomatoes, and cucumbers. Shawarma is a popular dish as well, which is cooked lamb with sauce rolled in flat bread. Falafel and hummus is a traditional snack as well. For the best shawarma in town, Shawermat Reem is apparently the best. It is a street kiosk located in the 2nd circle. Levant is a restaurant that serves gourmet Arabic food that uses fresh ingredients and has an English speaking staff. A great place to grab a sandwich is at Ameer, they have affordable food and it is recommended that you order a "batata", which is a French fry sandwich.
Transportation
Queen Alia International Airport is the airport in town that most travelers arrive at. All foreign visitors must have an entry visa, which can be purchased at the airport upon arrival. The visa costs forty Jordanian dinars. There are money exchange options available before getting to passport control.
To get from this airport to Amman city, the best options are a taxi or the Airport Express Bus. A taxi will cost about twenty Jordanian dinars, while the express bus costs about three Jordanian dinars.
Once in the city of Amman, it can be a little tricky finding your way around the city. There are eight circles (roundabouts) of the city, and they are on Zahran Street and lead to downtown Amman, near the Citadel. Getting around by taxi is a great option; there are yellow and gray taxis that are available all over and can be flagged down from the side of the street. Make sure your taxi has a meter. You can also get around on the buses that run all over the city. Bus No. 26 runs between The Balad and the seventh circle. This is probably the best bus to take if you want to do some site seeing and shopping. Walking is not a great option in Amman. The city is very hilly and has no sidewalks.
Related:
Looking for a
hostel in Delhi
or
Goa
? Heading to
Kathmandu
or want a
party in Tel Aviv
?