When we were asked to join some friends for a guys trip to
Riga
, we didn't know what to expect. Aside from its geographical location and some of its twentieth century history, we knew very little about Riga before agreeing to jump on the opportunity to visit. Traveling to Riga was easy, there are direct flights from most EU airports for reasonable fares. Flights to Riga are especially reasonable in the off-season and increase as summer approaches. While Riga isn't the most popular tourist city in Europe, the volume of visitors increases in the summer months. Shoulder season is perhaps the best time to visit with comfortable weather and lower crowd levels. We travelled there in the winter, and although the weather was cold, the city was busy, energetic and there were a lot of
things to do in Riga
. Once you land in Riga, it's easy to reach the city center by public transportation. A bus ride from the airport will cost about 3L and take 25 minutes, but we opted to take an Uber for 10L and a 15 minute ride. Riga has an abundant supply of taxi cabs, however they have been known to rip off tourists. We had one such experience, but more on that later.
Settling into Riga
From the airport we headed to an Airbnb. While there are plenty of affordable and high quality hotels and
hostels in Riga
, a spacious, multi-room Airbnb was easy to find and even cheaper. For a group trip to Riga, Airbnb lodging is ideal. It gave us more space to share quick meals and drinks and have common space which wouldn't have been possible if we booked hotel rooms. There are some Airbnb options close to the bustle and attractions in Riga's Old Town (Vecriga), but we stayed in the adjacent Central District (Centra). From the neighborhood we selected, the attractions and nightlife of Old Town Riga were a 20 minute walk or 10 minute cab/uber which generally cost about 10 euro.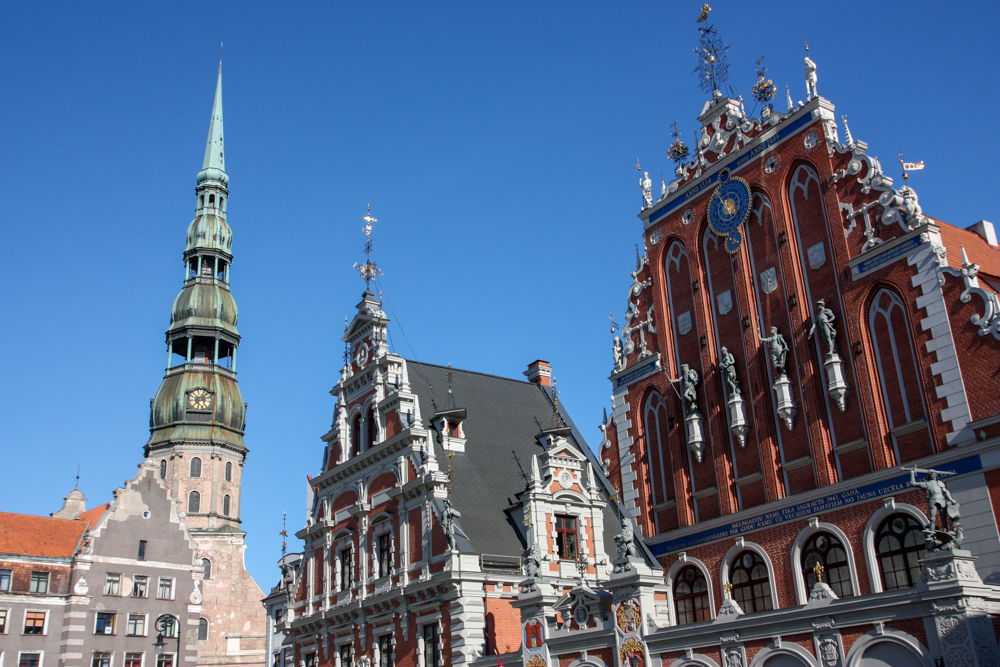 We arrived from Copenhagen on a Thursday evening and didn't have much on our mind besides finding a quick bite to eat and checking out the nightlife. The first thing we did was check in and we showered in shifts while finding a nearby corner market for some snacks and drinks while we got ready. Then it was back in an Uber and we headed out to enjoy some music, pub food and drinks at Restaurant Trompete. It's a lively craft beer taproom with jazz music and late night food. For us, this was the perfect way to kick off the trip and introduce us to Riga's Old Town. The first stroll through the cobblestone streets lined with medieval buildings had us eager to explore the city the next day. With food in our bellies and excitement for the start of our weekend, we made it an early night and headed back to our apartment around midnight. It was easy to get an Uber on a Thursday night and the nightlife seemed to be winding down around the same time as us.
Day 1 in Riga
The idea was to begin our first full day in Riga early. We researched
what to do in Riga
and found a free walking tour with start times at 10:00 am and 12:00 pm. Our intentions were to be to Saint Peter's Church in Riga's Old Town for the early tour, but we underestimated the time it would take to get ready. Since with only one bathroom had a shower, we overshot the 10:00am tour, but this gave us some extra time to explore and find breakfast. We headed to Dome Square on foot and settled on a cafe. This put us 5 minutes from the meeting point for the free tour, Saint Peter's Church. We ate and walked to meet our tour guide and group. The off-season crowd was low and there were only 5 others on the tour with us. Together we walked through the beautiful streets of the Old Town, a UNESCO World Heritage site. On the tour we stopped to photograph the Art Nouveau buildings on Albert Street. It's a gorgeous stretch of buildings built around the turn of the 20th century in the iconic Art Nouveau style, common in Riga. We walked to the Swedish Gate, one of the few original portions of the medieval city's fortified walls. Another highlight was the Three Brothers, the oldest complex of residential dwellings in Riga. The three buildings were all constructed during various stages of Latvian architectural development so it's a unique site to visit. Overall, the tour was great and our guide was perfect and gave great tips on where else to explore on our own. While there were a
number of tours to consider in Riga
, the free walking tour was perfect to give us an overview in a little over an hour.
After the tour, we were ready for lunch so on the advice of our guide, we stopped at Livu Square. It's a beautiful square located in the northern corner of Riga's Old Town. The streets around the square are busy and there are plenty of pubs and restaurants on the side streets. We found a cozy pub with a nice beer list and international food. Our plan was to try traditional Latvian cuisine that evening, so some of us wanted a safe cheeseburger for lunch. After lunch, the group split with some of us visiting the Riga Ghetto and Latvian Holocaust Museum and others returning to the Airbnb. The museum is a short uber ride from the Old Town and we were a little surprised that it's more of an open-air memorial than a museum. We spent about 90 minutes exploring the exhibition before returning to our rented apartment. It included some local artwork, recreations of the type of homes Latvian Jews were forced into and a train that removed them from Riga. The afternoon was somber, but it was important to understand more about the dark history of Riga during World War II and beyond.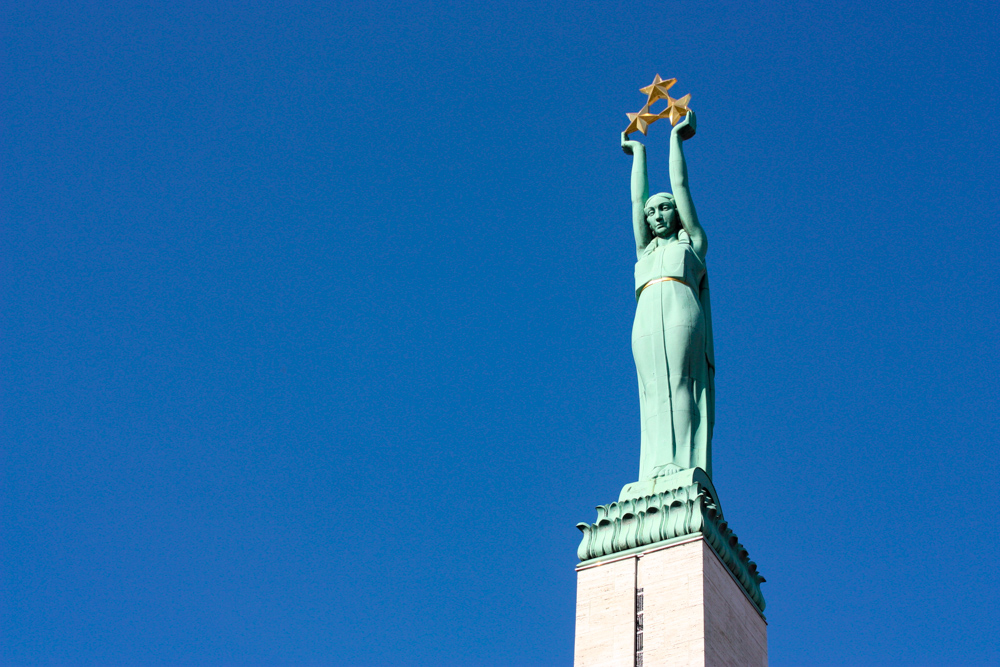 In need of a lighter evening, we met the others and headed to SkyLine bar. It's an awesome rooftop bar located on the 26th floor of the Radisson Blu Hotel and the highest point in Latvia. From our apartment in the Central District, the uber ride was short, but it beat the cold walk. SkyLine was a great place to begin our night out - the views of the city were spectacular. It's very close to the Riga Church of the Nativity Cathedral, a beautiful building from the street level, but stunning from above. The lounge is chic and perfect for groups with large couches and a fun atmosphere. We continued our Friday with a dinner at Restaurant Petergailis, a traditional Latvian restaurant. The meal was hearty and delicious, the food was familiar and the menu was surprisingly robust with a lot of options for less adventurous tastes. We ended our Friday night out bar-hopping in Old Town. We had an unfortunate taxi experience leaving. In the late night hours, we could not find an uber, so we got to cabs to ride home. One of the drivers had a questionable "meter" app on his phone with Cyrillic letters that began accumulating fare at a ridiculous rate. It reached 80 euro by the time we got to our destination and we knew that the normal fare was about 10 euro. We told the driver to call the police or take 20 euro, which he reluctantly accepted. While it was only money, we did feel ripped off and it wasn't a pleasant experience to end a fantastic day.
Day 2 in Riga
Our second full day in Riga took us back into Old Town where we began with the
House of the Blackhead
. It's one of the most photographed buildings in Riga and was built in the 14th century for wealthy, unmarried merchants living in Riga. Today it's ornately decorated and you can tour the grounds for about 5 euro to learn more about Riga's trading history and the guilds that once lived in the building. The catacombs beneath the structure are also fascinating and give you a glimpse into the medieval underground of Riga.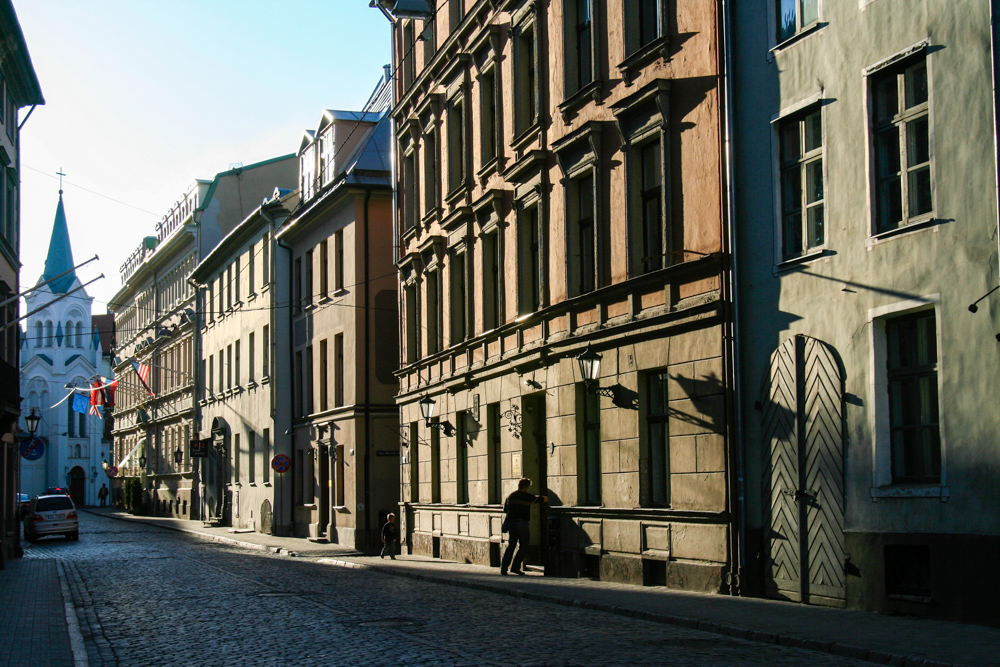 From there we made our way to Saint Peter's Church to ascend to the observation platform. It was nice to have another view of the city from above and to catch it in the daylight. Inside the church was an art exhibition which we could have checked out for an additional fee, but instead we left to get an early lunch. There were plenty of lunch spots in the nearby Town Hall Square but we made out way to the Riga Central Market. It's Europe's largest bazaar and full of fresh produce, local foods and plenty of unique and familiar food options. It was a perfect foodie experience and a great options for groups who can find different food stands to sample.
Our final afternoon, we packed in two great activities. The first was planned the day before as we were walking through Old Town - the
Old Town Archery
. We noticed it after having a few beers at lunch and decided it was better left for the next day. It's located steps from Saint Peter's Church and it's a full archery experience. With a quick lesson you can purchase and fire 12 arrows for 6 euro. We each took a turn and tested our skills. There were families, backpackers and hen parties all enjoying the activity. It's a perfect stop for anyone visiting Riga.
Since we had an early flight the next day, we decided to spend our final evening at the Latvian Sauna. It was refreshing, a cool way to experience Baltic culture and it helped us remove the toxins we may have drank the night before. There are a number of traditional saunas around Riga and most offer a similar experience. Inside the sauna, there is a separate men's and women's' facility. From the locker room, you enter can take a quick shower and have the option to purchase body scrubs and exfoliants. There is a steam room, multiple saunas with different temperatures and a cold plunge pool. There was also a constant filling bucket of water with a rope that you could allow to fill and pull down on yourself. The idea is that you slowly go back and forth from the hot and cold experiences and can make use of the body scrubs and boughs of juniper and other dried herbs to rub on your skin. Overall it was a fun and unique experience to enjoy as a group. Besides the bonding, it was a fun way to relax on our final night in Riga.
When we returned to the apartment, we were all relaxed and went to bed relatively early. The excuse was our early flight, but we logged a lot of steps in Riga, saw a lot of great attractions and ending with the sauna experience had us ready for ready to drift off to sleep. We left Riga with a great appreciation for this vibrant and emerging European city. It may never outshine the most popular capitals of Europe like Paris, Rome and Prague, but Riga earned a special place in our hearts and anyone who visits will realize why it's such a special city.
See also,
photos to inspire your trip to Riga
.