Very good price, few minutes walk from the metro, you get a free drink on arrival to redeem any time of your stay which was a nice touch. - Dylan
What sets them apart?
This is an affordable place to stay in Lyon with basic rooms and a nice restaurant and bar downstairs. The breakfast is good (but a bit expensive) and the beds are comfortable. They're welcoming you at arrival with a non-alcoholic beverage, which is a nice touch.
Hostel Personality
Who's staying here?
This hostel offers a decent place to sleep for an affordable price. The guests are fun but there aren't a lot of places to hang out and socialize so it can be hard to get to know people. There's a wide range of ages and personalities that stay here, which makes for a diverse experience.
Insider Tip
They don't usually let you check in early so try not to arrive too much before check in time.
Ho36 Hostel
Ho36 is a simple and affordable hostel in Lyon that attracts travelers of all ages. The rooms are basic but the beds are comfortable. There's a restaurant and bar on the ground floor that is popular with tourists and locals alike.
If you're looking for a cheap and simple place to crash for a night or two, then this hostel is a good option.
The Facilities
Dorms
There are 68 dorm beds in this hostel and each room sleeps up to eight people on bunk beds. The beds themselves are surprisingly comfortable but the rooms are a little small. There are security drawers for your belongings but you need to bring your own locks. Not all of the drawers are functional so try to grab one that works if you can.
Private Rooms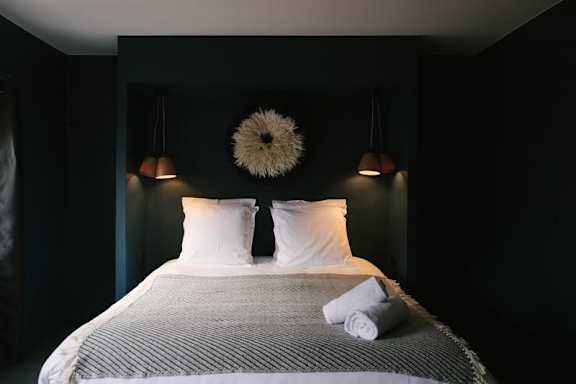 There are also about a dozen private rooms that are quaint with good furnishings. The beds are comfortable and most rooms have small windows to let in some natural light. There are twin and double private rooms as well as a six bed family style room. The twin room has a bunk bed and uses a shared bathroom down the hall. This is the most affordable private room. The double rooms have a double bed and en-suite bathrooms. The family style room has a double bed and two bunk beds. It has two windows that face the street and drawers for your belongings under the bunks.
Bathrooms
The dorms and twin rooms use shared bathrooms while the private rooms have en-suite bathrooms. The bathrooms could use a bit of an upgrade and can be a bit frustrating at times, but the showers are warm and the price is good.
Restaurant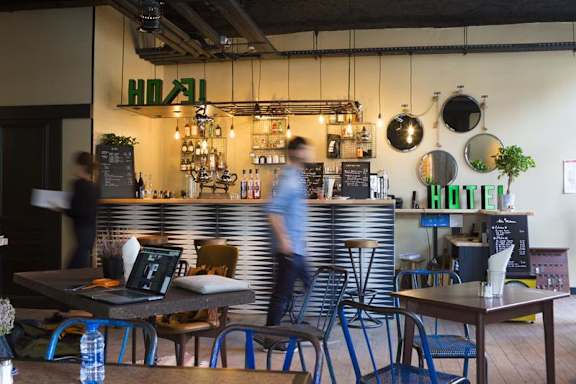 Ho36 Hostel has a restaurant and bar below it that is popular with locals and tourists alike. It serves local dishes that are made with fresh local ingredients, and given that this is Lyon, of course the food is good. It's worth grabbing a bite to eat here. There's also a breakfast buffet in the morning that is a bit expensive but a nice way to start your day.
The Location
La Guillotiere
What's Nearby?
Ho36 Hostel is a little bit outside of central Lyon. It's about a 15 minute walk from Place Bellecour and a little over a mile from Opera National de Lyon and Musee des Beaux-Arts. The surrounding neighborhood has restaurants and bars, but some guests say they don't always feel safe walking alone. The building itself is very secure, though.
Nearby Transportation
Despite being a bit outside of central Lyon, the hostel is very accessible to public transportation. It's just a couple minutes walk from the Guillotiere metro stop which can take to directly to either Part Dieu and Perrache train stations. It's better to take the metro than try to walk from the train station, as some guests have discovered. If you're flying in, the nearest airport is Lyon - Saint Exupery Airport which is 12 miles from the hostel.
Amenities
This hostel has the standard amenities that you'd expect at a small hotel. There's Wi-Fi available, luggage storage, and the reception area is open 24 hours a day. There's a delicious breakfast served in the morning for an additional price and there's also laundry facilities available, which is a nice touch.
Staff
The staff here are generally friendly and welcoming. They keep the atmosphere quiet and homey so you can enjoy a good night's sleep without much disruption. The reception area is open 24 hours a day, so let them know if you have any concerns.
Heads Up
The location and bathrooms seem to be the biggest complaints with this hostel. It's a bit removed from the center of the city, but it is accessible by metro. The bathrooms could be updated as well.
Ho36 Hostel
Do you have a favorite hostel that you would like to review? Let us know!