This is what all hostels should be like! I wish I could have stayed longer. You can really make yourself at home. - Max
What sets them apart?
This hostel is run by a co-operative and they organize regular events for guests. The hostel's cleanliness and friendly staff make it a great option for travellers.
Hostel Personality
Who's staying here?
This hostel is popular with long term travellers as well as people passing through. Some of the guests are slightly older than you find at some hostels (30's and 40's) but the atmosphere is fun and social.
Insider Tip
Request a room on the side opposite the restaurant so the noise won't bother you.
Le Flâneur Guesthouse
Le Flaneur Guesthouse is organized by a co-operative, and each of the staff members cares about the hostel and its guests. They host regular events like concerts, workshops, and language exchanges that bring guests and locals together. The rooms here are clean and comfortable and the location is close to many restaurants and things to see around Lyon. If you're looking to experience an authentic side of Lyon and stay at a social backpacker hostel, then this is the place for you.
The Facilities
Dorms
This hostel has eleven rooms in total. The dorms sleep four, six, ten, twelve, or sixteen people. They're relatively large with comfortable beds. All of the rooms are co-ed with the exception of the 12 bed dorm which is female only. The rooms themselves are relatively basic with bunk beds and a small window.
Private Rooms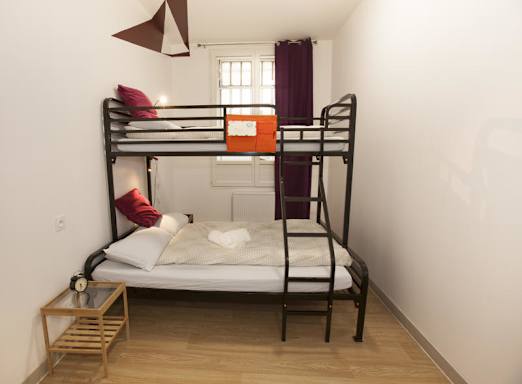 There are also four private rooms available. The rooms sleep between one and four people and you pay by the person (with a base rate of about 45 euros).
Bathrooms
The private rooms have private, attached bathrooms while most of the dorms use shared bathrooms. There is a six person dorm that has it's own private bathroom and the 16 person dorm also has it's own bathroom.
The bathrooms are cleaned regularly and are reliable and good quality.
Bar
There's a small bar at this hostel where you can grab a drink and lounge in the common areas. There always seems to be people hanging around so it's fun to pull up a chair and join the crowd.
Common Areas
This hostel is all about socializing in the common areas. There are several places where guests can hang out inside the hostel with comfortable sofas and eclectic decor. They have board games and musical instruments that guests can use and it's not uncommon for locals to come hang out here and enjoy the events alongside the guests. There are also video games and public computers available that guests can use. The hostel also has a dining area and kitchen where you can prepare your own food.
Outdoor Space
The outside terrace area has a lot of personality and is a good place to hang out when the weather is nice. There are some plants and tables and chairs, and a little bit of shade.
The Location
7th Arr.
What's Nearby?
Le Flaneur Guesthouse is located in an authentic part of Lyon that has kept its rough around the edges personality. The hostel is about fifteen minutes by train from Old Town Lyon and most of the city's top tourist attractions. It's also ten minutes from the Rhone banks.
The the surrounding area you'll find lots of personality. There are restaurants, bars, shops, and cafes just outside of the guesthouse. You'll really feel like you're experience the true Lyon in this neighborhood.
Nearby Transportation
The closest tram stop to the guesthouse is St Andre. There are also several metro stations walking distance to the guesthouse including Saxe-Gambetta and Guillotiere Metro Station. By metro you can reach most of the city's tourist attractions in just fifteen minutes. The guesthouse is also just two metro stops from Perrache and Part-Dieu train and bus stations. Lyon-Saint Exupery Airport is about 12 miles away from the guesthouse.
Activities
This hostel organizes all kinds of events that bring guests and locals together. There are concerts, language lessons, karaoke nights, and all kinds of workshops. There are also impromptu music sessions and movie nights where you can just hang out and chill with a diverse group of travellers.
Amenities
This hostel has all kinds of amenities for guests including Wi-Fi, computers, laundry facilities, and an awesome shared kitchen. There's Playstation available as well as a huge supply of movies and books. The common areas are stocked with anything you might need to feel right at home during your travels.
Staff
This hostel is run by a co-operative, and all of the staff feel personally invested in the experience. They are helpful, friendly, and knowledgeable and you'll enjoy learning all about the city. From the events that they organize to the suggestions for local restaurants, the staff here can't be beat.
Heads Up
Some guests feel the neighborhood is a bit rough and removed from the main touristy parts of Lyon. It can also be loud when there are activities going on and smoke sometimes drifts in from outside.
Le Flâneur Guesthouse
Do you have a favorite hostel that you would like to review? Let us know!