Lyon On a Budget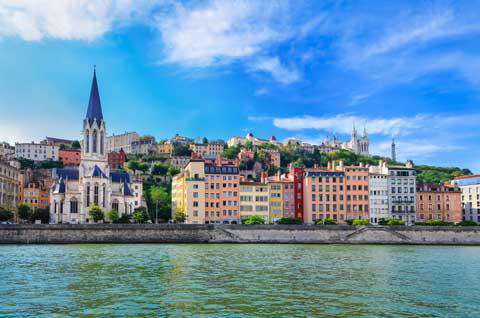 Lyon, located within the region of Southeastern France, is France's third largest city in terms of population, with just over 500,000 inhabitants. This makes the city large, yet still small and personable enough to be explored properly in a short visit. Known as the gastronomic capital of Europe, your culinary needs are exceptionally well catered to here, and for those with historical and cultural interests, you will never be at a loss for new things to do and see.
The climate in Lyon is "semi-continental" meaning its winters are cold and snow occasionally falls. Summers can be hot and temperatures may reach 35 degrees Celsius (95 F). Rain is moderate year around and thunderstorms are common during the summer months. A great time to visit is during the spring or fall when temperatures are cooler and prices are a little lower.
Sights
Lyon is home to a number of stunning attractions from the Roman period, including two incredible amphitheaters, the Amphitheatre des Trois Gaules and the Theatre Gallo-Romain, the latter of which has been used as a modern concert venue, with celebrated artists such as Björk and Florence & The Machine amongst those to have performed there.
Just a short walk from the Theatre Gallo-Romain is the Basilica of Notre-Dame de Fourviere, from which you get perhaps the best views over the city. This spectacular cathedral, completed in 1884, is home to a shrine to the Virgin Mary, to whom Lyon's survival of the Black Plague in the mid 17th century is attributed.
Lyon has a number of beautiful historic squares, including Place des Terreaux, with its beautiful town hall, Place Bellecour, Place Carnot, Place des Jacobins and Place de la Republique. Place Bellecour is Europe's largest fully pedestrianized square, boasting grand statues of King Louis XIV and noted Lyonnais author Antoine de Saint-Exupery, sitting beneath his own creation, the Petit Prince, one of the nation's most beloved fictional characters.
On the site where the Rhone and Saone rivers meet, the Confluence, there is a large, futuristically designed anthropology museum and science center, completed in December 2014, whose four main exhibitions are dedicated to the study of: the origins of life, human interaction with other species, societies, and the meanings of life and death. It is a must see for any visitors to Lyon, even just to see the outside. Entrance costs 9€ per adult, but is free for under-18s. Signage and displays are predominantly in French, but with some English translation.
Parc de la Tete d'Or (or Park of the Golden Head) is a 290-acre park in the 6th arrondissement of Lyon, in the Northeastern part of the city. You could spend a good part of a day here in good weather, sunbathing on the grass, taking in the beauty of the rosary and botanical gardens, and even taking a stroll round the free zoo incorporated into the park, complete with such animals as lions, red pandas and elephants.
Neighborhoods
Lyon has a number of particularly striking neighborhoods. Divided into nine 'arrondissements', each part of the city has its own separate identity, though everything remains distinctly Lyonnais. The geography of the city is affected by the two rivers that run through it, both of which flow north to south. These rivers, the Rhone to the east, and the Saone to the west, divide the city into several neighborhoods, each worth exploring for their own reasons.
The Confluence area, the site of the former port of Lyon, has recently undergone a major restoration program, the largest currently underway in Europe, and aims to become France's first fully sustainable neighborhood.
Vieux Lyon is another of Lyon's most beautiful neighborhoods. Atop the hill at Lyon's westernmost extremity, the area is a UNESCO World Heritage Site, home to stunning Gothic and Romanesque architecture.
The Presqu'ile, incorporating the 1st and 2nd arrondissements, is the section of Lyon between the Rhone and the Saone, in which many of the city's major sites are located. Including the major squares such as Place Bellecour and Place des Terreaux, it is
Croix Rousse, in the 4th arrondissement, is another particularly striking region of Lyon. Known foremost for being the home of the silk workers (or canuts), it is situated in the Northernmost part of the city, atop the hill for which the neighborhood is named.
Activities
The city also plays host to several great festivals including, most famously, the Festival of Lights in December. (More on that below.) There is also the Nuits de Fourviere festival between June and August and Nuits sonores is centered around electronic music and takes place in May.
Other interesting activities in the city include going to the opera, taking in a show, taking in a movie, or enjoying a sporting event such as rugby or football (soccer). Eating French food at local restaurants is also a popular activity (see Food & Dining below.)
Day Trips & Nearby Destinations
Lyon is perfectly located when it comes to taking day trips, especially if you have use of a car. Just 40 kilometers outside of the city (drivable in just over half an hour, but trains are also available) is the fabulous medieval walled village of Perouges, one of the most authentic in France, a great day out for history lovers, as it remains largely untouched since the 15th Century. Guided tours are available in English as well as French, and a host of other languages.
45 minutes away by car is the Parc des Oiseaux (Bird Park), an incredible collection of 3,000 birds, made up of over 300 species from across the globe. The birds (as well as a small collection of animals) are kept in a conservationist way, organized into zones appropriate to the climates in which they would traditionally live, rather than cramped in small enclosures. Guided tours are available of this stunning park, and will often end with a trip to the tower in the middle of the park, which offers panoramic views of the park and its surroundings.
In Lyon, you are within 2 hours' drive or train ride from a number of other stunningly beautiful places, with Lake Annecy a particular highlight, just an hour and a half away. The beautiful lake (especially stunning on clear days) is perfect for taking a boat out, trying out watersports (in summer months only) or even taking a leisurely stroll around the lake, then in the evening, make your way back to the town itself, where you can wander round, soaking up the atmosphere, then have a meal at any one of the town center's excellent restaurants.
Annual Festivals
Fete des Lumieres, or 'festival of lights'
is Lyon's most important festival, over a 4-day period during the second week of December. Originally dedicated to the worship of the Virgin Mary, the festival retains some religious feel, but is now predominantly based around the exceptional quality of the city's computer designers. The festival attracts more than 2 million visitors annually to see the incredible projections displayed across Lyon. Place des Terreaux and the Lyon Cathedral are two of the most spectacular, with stunning displays visible throughout the 4 days.
Following Fete des Lumieres, as Christmas time draws nearer, the area between Place Bellecour and Perrache station is of particular note. Lyon's
Christmas market
pops up in Place Carnot, a terrific huddle of stalls selling their wares including mulled wine, stunning ornaments and ornate chocolate displays. At this time, in Place Bellecour itself, a 60-meter Ferris wheel is installed, and can be enjoyed for just 9€ per person, for a generous length of time aboard. The wheel is dismantled every year in March.
Food and Dining
Known as Europe's gastronomic capital, Lyon is home to many a unique and special dish.
Typical Lyonnais dishes include pike quenelles in a crayfish sauce, salade Lyonnais (a dressed salad served with lardons and egg), and a number of pork and veal-based delicacies, including andouillette (a sausage made with pork and chitterlings), as well as veal's head and its kidneys, which are available from most major supermarkets as well as in a number of restaurants. Black pudding (known here as boudin noir), warm liver cakes (gateau de volailles), served with a tomato sauce, and the French classics of frogs' legs and foie gras are also available throughout the city. Rue Merciere is the city's main foody street, with a number of popular restaurants and bars in which all of these delicacies are commonplace. If not wanting something so fancy, chain restaurants recognizable throughout the world are available here too, including McDonalds, Subway and Steak and Shake. Burgers (available rare at most places in the city) are also available at a number of independent locations, such as Les Frangins (just off Place Bellecour) and Rems (by Perrache).
Lyon is the home of Paul Bocuse, voted 'chef of the century' in 2011, whose image and name adorns many a street and restaurant throughout the city. Indeed, he remains the His primary restaurant,
l'Auberge du Pont de Collonges
, has held three Michelin stars since 1965, which means no restaurant in the world has retained three stars for as long as Bocuse's. He also gave his name to the Halles de Bocuse, a wonderful plethora of market stalls, boutique food retailers and restaurants close to Part-Dieu, where you can buy anything from a sit-down three course meal to individual macarons to the finest cheeses on offer. France is famous for its cheese, wine and meats, and all of these are offered in abundance at Les Halles.
There are plenty of excellent restaurants in Lyon. Most display their menus outside and the prices include service and tap water. You aren't expected to tip unless the service is particularly phenomenal. This is particularly true in the budget restaurants. Like elsewhere in France, you'll typically find the best deal at lunchtime in most restaurants, when there are often "specials" available. Dinner is generally more expensive.
Traditional restaurants in Lyon are called bouchons and arose during the late 19th century and grew during the economic crisis. These restaurants were opened by cooks who had previously worked for wealthy families who could no longer afford to employ them. They serve traditional local dishes such as salade lyonnaise, saucisson chaud, quenelle de brochet, and andouillette.
Because Lyon is considered a food destination, restaurants can get quite crowded and they are usually very small, so reservations are recommended. Ask around for restaurant recommendations, as the locals know the best options.
Nightlife
Lyon has an exceptional nightlife regardless of your age. Most nights here start in Place Antonin Poncet, at either Tony's or Ed's, bars (that double as restaurants during the daytime) with good deals on cocktails, beers and wine. Throughout the city, wine is fairly cheap - you can get a reasonable bottle for 4€ in any major supermarket, and glasses in restaurants or bars should cost you between 3 and 4€. There are a number of popular nightclubs, including Le Sucre (located in the up-and-coming Confluence district), Loft Club (popular for ERASMUS and other student nights out) and Le Petit Salon (not far from Guillotiere). These are predominantly techno clubs, but hold various other events (the latter with an 80s disco evening every month, which is more than worth a visit). Events and tickets are available on the Facebook pages of the nightclubs themselves. Along the banks of the Rhone, there are a number of open-top boats which double up as clubs in the evenings, with Ayers Rock the pick of the bunch.
Shopping
Lyon houses two major shopping centers: Part-Dieu and Confluence. Both are home to many major high-street fashion retailers, including Zara, Pull & Bear, Bershka and H&M (all of which are present in both), as well as other stores such as Apple, Sephora and others, and have plenty of eatery chains. Part-Dieu is often busier, with large, often interactive displays in the center, whilst the Confluence is quieter, with a beautiful modern, semi-open-air layout. Confluence can be easily reached by tram or by car (with a significant multi-story car-park, free for 3 hours if you spend 20 euros in the center), whilst Part-Dieu is served by its own metro station.
For those desiring more high-end fashion, parts of the Presqu'ile are home to a number of important shopping streets. The multi-story Printemps department store (containing designer labels such as Armani, Kenzo and Michael Kors) takes pride of place in Rue de la Republique, whilst Rue du President Edouard Herriot is a street with many designer shops, especially towards its southern end, towards Place Bellecour, with clothing and jewelry shops such as Louis Vuitton, Hermes and Cartier adorning the pavements.
Transportation
Most of the city's attractions are concentrated in the city center, which can be explored on foot. You can walk between Place des Terreaux and Place Bellecour in about 20 minutes. The city's public transit system is very good and most parts of the city can be accessed by metro, at least in the city center, eastern suburbs and university campuses. Stations are usually about a ten minute walk apart. There are four metro lines and trains run every 2 to 10 minutes depending on the line and the time of the day.
Taxis are available but tend to be expensive. They have a good number of extra charges including fees for luggage, more than three passengers, animals, and transport to or from the train station or airport.
Lyon is served by the Antoine de Saint-Exupery Airport, just a 30-minute tram-ride (using the Rhônexpress service) from the city center. The city's main railway station is Lyon-Part-Dieu, a station on the Eurostar line and benefitting excellent links to Paris. On an average weekday, for instance, there are 33 direct trains between Lyon and Paris, a journey that takes between 2 and 3 hours dependent on the line and number of stops en route. A cheaper option for travel to and from Lyon would be the shuttle buses, operated by companies such as Ouibus and Flixbus, that are available between Lyon and the closer major cities such as Paris and Geneva.
Lyon's public transport network is very quick and efficient, with the tickets available from machines across the city ranging from single-journey (at 1,80€) to 72-hour (15€), valid on all TCL (Transport en Commun de Lyon) services. Evening tickets, costing just 3€, are valid for two hours of unlimited travel after 7pm. There are just four interconnected metro lines, A, B, C and D, making travelling around the city quick and easy, as well as the funicular, which takes you from Vieux Lyon up to right outside the Amphitheater and the Basilica. TCL buses are also readily available throughout Lyon, and run until after 9pm. There is also a very efficient tramway, also operated by TCL, which travels to many areas not served by the metro.
If travelling to Lyon by car, there are plenty of paid public car parks throughout the city, close to all the city's major attractions. At some, such as the one located underneath Place Bellecour, you may have to wait a few minutes to get a space, but parking is rarely a problem if you are prepared to pay. As major cities go, the prices are not bad, but still high. To avoid these charges, free park and ride services are available in 21 locations on the city's outskirts, from which you can easily access the city center via the TCL network. To leave these car parks, a valid TCL ticket must be scanned.
The majority of the city is easily walkable, though Vieux Lyon and other westerly parts of the city are better explored using public transport for those less able to walk.
Train and Bus Prices
The best prices for buses and trains in France
can be found on Omio
(formerly
GoEuro
). They let you search across all train, bus, and plane routes throughout the region.