We really enjoyed our stay in Antares hostel. There is a lovely friendly atmosphere and we met some great people. The rooms are cleaned regularly with fresh sheets and towels. It is located very near the station and central Nice so you can get everywhere on foot. Would definitely recommend staying here! - Elsa, England
What sets them apart?
This award winning hostel offers everything a budget traveler could want, including a terrific location in the center of town, comfortable spaces to relax, a great community feel, and organized activities to help you meet up with other travelers.
Hostel Personality
Who's staying here?
Mostly younger budget travelers stay here in the dorms. They also have private rooms for couples or other budget travelers who want the feel of a hostel with more privacy.
Insider Tip
Plenty of bakeries and restaurants are around this hostel if you don't want to eat here.
Antares Hostel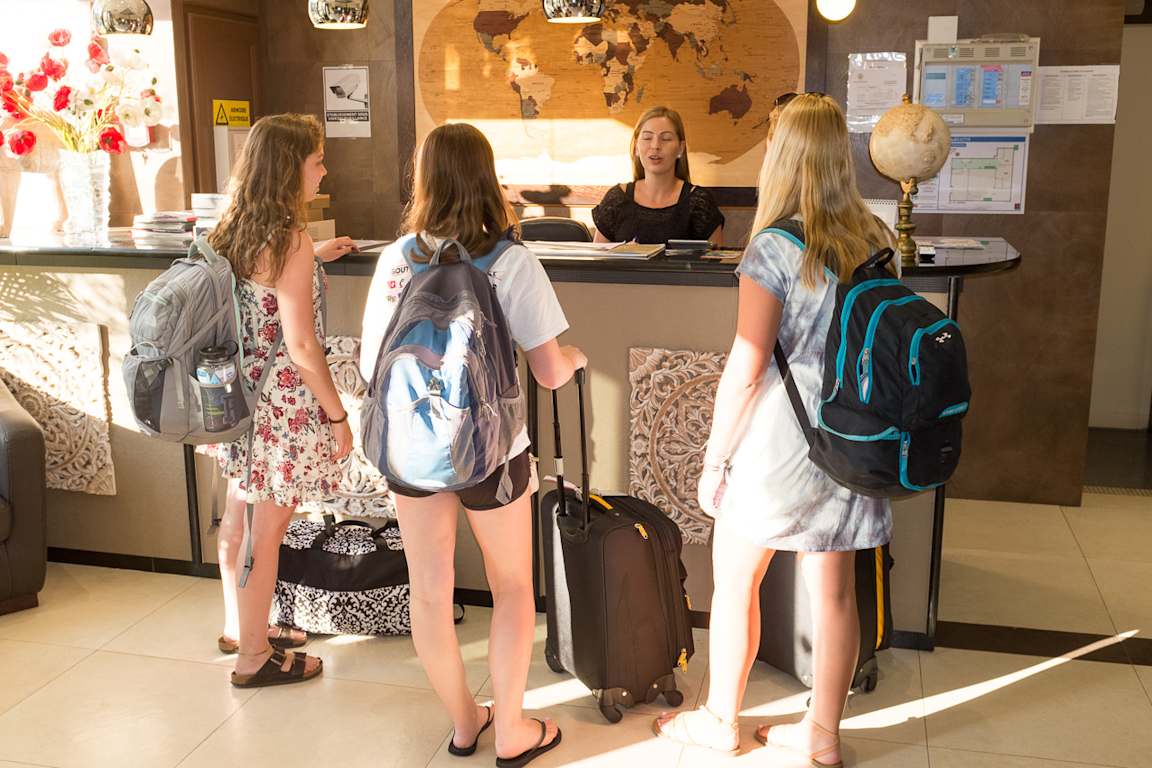 Winning the overall best hostel in Nice award has put this place on the map and showcased how great this hostel is. Located right in the middle of town, not far from the train station, it's easy to get here. You can step out of this hostel and visit the beach or Nice's attractions in a matter of minutes.
The hostel also organizes happy hours and parties so that guests can get to know one another. And with plenty of common areas for relaxing, including a nice outdoor patio, you'll have enough space to either unwind or hang out with the other guests.
The rooms are secure, clean, and have plenty of amenities. They include towels and some basic breakfast options.
The Facilities
Dorms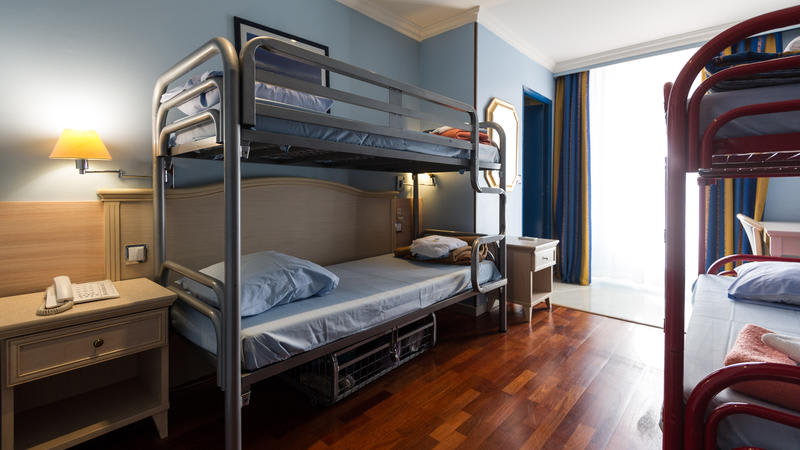 Dorms at the Antares hostel come in a variety of sizes from 4 beds up to 10 beds. Several female-only dorm options are available, too. All of the rooms have ensuite bathrooms, so while you're sharing with others, it's not out in the hallway. The beds are comfortable, and include sheets. Some of the beds have plugs and lights, and plenty of other plugs are available in the rooms, too. The rooms have plenty of natural light due to the large windows, some of which open onto small balconies. There's air conditioning, too.
Keycard access keeps everything secure. Large lockable drawers under the beds make sure your bags stay safe, too.
Private Rooms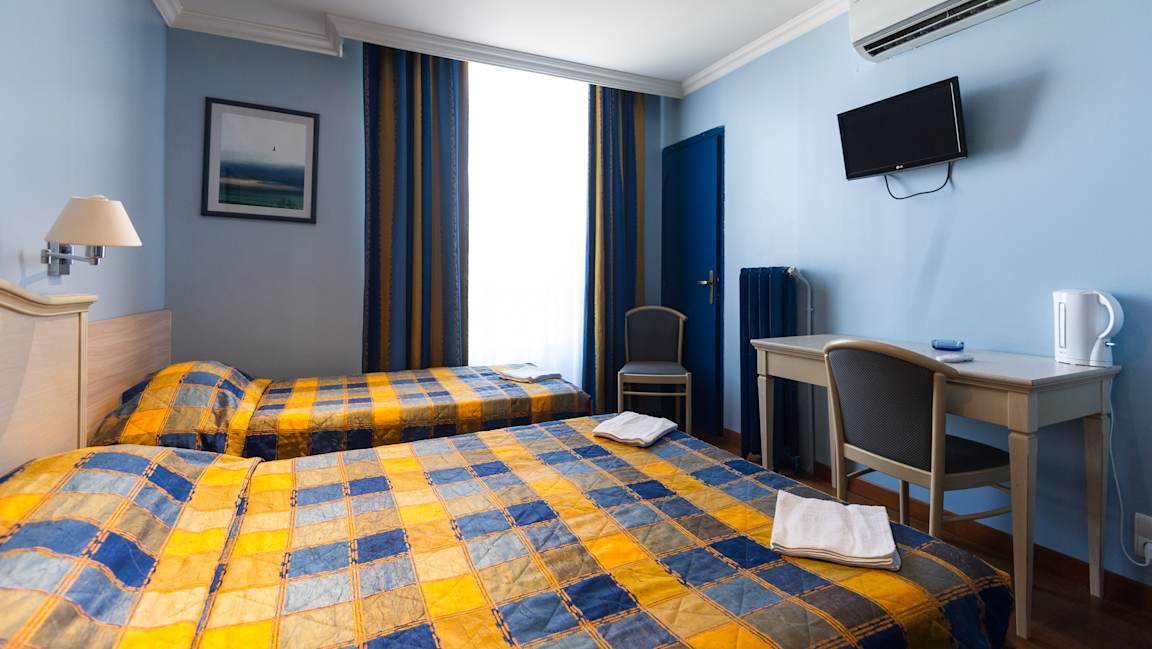 Private rooms at the Antares have the feel of a simple, budget style hotel room. The rooms come in a few different sizes and all have ensuite bathrooms. Double rooms or rooms that sleep 3 or even 4 people can be booked here. With plenty of natural light and typical hotel furniture such as desks and bedside tables, any budget traveler would be happy here. Rooms also have TVs, air conditioning, heat, and more.
Bathrooms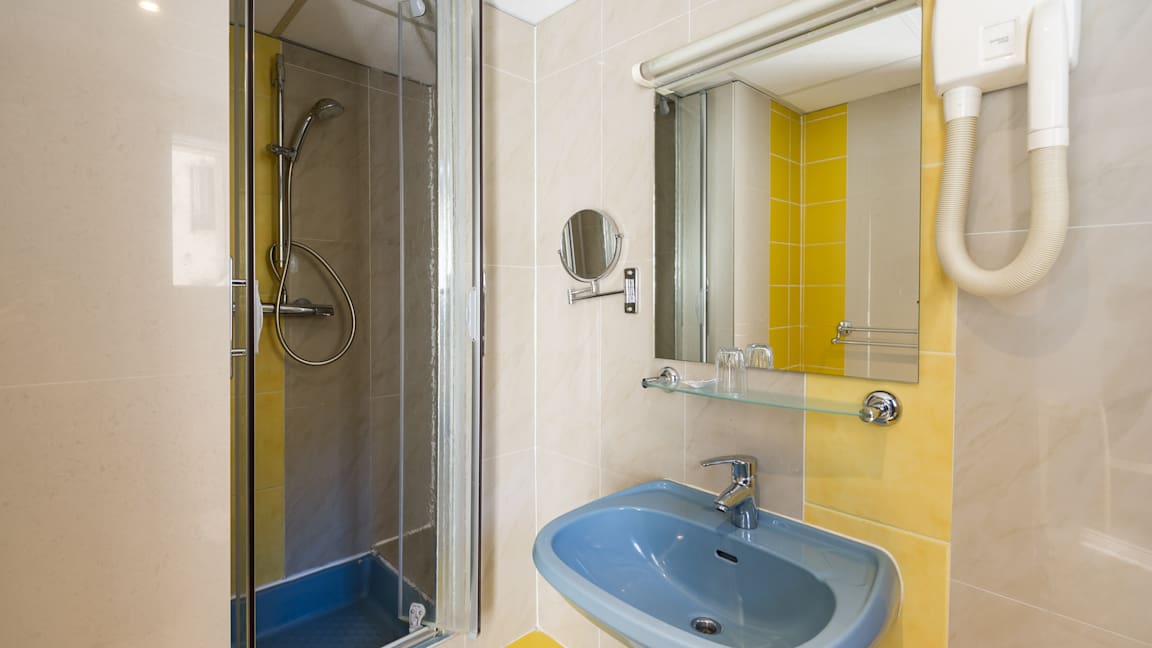 The bathrooms are simple, but modern. The showers have plenty of hot water and good water pressure. Towels are included with the rooms, too.
Bar
While it's not a full-fledged bar, this hostel serves wine during happy hours and parties that it hosts for guests. This makes for a great chance to get to know your fellow travelers at the hostel and leads to a festive and social atmosphere.
Common Areas
The common spaces here are relaxing. The main area is the dining room where many guests eat their breakfast (a small free breakfast is provided). They also have an outdoor patio.
Outdoor Space
The outdoor patio here has cafe-style tables and chairs, and is a great place to enjoy that warm Mediterranean weather while you're in Nice. You can relax with a book or chat with the other guests while you eat or have some wine during happy hours at the hostel.
The Location
Gare de Nice Ville
What's Nearby?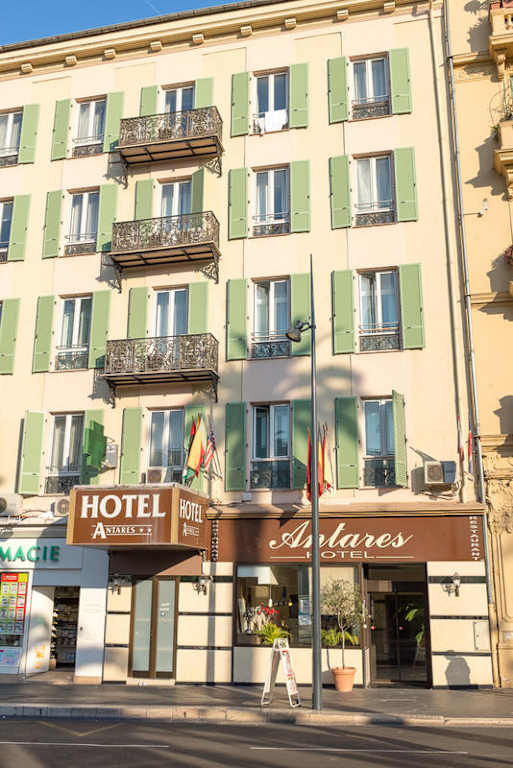 Located near the train station, this hostel is situated within easy reach of everything in Nice. The beach is only 20 minutes away if you walk, or faster with public transit. The modern art museum is only 15 minutes away on foot, and the Promenade is also around 15 minutes away.
Nearby Transportation
The train station is only minutes away from the hostel. The airport is 30 minutes away on public transportation.
If you want to get around town, several bus routes run near the hostel. The most convenient way to get around would be to take the streetcar (or trolley or tram) that runs from the next block over. It heads down the main street towards the Promenade near the beach and gives you access to plenty of restaurants, shops, bars, and other attractions in Nice.
Activities
The hostel staff organizes activities for the guests to get to know one another. They have a happy hour with French wines as well as some parties for guests. These events are a great opportunity to get to know other travelers and plan your time in Nice.
Amenities
Typical hostel amenities can be found here including Wi-Fi, luggage storage, lockers, and more. Perhaps one of the most popular amenities is the kitchen which is a great place to prepare your own meals. They also have air conditioning which is a necessity in the warm climate of southern France.
Staff
The young and friendly staff will help you with all of your needs, and they sometimes hang out with the guests to make sure everyone is having fun. They organize events and keep the hostel running smoothly. If you have any questions about what to do in Nice, they can help you with that, too!
Heads Up
Some guests have said that the kitchen does not get cleaned up very well from the other guests. Otherwise, most guests have very positive things to say about the Antares hostel.
Antares Hostel
Do you have a favorite hostel that you would like to review? Let us know!