What sets them apart?
This hostel seems to have it all. A long list of amenities such as a gym, cafe, and a bar top the list. Plus, they organize plenty of activities for guests such as yoga classes, scuba diving trips, and free walking tours. The location is also fantastic - right in the middle of central Nice and just a few blocks from the beach.
Hostel Personality
Who's staying here?
Mostly younger travelers stay here, although all are welcome. Younger backpackers, solo travelers, students, and couples frequent this hostel often, so it will be easy to meet up with other travelers.
Insider Tip
The bar might get a little noisy, so bring earplugs if you're in a nearby room.
Villa Saint Exupery Beach
This is one of those rare hostels that seems to offer almost every possible amenity that a hostel can offer. From the variety of room types to the long list of activities to the even longer list of features, the Villa Saint Exupery Beach hostel has it all!
They offer a variety of activities for guests from happy hours to free walking tours to organized tours around Nice and elsewhere in southern France.
They have a lively cafe and bar that serves drinks. They also have a gym, sauna, outdoor patio area, TV area, ping pong, and more.
And the location is perfect, too. It's right in the middle of the city, and just a few blocks from the old historic area, the beach, and not far from the train station.
The Facilities
Dorms
Dorms at Villa Saint Exupery Beach hostel come in a variety of sizes so everyone can find their ideal level of comfort and price point. All-female rooms are available. The rooms start at 4 beds and go all the way up to 12 beds. The rooms have bunk beds and lockers that are large enough for bags. Some of the beds have plugs and lights, but not all. Most of the rooms have large windows which let in plenty of natural light, and the rooms are large enough to move around in.
Most of the dorm rooms have ensuite bathrooms. These bathrooms are divided into shower rooms and toilet rooms which is good when everyone is sharing.
Private Rooms
The private rooms here are nicely appointed and have the feel of a budget-style hotel room. They have ensuite bathrooms which are also modern and perfect for the rooms. Various sized private rooms are available including twins, 3-bed rooms, and 4-bed rooms. The larger rooms are good for families, as they have one set of bunks and then twins for the adults. Other furniture such as desks and bed-side tables are also found in the rooms.
Bathrooms
The bathrooms are modern, clean, and comfortable. Most rooms have ensuite bathrooms, but other bathrooms can be found on the hallways for those rooms that don't have their own or if someone needs extra space. Plenty of hot water is available.
Bar
The bar and cafe area serves a variety of drinks such as beer and wine. They have happy hour specials, too. During the high travel season, this area can be very popular and has a party vibe with music and a lively social scene. The cafe also serves up meals (including a cheap breakfast) as well as coffee.
Common Areas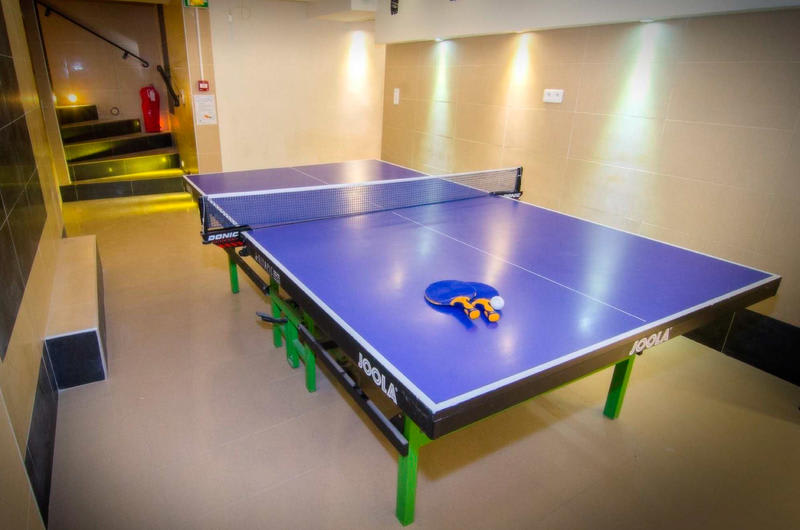 The common areas at Villa Saint Exupery Beach hostel are spacious and comfortable. They have a ping-pong table for your entertainment as well as a TV watching area. The most popular area, though, is the seating area at the cafe and bar, which is usually very popular. In addition to all of this, the gym/fitness center and sauna area are also very popular places to hang out.
The Location
Jean-Medecin
What's Nearby?
Situated right in the middle of central Nice, this hostel has an amazing and convenient location. Just a few blocks from the beach, and right near the Promenade and Massena Square, you're just steps from everything in Nice. The old town area is only 2 blocks away, and the main train station is only a few minutes away on the main tram line, but it can also be reached on foot.
The surrounding neighborhood is full of restaurants, shops, historical monuments, museums, and more.
Nearby Transportation
The tram line is only 1 block away, and can take you from central Nice to the main train station and out into the suburbs. Otherwise, multiple bus lines loop around the city from a bus stop on the same block as the hostel.
Activities
Keeping you busy is definitely on the agenda at this hostel. They offer a variety of activities, starting with their free walking tour of Nice and regular happy hours. They also organize group tours for guests which can be lots of fun and a great way to meet up with other travelers. From scuba and snorkeling tours to sailing, canyoning, and skiing in the winter, they have something for everyone.
Amenities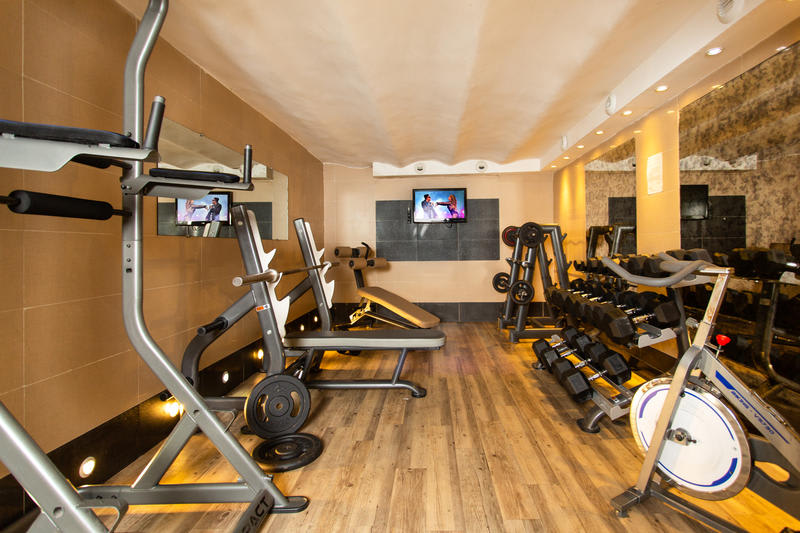 This hostel literally checks all of the boxes. They have a gym, sauna, cafe, TVs, computers, laundry service, bike rental and bike parking, tours, and more. A kitchen renovation in early 2020 means that a brand new kitchen is available for those that want to cook, too. Breakfast is available at the cafe for a small fee, and it includes cereal, toast, yogurt, and other typical breakfast items.
Staff
The friendly staff works hard to keep this hostel running smoothly. They also make sure everything stays clean and safe.
Heads Up
During the high season, some guests say that this hostel can get a little loud at night because many people are looking for a party. If you want somewhere with less noise, you can always get a private room or a smaller dorm room.
Villa Saint Exupery Beach
Do you have a favorite hostel that you would like to review? Let us know!