This place is everything you can ask for in a hostel plus just a little bit more. Had a lot of fun - great atmosphere. Can't really fault it. Shout out to Anna for playing kiwi music during breakfast - it nearly cured my hangover. - Jacob, New Zealand
What sets them apart?
Three minutes from the beach, this hostel offers everything you need for your time in Nice. From modern comforts to happy hours, pub crawls, and free breakfast, you really can't go wrong here!
Hostel Personality
Who's staying here?
With mostly younger budget travelers staying here, this hostel has a bit of a party vibe to it. While they offer private rooms for couples and guests looking for more privacy, most of the travelers here are younger backpackers, solo travelers, and small groups of friends looking to have a good time.
Insider Tip
Use their fantastic kitchen to cook your own meals if you're looking to save some money.
Hostel Meyerbeer Beach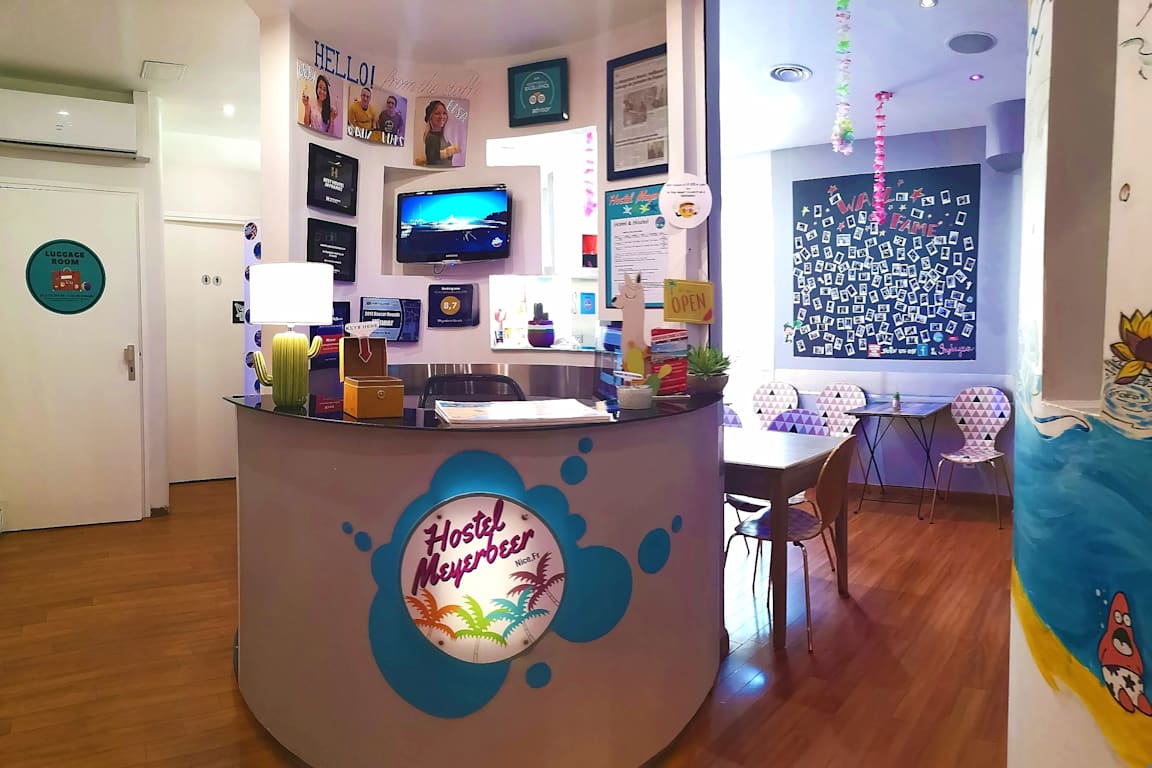 Located in the heart of old town Nice and offering easy access to the beach, this hostel has a terrific location. But when you combine that location with all of the great amenities and the terrific community feeling of this hostel, then you have something very special. The staff organizes walking tours, pub crawls, and tours for guests. They also have free breakfast and an amazing kitchen. And with plenty of room options, the Mayerbeer Beach hostel has something for everyone. This hostel is one of the most popular in southern France, and rightly so!
The Facilities
Dorms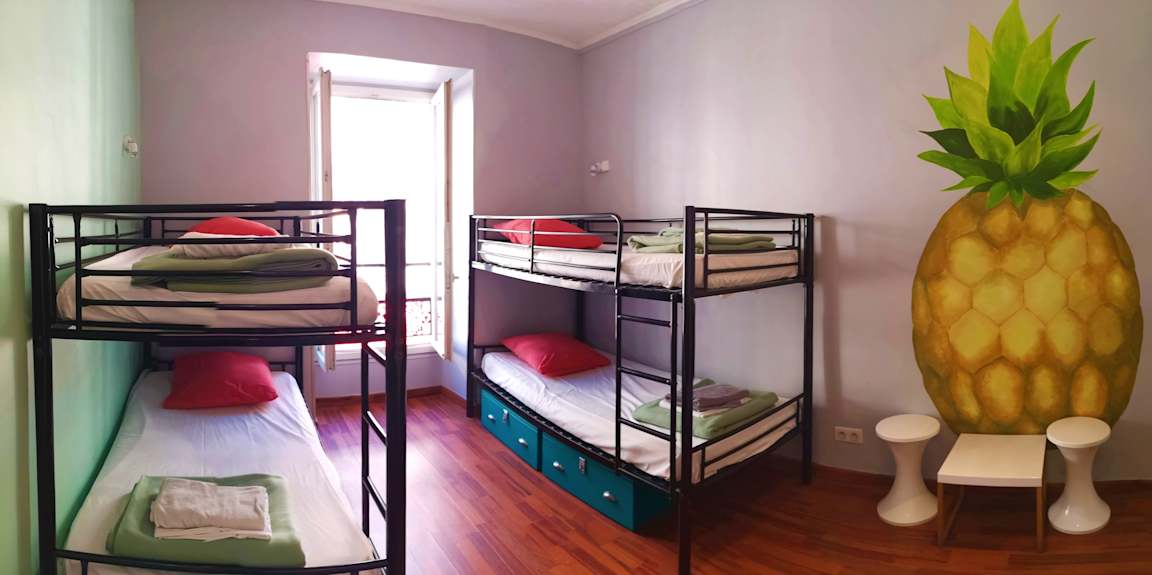 Dorms at the Meyerbeer Beach hostel are simple but comfortable. They come in a variety of sizes from 4 beds all the way up to 10 beds, and are priced accordingly. Beds have plugs and lights, as well as locker drawers for your luggage and backpacks. Many, but not all, rooms have ensuite bathrooms which is a nice feature, too. The rooms are well lit, air conditioned, and very comfortable.
Private Rooms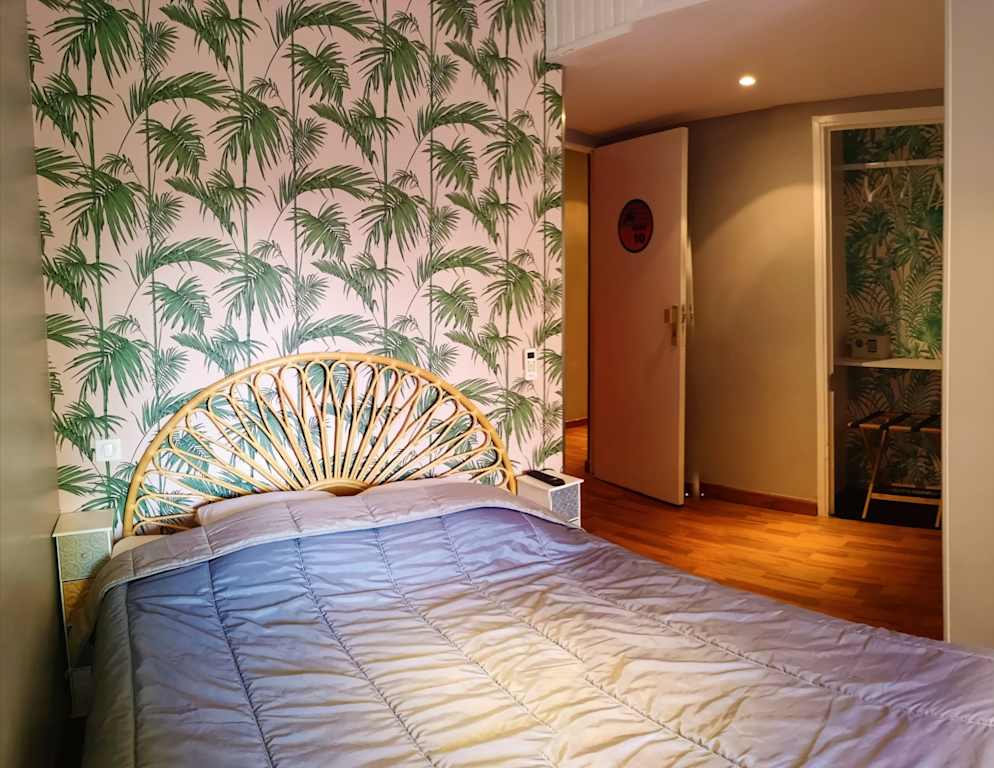 Private rooms at the Meyerbeer Beach hostel are comfortable and quiet. Most have ensuite bathrooms. They have the feel of a budget hotel room with plenty of comforts for any budget traveler. Rooms have the extra furniture that would be expected of a private room such as a desk and places to keep your clothes.
Rooms come in a variety of sizes, too. From a single room to doubles for couples, and on up to larger rooms for small groups of friends, they offer a size and price for everyone's needs. If you have a larger group, it's also possible to book a 6- or 8-bed dorm room.
Bathrooms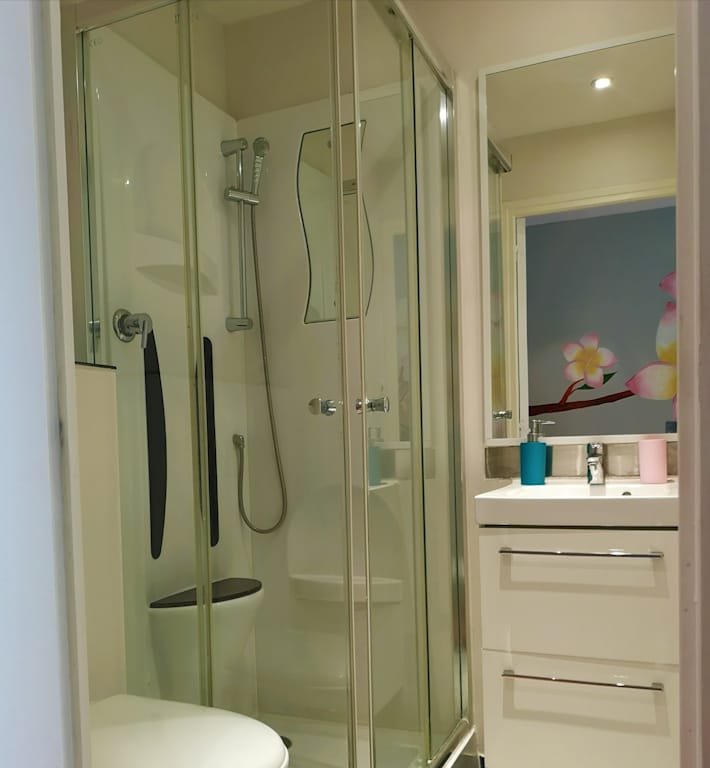 Everyone can be comfortable here with the modern and clean bathrooms. Towels are included in the price and the showers have plenty of pressure and hot water. The fixtures are all modern and updated, so you don't have to worry about anything "historical" here. Hair dryers are also available upon request.
Common Areas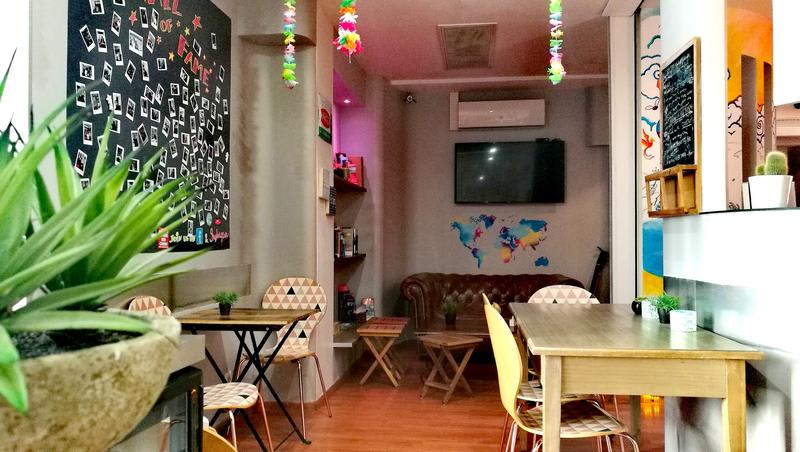 The common areas here are comfortable and enjoyable, and make for a great place to chill and relax with other guests. They also make for a great place to have a good time if you want to stay in instead of going out on the town.
The large dining area attached to the fantastic kitchen is a nice place to hang out, eat your meals, or plan your time in Nice. You'll find plenty of comfortable tables and chairs here, and if other guests are cooking, the area can be quite social.
The living room and lounge area has a sofa and comfortable seats, as well as a TV, a Playstation, and movies. More tables can be found here for those that want to relax with their laptop.
The Location
Gambetta
What's Nearby?
The beach is only 3 minutes away on foot, as it's just 1 and a half blocks away. As this is one of the best features of the hostel, most guests take full advantage of the Mediterranean sun. However, plenty of other attractions and activities are not far away. Several museums are only a few minutes away, as is the Promenade. It's very easy to just wander around NIce's old town which is right at your doorstep. Plenty of restaurants, cafes, bars, shops, theaters, and other must-see places are within the surrounding blocks, too.
Nearby Transportation
Transportation in Nice is fairly easy. The Meyerbeer hostel is only about 15 minutes from the main train station (sometimes it's faster with public transportation). Various bus lines run their routes right near the hostel's front door, which makes getting around town very quick and easy if you're not up for walking. And renting a bike to get around town is also a good idea.
Activities
To get everyone to know one another, the staff at the Meyerbeer Beach hostel organizes several activities. The free walking tour is a fun way to get to know Nice as well as your fellow travelers. In the evenings, they put together pub crawls so that you can party the night away at Nice's best bars and clubs. (That free breakfast will come in handy for your hangover!). They also organize occasional day trips, such as a twice weekly trip to nearby Monaco for a relatively low price.
Amenities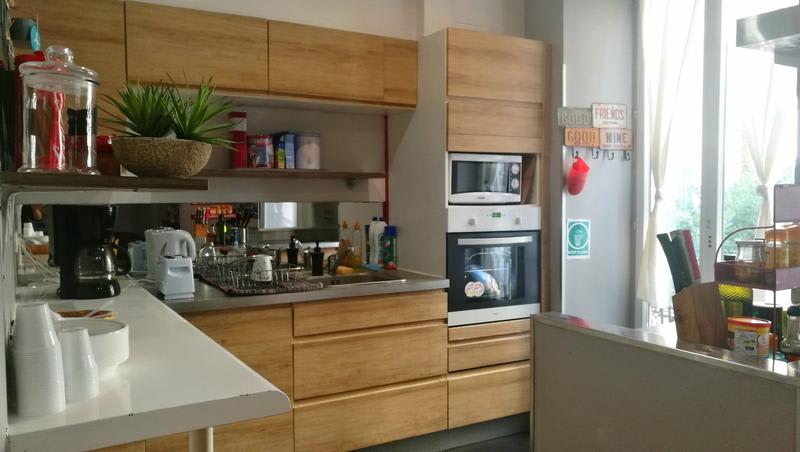 Perhaps one of the best amenities at the Meyerbeer Beach hostel is the shared kitchen. With modern appliances and plenty of space, it's probably nicer than your kitchen at home. And it can be a very social area, too. Otherwise, expect a long list of typical amenities here from free Wi-Fi to a
free breakfast
. They also have towels, bed linens, security lockers, a TV with a Playstation, board games, and air conditioning.
Staff
The staff is friendly, helpful, and fun. They not only keep everything here running well, but they also join in on the fun to make sure that everyone gets to know one another, has a great time, and stays safe.
Heads Up
Some guests say that this hostel can get a little loud and that the walls are thin. It's a bit of a party hostel so be prepared for some noise. If you want some quiet time, get a private room.
Hostel Meyerbeer Beach
Do you have a favorite hostel that you would like to review? Let us know!