Bocas del Toro On a Budget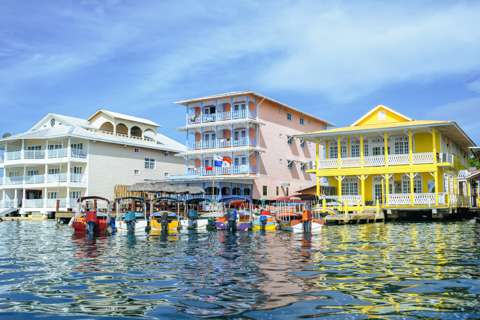 The capital of the Bocas del Toro province, this city of the same name sits in the Caribbean West region of Panama. Bocas del Toro, or Bocas Town, is in the district of Bocas del Toro, which also includes the towns of Bastimentos, Cauchero, Punta Laurel, and Tierra Oscura. The district has a population of about 17,000 and covers a total area of 433.2 square kilometers, and the town has a population of about 13,000. The area is a tourist destination for its beautiful beaches, excellent snorkeling and diving, and interesting culture.
Bocas del Toro has a tropical rainforest climate. The driest months are usually October, January, and March, but there is no distinguishable dry season. Temperatures are consistent throughout the year with highs in the mid to high 80s Fahrenheit and lows in the low 70s Fahrenheit.
Sights
Most people travel to Bocas del Toro for the atmosphere and the environment. The town itself is lacking in specific sights, but the natural beauty of the setting and the plethora of activities are the true appeal of a visit to Bocas Town.
Neighborhoods
Bocas Town (also referred to as Bocas del Toro) is the capital and largest city in the Bocas del Toro district.
Bastimentos is found on its own island. The island is one of the largest in the area, 62 square kilometers, and the town has a population of almost 2,000. The area is more relaxed than Bocas Town and makes for a fun alternative.
Cauchero has a land area of 140.6 square kilometers and a population of about 2,500.
Punta Laurel has a land area of about 71.9 square kilometers and a population of almost 1,000.
Tierra Ocura has a land area of 88.6 square kilometers and a population of about 2,700.
Activities
There are a few reasons a person travels to Bocas del Toro. The area has some beautiful beaches, wonderful natural scenery, fun villages to explore, and plenty of snorkeling and diving opportunities. It's a popular area to go and party and you can always be guaranteed a fun time at the town's bars and clubs. You can also book tours of the area that will take you out on the water to see dolphins, let you do some impressive snorkeling, and explore some off the beaten path beaches and villages. Most tours can be booked through your hotel, but if this isn't an option there are plenty of tour companies around town. If you plan to swim in the ocean, do use some caution as the waters can be rough, making it fun, but somewhat dangerous if you're not comfortable swimming in the ocean waters.
Scuba diving in Bocas del Toro is not famous, but is still impressive. The waters are calm and the aquatic life is impressive. There are four scuba operators in town to choose from. The options are essentially identical with each operator.
Other popular activities around town include surfing and fishing.
Food and Dining
There are plenty of places around town to grab food, both expensive and cheap. There are some great cafes that offer good, western style breakfasts. There are also plenty of pizza places around town which are cheap and good. Also, given the proximity to the water, there's plenty of seafood restaurants as well.
Transportation
You can travel into the area either via the Caribbean coast of Costa Rica or by traveling over the green mountains from Chiriqui. You'll want to catch a boat in either Almirante or Changuinola. From Costa Rica, the better option is Changuinola, but if you're coming to David, pick up the boat in Almirante. Alternatively, you can catch one of two flights that come to the area from Panama City daily. Four times a week there are also flights from San Jose, Costa Rica.
Once you reach the town of Bocas, you can easily explore it on foot. There are taxis available for about fifty cents a ride if you choose to go that route. Another fun way to explore the area is to rent a bicycle. This will cost you about $2 an hour or $10 for the whole day. The area is generally flat, making riding easy and smooth. You could also rent a scooter for about $70 a day. Water taxis are also available to Bastimentos.
Related:
Looking for a
party hostel in Costa Rica
or
Cancun
? Looking for a
budget hostel in Mexico
or
Costa Rica
?