Pedasi On a Budget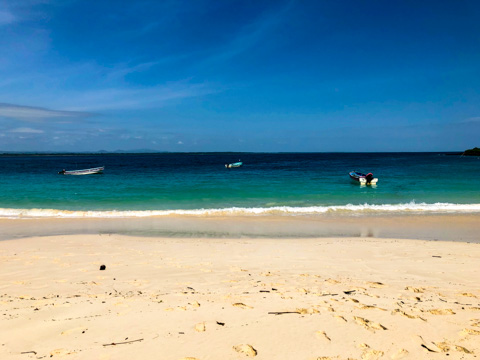 Pedasi is in the Los Santos province of the Pacific West region of Panama. It's on the edge of the Azuero Peninsula and has a population of just over 2000 people. The town is predominantly a fishing village and is set on a beautiful, rocky coastline, making it a dramatic place to visit. The town is small, but you'll find a few restaurants around town that are worth eating at. The area is well known for having some great carnivals and most travelers visit with the plan to enjoy some sport fishing, diving, snorkeling, or surfing. There are also some great national parks and preserves nearby.
Sights
The beaches just outside of Pedasi are quite beautiful. For the best surfing, you have to travel a little further outside of town, about 20 miles, to Playa Venao. You can also visit Isla Iguana, which is an island wildlife refuge that is about a 20 minute boat ride from Playa El Arenal. The island is 52 hectares and is surrounded by coral reefs and has beautiful, white sand beaches. At the refuge there are more than 62 bird species and several reptile species including the black iguana, for which the island is named. Between the months of June and October you might see migrating humpback whales in the refuge's 40 hectare marine area.
You can arrange your trip to the island in town and tours typically include snorkeling, diving, sport fishing, turtle spotting, or whale watching, among other things. If you're more the independent type, it's also possible to rent your own equipment and venture out on your own. You can expect to see some great coral, beautiful fish, eels, rays, and turtles while you're snorkeling or diving. If you're going turtle watching you'll probably want to head to Isla Cana, where sea turtles are known to lay their eggs.
Neighborhoods
The main town is divided by a central road, Avenida Central. There is also a plaza in the center of town which has some nice government buildings. From the central plaza area you'll find residential areas spreading out. The town itself is quite quaint and attractive, making it an enjoyable place to explore and a top travel destination in the Los Santos Region of Panama.
Activities
There are many activities that you can enjoy while you're in Pedasi. Surfing, sportfishing, wildlife watching, diving, and other water sports are all available. The town also has a lively Carnival celebration. The town is split into two sections, each with it's own queens. There is a friendly rivalry to see who has the best floats, music, and fireworks. There is a vote at the end of the celebration to determine the winning queen. Another popular celebration in town is Santa Catalina, or St Catherine's Day, on November 25th.
During the evenings, many locals head to the town plaza. This is the place to socialize and people watch. Men often come out wearing cuttarras, or traditional sandals, along with the area's traditional black and white hats. During festivals, women wear polleras, or traditional hand-stitched, layered dresses. Some dresses are so elaborate that they take almost a year to make.
Food and Dining
There are a handful of affordable places to eat and sleep around town. The restaurants offer meals that include seafood dishes, pastries, and western food. They also often have a filling breakfast, which is recommended before you begin a full day tour on the water.
For good local food, head to Restaurante Angela. They are open for breakfast, lunch, and dinner. El Gringo Dusek has barbecue ribs and steaks. For seafood, head to Restaurant Los Destiladeros. The menu is fixed price, and the meals are filling. Piz Gavilan is the place to go for pizza or fresh fruit juice.
Transportation
There is a smooth road that connects Pedasi to Panama City. The drive takes about five hours and the road is comfortable and well-maintained. Capt. J. Montenegro Airport is also in the area. Air Panama flies into the airport, as do charter and private flights. There are three flights a week on Wednesday, Friday, and Sunday. Charter flights arrive daily. Buses travel from Panama City with connections in either Chitre or Las Tablas.
Related:
Looking for a
party hostel in Costa Rica
or
Cancun
? Looking for a
budget hostel in Mexico
or
Costa Rica
?