Boquete On a Budget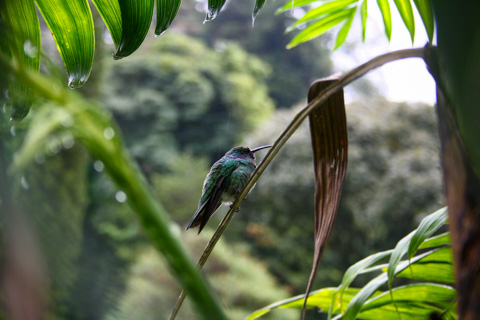 Boquete is a village located in the pacific west of Panama. This town very recently became an attractive destination for tourists and expatriates. Before the early 2000's, it was a quiet town hidden away in the mountains with very little tourism. After the development of Valle Escondido, which is a largely residential area, many North Americans flocked to this town and an expat community developed. Boquete is known for it's near perfect year round temperature of about seventy degrees Fahrenheit, beautiful untouched nature, and world renowned coffee.
Sights
The most beautiful sight in Boquete is much of is relatively untouched nature. This town is known as the "Valley of Flowers", and because it only became a destination for travelers recently, the scenery is a lot less commercialized than some of the neighboring countries.
Panama's highest point is located in Boquete, Volcan Baru, and if you climb it you have a perfect view of the Pacific and the Atlantic Ocean on either side. There are also jeep tours that can take you to the top if you do not wish to hike.
Neighborhoods
Boquete is located very near to the border of Costa Rica. It is part of the Chiriquí province, which makes up the westernmost part of the country. A large city near Boquete is David. David (officially called San Jose de David) is the capital of the Chiriquí province. It is a very prosperous city, also popular among expats.
Activities
The Chiriqui Viejo River in Boquete is a popular destination for white water rafters as it has some of the best Class 3 rapids in the world. Boquete Outdoor Adventures and Boquete Mountain Safari are great companies that offer year-round rafting trips. The trips are full day events with lunch and drinks included at the river.
Boquete is well known for the coffee that is grown there. A great activity is going to visit a coffee plantation to learn more about the coffee culture and why Boquete is one of the best places in the world for growing. For a larger scale coffee growing tour, Cafe Ruiz and Kotowa are the best places to visit. If you want more of a small-scale, intimate tour then Finca Dos Jefes is the best option. With this tour, you visit a coffee farm and are even able to roast and taste the coffee at the end.
The Quetzal Trail is a great activity for avid hikers. It is the trail between Boquete and Cerro Punta and takes about four hours one way. Many people do this hike in hopes of spotting a rare Quetzal Bird along the way. It is recommended that you hire a guide to take you along the trail, as it can be hard to navigate after its recent repairs.
Zip lining is a one of a kind activity in Boquete. Boquete Tree Trek can take you on a canopy tour through the Cloud Forest. The zip lines span over five kilometers and from the treetops you can see views like you've never seen before while gliding through the air. If you wish to do something a bit more relaxing, visit the Hot Springs Caldera. You will need to take a bus to Caldera and from there, take a taxi to the actual entrance to the springs. When you arrive, there are springs to the left of the entrance that are less likely to be crowded with tourists.
If you are visiting Boquete in March, be sure to check out the Jazz and Blues Festival. You can hear some of the best Blues and Latin Jazz music at a beautiful open-air amphitheater.
Food and Dining
This area of Panama is known as the "breadbasket" of the country. The food in this area is very fresh and you can find various types of cuisine all over. The Rock is a great place to get some the famous fresh produce in Boquete. They have many international dishes and main entrees start from $9.00. Big Daddy's Grill is known for having the freshest fish tacos in the whole town. It is a minute from the main plaza in town and is very popular among locals. They have also been known to make a delicious margarita. For the best bread, head to Morton's Bakehouse, where you can get any type of bread you could dream of!
Transportation
There are many buses that can transport you to Boquete from other large cities around Panama and Costa Rica. This is an affordable option that allows you to see the beautiful Central American countryside while you travel. If you are traveling to Boquete internationally, there is an airport in David, which is about an hour from Boquete by bus.
Once in the town, you will be able to explore the city by foot. The bus terminal is in the main part of the city so once you step off the bus you can start exploring right away. If you wish to venture further outside the town center, there are buses that can take you to most places you would want to visit. There is also the option of hiring a tour company to take you to surrounding areas.
Related:
Looking for a
party hostel in Costa Rica
or
Cancun
? Looking for a
budget hostel in Mexico
or
Costa Rica
?