What sets them apart?
Generally considered to be the BEST, or one of the best hostels in Paris, Les Piaules is known for its fantastic social vibe, awesome bar, beautiful art deco style, and comfortable amenities. As this hostel is founded by and run by travelers, they know how to please their guests, keep the fun going, and make sure everyone has what they need. And the location is great, too!
Hostel Personality
Who's staying here?
A mix of younger budget travelers stay here, including backpackers, students, young professionals, and more. Some are looking to party at the bar, while others are looking to relax and see Paris. The hostel is set up so that you don't have to party if you don't want to, but it's always an option.
Insider Tip
Ask for a room that's not on the rooftop for a more quiet night.
The People - Paris Belleville (ex Les Piaules)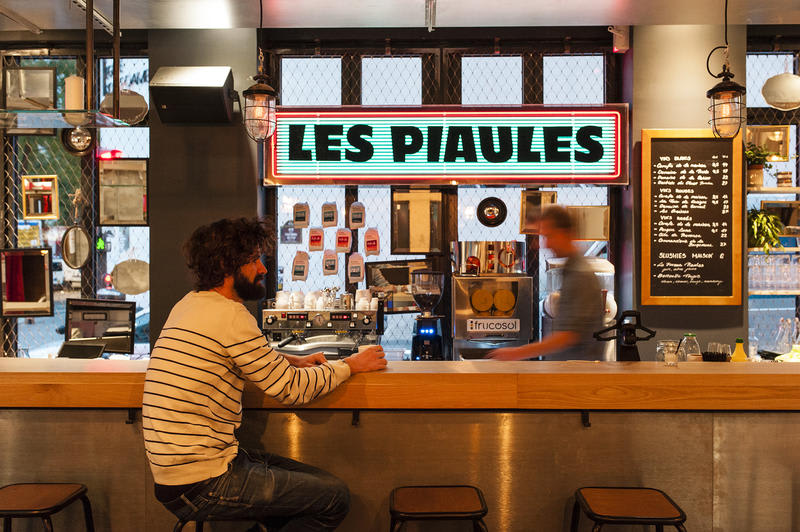 As one of the most frequented and popular hostels in Paris, this one is hard to beat. It has a great social vibe that is helped by the popular breakfasts, great bar with live music several times per week, and the terrific staff of travelers. The location is in Belleville which is an authentic Parisian neighborhood surrounded by restaurants and shops. It's only a few minutes to the Metro station where you can zip around Paris.
The style of the building is one of it's main draws. The old art deco building and interior are beautiful, and give you a true sense of being in Paris. At the same time, all of the modern conveniences of the hostel will have you feeling comfortable during your stay.
The Facilities
Dorms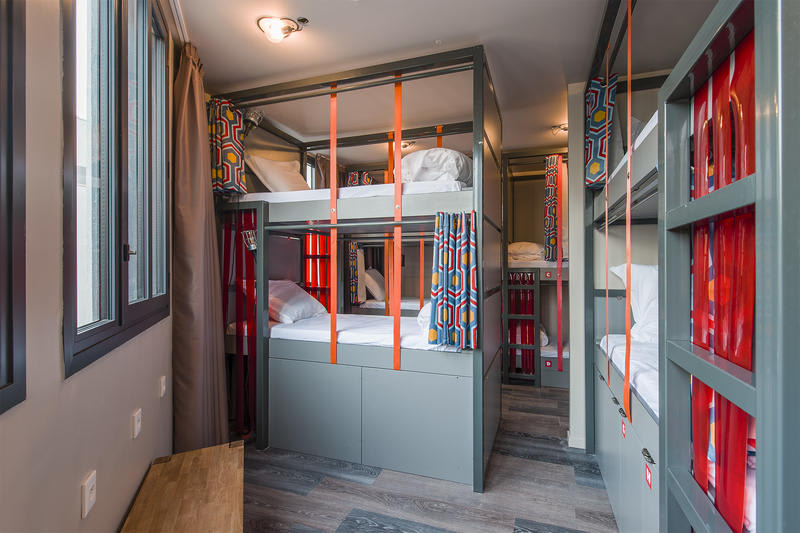 With room sizes varying from 4 to 8 beds, the right size and price combination can be found for most budget travelers. An all-female dorm option is also available. Bunks have curtains, lights, and plugs. They also have under-the-bed storage lockers which are great for smaller bags and valuables. The rooms are well-lit with plenty of natural light, although some of the rooms are a bit smaller in size. Most dorms utilize the shared bathroom on the hallways except for those on the rooftop floor which have their own ensuites. However, these rooms have doors that open to the outside instead of to a hallway, so in winter it might not be ideal.
Private Rooms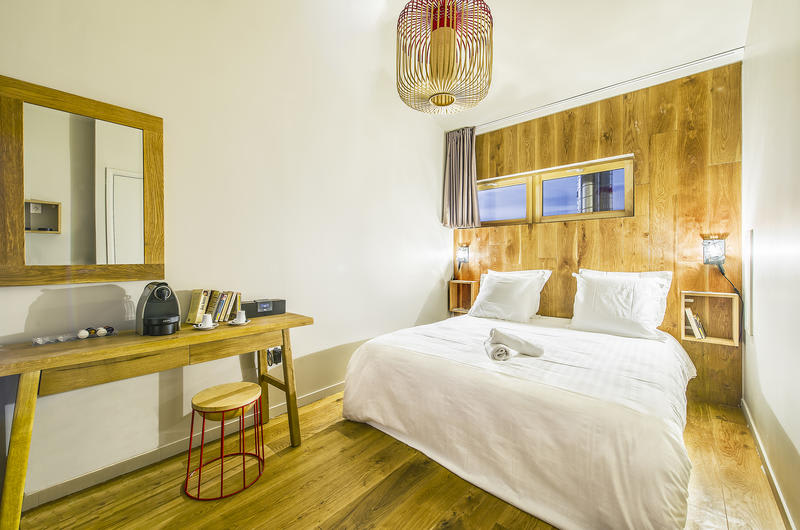 Private rooms at Les Piaules come as double rooms which are very similar to a standard hotel room with an ensuite bathroom. The rooms are comfortable and include furniture such as a desk, bedside tables, lamps, and more. While not as large as a typical hotel room, they are comfortable and well designed.
Bathrooms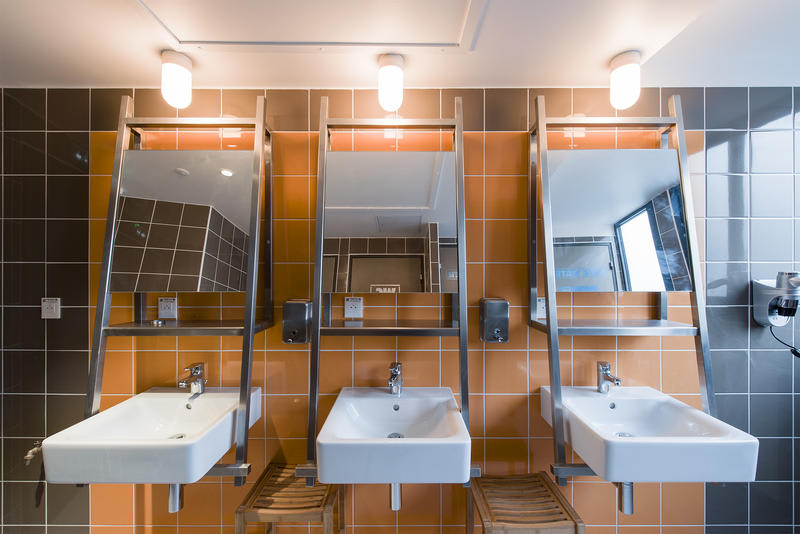 This hostel has modern, clean, and comfortable bathrooms. Even though the building is historical, the bathrooms are not, which is always a good thing. There's plenty of space for everyone, and plenty of hot water is available, too. Hairdryers and towels are available at the front desk.
Bar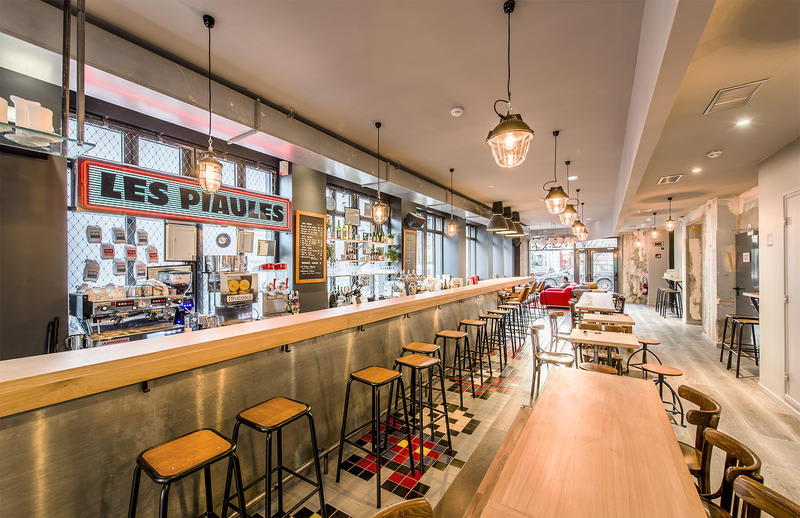 One of the highlights of this hostel is the fantastic bar and restaurant on the ground floor. Here you will find occasional live music that draws a crowd. Otherwise, travelers flock here for the drinks and the vibe to meet up with other travelers. And you can grab some great and affordable food here, too.
Common Areas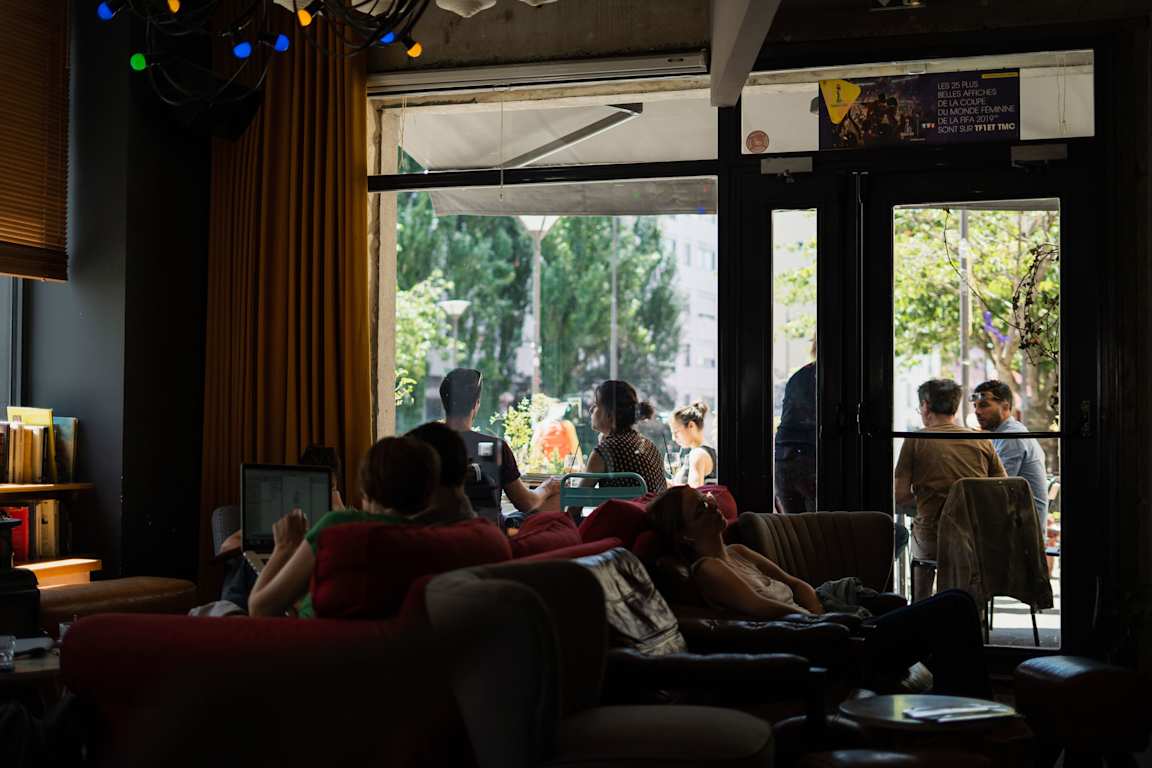 Other than the bar and restaurant, this hostel has some nice lounge and seating areas. One large area has tables near the bar for meals (where breakfast is served) and it is a nice spot to relax during the day and get some work done. The main lounge also has nice chairs which are comfortable, too.
Outdoor Space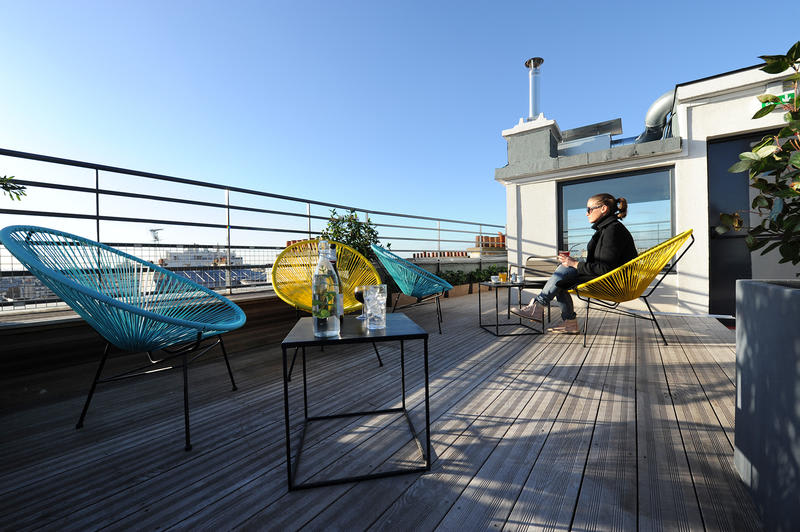 The rooftop patio is one of the best spots like this that a hostel can offer in Paris. With great views overlooking the city, this is a nice spot to hang out. A few chairs can be found up here, and during warmer weather, this is the perfect spot to hang out with some of your new friends.
Otherwise, the hostel has a few small tables out front if you want to have a drink or a snack outside, cafe style.
The Location
Belleville
What's Nearby?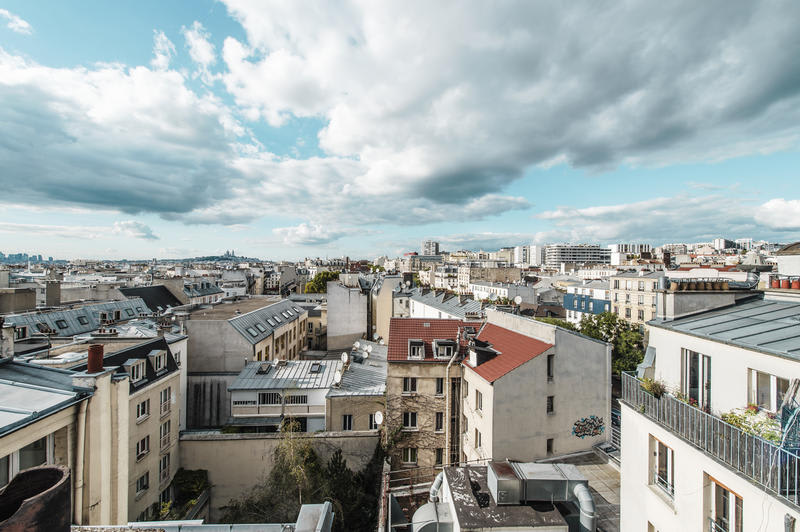 The surrounding neighborhood is full of local Parisian charm. You'll find plenty of restaurants, bars, shops, residences, and grocery stores here. A few parks are also in the surrounding blocks, too. While there are not many tourist attractions in this neighborhood, it's still fairly central.
Nearby Transportation
The nearest Metro stations are Belleville and Couroness, and they are both a very short walk away, as this hostel sits just off the main road between the two stations. The Belleville station can put you onto two different lines, both of which can whisk you around Paris to all of the sights and attractions in no time at all. A few bus lines also make their way along the major roads nearby, too.
Activities
The staff here put on a variety of activities during the week, such as happy hours, live music, and other social activities. The schedule changes frequently, so inquire upon arrival.
Amenities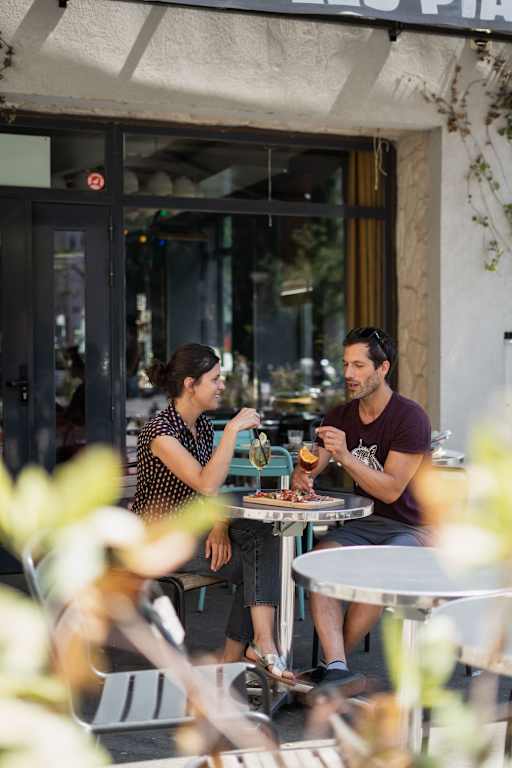 In a word: yes. The list of amenities here is long. Not only do they offer a fantastic breakfast at a low price, but they also offer free Wi-Fi, hair dryers, key-card access, luggage storage, lockers, games, an elevator, and more. You'll find everything you need here. But they do not have a kitchen for cooking your own meals.
Staff
The staff here are friendly, nice, and helpful. They work hard to keep this place clean and keep up their reputation as one of the best hostels by making everyone happy. It was founded by travelers, and run by travelers, so they know what you need and want.
Heads Up
They don't have a kitchen for cooking your own meals. Also, outside drinks are not allowed due to local laws (as this place has its own bar).
The People - Paris Belleville (ex Les Piaules)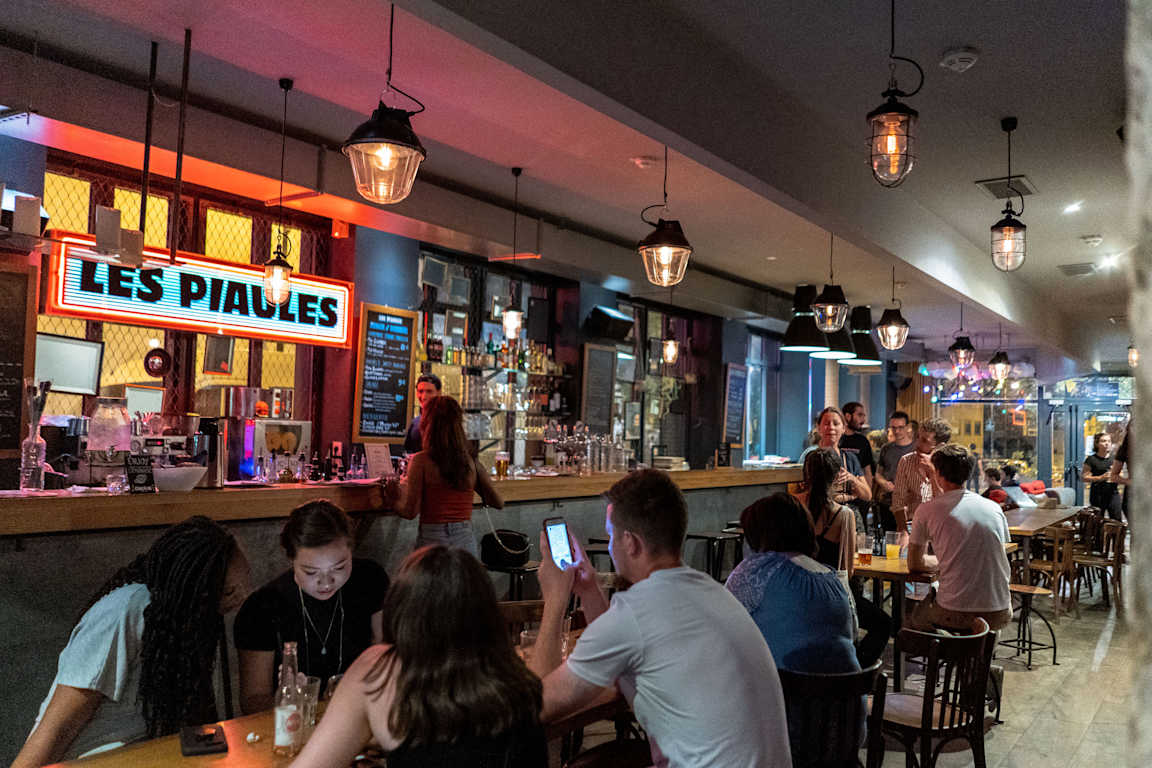 Do you have a favorite hostel that you would like to review? Let us know!