Such a great place to stay, has everything you need and is right beside the metro. They have great facilities and it's a great place to stay especially if you're travelling solo, as you meet so many new people. Would definitely recommend to friends. I stayed here last year and again this year, that's how good I think it was. - Jose, Ireland
What sets them apart?
This modern and comfortable branch of the Generator chain has plenty of nice amenities for all types of travelers on a budget. The bar and restaurant are nice places to relax and meet up with other travelers, while the rooftop terrace lounge area provides a nice view of the city.
Hostel Personality
Who's staying here?
Generator Paris is full of younger travelers on a budget. From solo travelers to couples to backpackers and students, this hostel offers something for everyone due to its wide range of room types and amenities.
Insider Tip
If you want to meet up with other travelers, don't be afraid to branch out of your room and head to the bar or restaurant areas.
Generator Paris
This hostel, and the generator chain in general are known as a reliable and comfortable budget option in Paris. With a nice bar, a solid restaurant, plenty of common spaces, and a beautiful rooftop terrace, there's always a place to hang out and meet up with other guests. The location is also good, as it's close to the train station and several metro stations. And the friendly staff also organizes activities to help everyone get to know one another. All around, this is a great hostel with high ratings from thousands of visitors.
The Facilities
Dorms
Dorms at the Generator Paris are modern and comfortable. With sizes from 4 beds all the way up to 10 beds, there's a good price for everyone. While the larger rooms are less private, they offer a lower price. Beds have plugs and lights for every person, too. Some rooms have ensuite bathrooms, while others don't, and they are priced accordingly. Also, each bunk has a good storage drawer which is large enough for a backpack or suitcase. The rooms also have other furniture such as tables and chairs, as well as large windows with plenty of natural light.
Private Rooms
Private rooms also come in a variety of sizes. Twin rooms are good for couples or just a few friends, while the larger dorm rooms can also be booked for small groups. Beds have lights and plugs, and the rooms have other furniture, too. Private rooms have ensuite bathrooms.
Bathrooms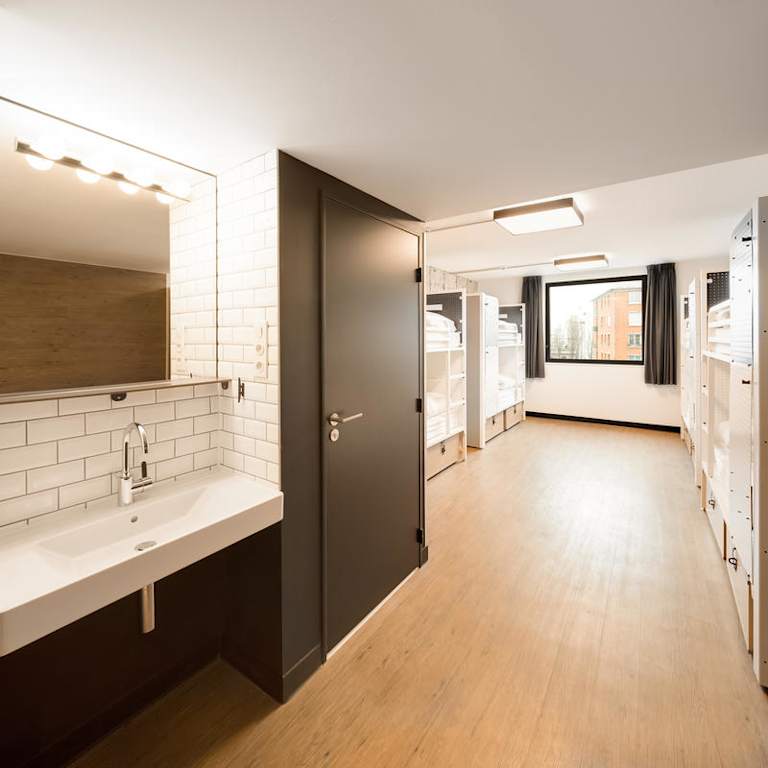 The bathrooms at this hostel are clean, modern, and large enough to let everyone use them when needed. Plenty of hot water is available, too.
Bar
The bar here is a nice area to meet up with other guests, have a drink, and have some fun. With a range of drinks and beer on tap, the bar here is often very popular, especially during the busy summer months.
Restaurant
The Generator Paris has a nice restaurant and market area that serves casual and affordable meals, including breakfast. Plenty of seating areas are provided and mealtimes are a nice time to meet up with other guests.
Common Areas
In addition to the bar and restaurant, the main common area has plenty of comfortable seats, TV's, a ping pong table, books, and more. It's a great spot to hang out, relax, read a book, or chat with new friends.
Outdoor Space
The rooftop terrace provides amazing views over the city along with some comfortable seating. This is a great place to hang out with your new friends at the hostel and plan your excursions into the city.
The Location
Gare du Nord / 10th Arr.
The neighborhood around the Gare du Nord and Gare de l'Est train stations are a convenient place to base yourself in Paris. From here, transportation is easy and frequent. Plenty of restaurants, bars, shops, cafes, galleries, and museums are also nearby. Montmartre is also not far, and the city center can be reached in a matter of minutes by Metro.
What's Nearby?
The neighborhood around Gare du Nord station is full of restaurants, cafes, shops, and more. Here you'll find plenty of authentic Parisian charm mixed in with modern residences. Montmartre is not too far away, and the city center is also easily accessible via Metro. Several parks and a few museums are also nearby.
Nearby Transportation
The Gare du Nord train station is within walking distance, so if you arrive or leave the city from here, the Generator hostel is very conveniently located. Otherwise, plenty of other metro stations are close by which can get you around Paris quickly. The closest is Colonel Fabian station which provides access to everything else in Paris in a few minutes.
Amenities
All of your standard hostel amenities can be found here such as laundry machines, free Wi-Fi, tour booking, luggage storage, and more. However, they don't have a kitchen that guests can use for cooking, although they do have a sizable restaurant that also sells some market items such as fruit and snacks.
Staff
The staff is friendly and professional, and does a very good job of keeping the hostel organized and clean.
Heads Up
Some guests have stated that this hostel feels more like a hotel. While it's large, it's still possible to meet up with other guests. Also, they don't have a kitchen.
Generator Paris
Do you have a favorite hostel that you would like to review? Let us know!