The mountain city of Cusco in Peru was once at the very heart of the Inca Empire. Today, it is best known for being the gateway to Machu Picchu, but there are many more wonders within the city waiting to be explored - it's a must to include in your
Peru itinerary
.
However, with over two million tourists arriving every year, Cusco is not cheap; only Lima, the capital city, is a more expensive place to visit in Peru. Restaurants and bars tend to be pricy, and most of the popular attractions charge entrance fees.
With a bit of inside knowledge, though, it's still possible to have a fulfilling experience in this stunning city without spending a fortune. You can get started with these free things to do in Cusco.
Also, if you're looking for a cheap place to stay, check out our
list of the best hostels in Cusco
.
Panoramic city views
When you first arrive in Cusco you will be struck immediately by its visual appeal. Spread across many miles of sloping Andean mountains over 3,000 metres above sea level, few cities are more beautiful to behold.
This lofty setting is Cusco's greatest feature, and there are many different ways you can admire it without having to pay for the privilege. The best place to begin is in the charming, cobbled neighbourhood of San Blas, which is a short (but steep!) walk uphill from the historic centre.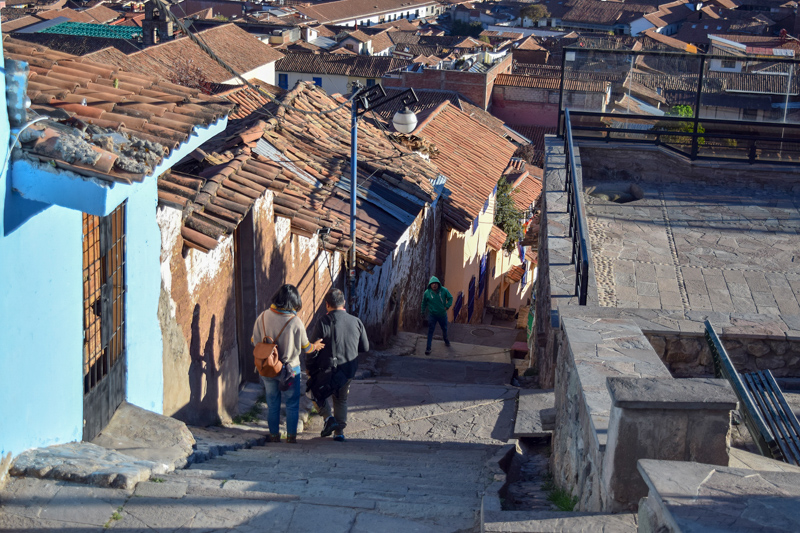 If you climb the sequence of stony stairways to the very top of San Blas, your effort will be rewarded with a spectacular view across the city's red rooftops, all the way to the mountains on the far horizon. This view is especially good after sunset as lights begin to switch on across the city.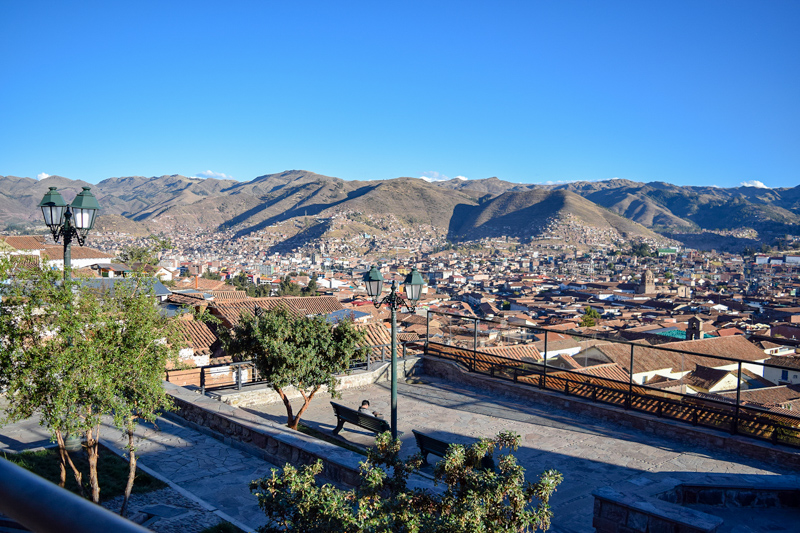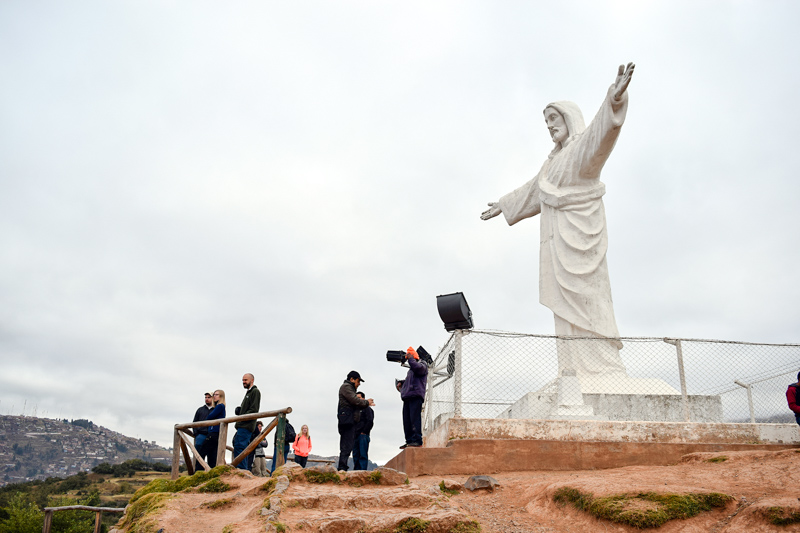 Standing even higher up, to the north of San Blas, an 8-metre-high statue of Jesus Christ looks out over the city with outspread arms. This is Cristo Blanco, which bears a close resemblance to its more famous counterpart, Christ the Redeemer in Rio de Janeiro. The statue was gifted to Cusco by Palestinian refugees who travelled to the city after World War II.
You can reach the Cristo Blanco statue by foot in about half an hour from Cusco's historic centre. Alternatively, if you would prefer to avoid the steep ascent, you can take a taxi for about 15 soles.
When you reach the top, not only will you be able to see the impressive statue up-close, but you will also find a spectacular view over the entire city. Glance to your right and you can also glimpse the well-preserved ruins of Sacsayhuaman, a fortress that is regarded as one of the greatest surviving examples of Inca engineering (you can visit and explore the ruin site too, but to do so you need to buy a 'Cusco Tourist Ticket' for 70 or 130 soles which provides entry into multiple historic sites in town).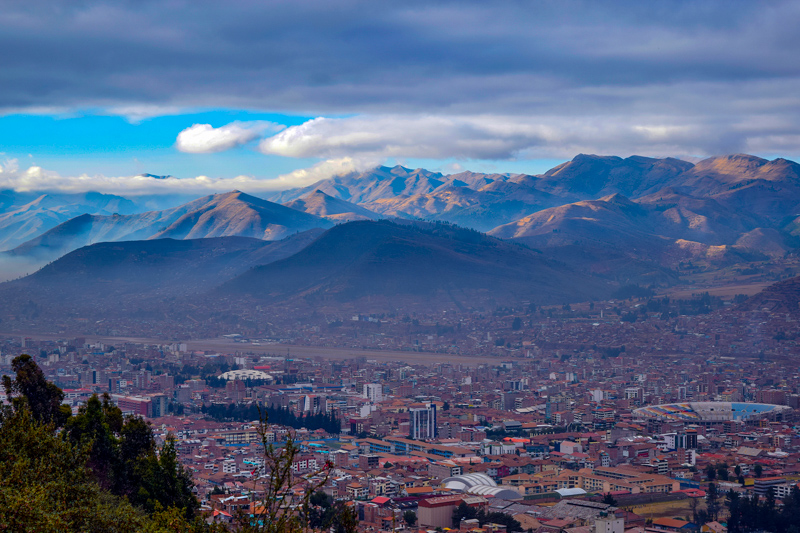 A word of caution: Cusco's high altitude makes any physical activity more difficult, and you need to
take time to acclimatise first
. After arriving in the city it's best to allow at least 24 hours before any strenuous walking. Take time to ease yourself into it and carry plenty of water to keep you hydrated.
Sightseeing
The historic centre of Cusco is designated as a UNESCO World Heritage Site, and at its heart is the main square, Plaza de Armas. The square has been at the centre of life in Cusco since Inca times. Built on the foundations of Huakaypata, the ceremonial square of the Inca period, Plaza de Armas features the city's most iconic Spanish colonial buildings such as Cusco Cathedral and Iglesia de la Compania de Jesus.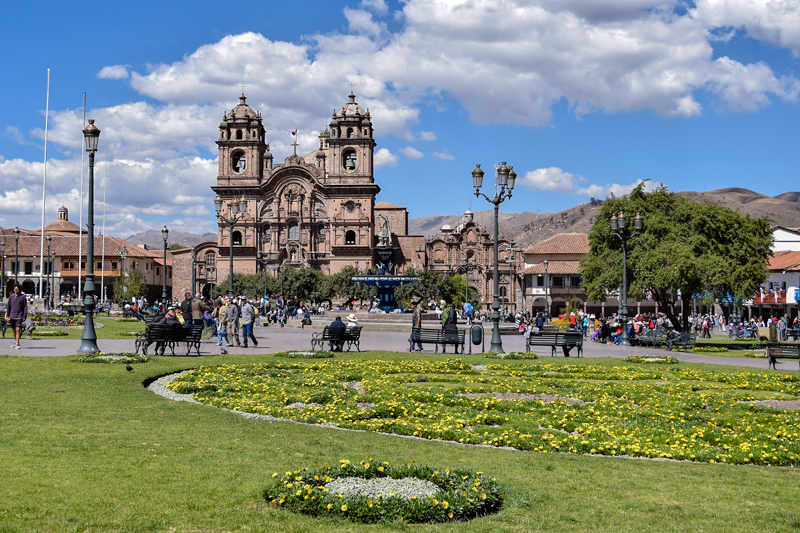 While most of these buildings around the square charge for entry, you can enjoy their splendour from outside without paying a cent. Plaza de Armas is also a wonderful spot to perch on a bench in the gardens and read a good book, or simply watch the watch the bustle of city life go by.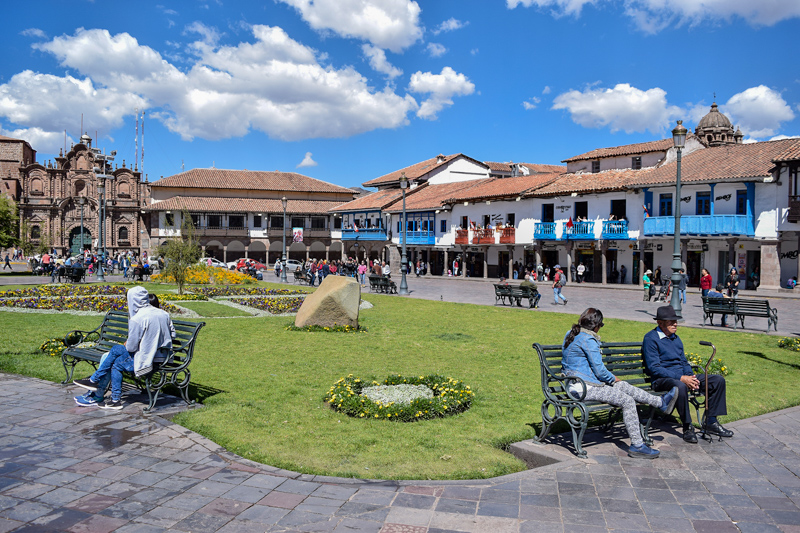 For a sociable introduction to the city, there are several free walking tours that depart from Plaza de Armas and nearby. These are a great way to learn about Cusco and its history, as well as getting some inside recommendations from a knowledgeable local guide. Note that while most tours operate on a no-charge basis, you will most likely want to give a tip at the end.
A short walk away from Plaza de Armas, to the far side of Cusco Cathedral, you can find one of the city's most famous remnants of the Inca era: the twelve-angled stone. This is a specimen that reflects Inca construction techniques, in particular how engineers used intertwining blocks of different sizes rather than uniform square blocks. The stone was originally part of an Inca palace wall, which was later repurposed for the construction the Archbishop Palace.
Museums
While the vast majority of museums in Cusco charge an entrance fee, there are a small handful of hidden gems where you can discover aspects of the city's culture and history for free.
One such museum is
Museo Quechua
, which is located right next to the archaeological site of Coricancha. This small and homely museum is run by local students and gives an insight into over 3,000 years of Quechua culture, featuring craftwork and paintings from through the ages.
A couple of minutes' walk south-east of Plaza de Armas is another free museum:
Museo Maximo Laura
. Open seven days a week from 8am to 9pm, this place has the feel of an art gallery, displaying the bright and colourful tapestry works of Peruvian modern artist Maximo Laura.
For something a little different, ChocoMuseo gives an insight into centuries of chocolate production in Peru. Located two blocks west of Plaza de Armas, this cosy museum-shop educates about how cocoa beans are processed and transformed into chocolate - you can even try some free chocolate samples too. It's free to enter, or you can pay 70 soles to join a chocolate-making workshop.
Local markets
The vibrant local market halls and street stalls are at the crux of city life in Cusco. You can enjoy an immersive cultural experience just by meandering and window-shopping at some of the city's legendary marketplaces. You don't actually need to spend any money to have a good time at these markets, although of course you may want to!
Cusco's most famous market is San Pedro, located a few blocks south-west of Plaza de Armas. Inside the giant hall of San Pedro Market you will find rows upon rows of busy stalls selling anything from household goods and textiles to local food produce. It's also a great place to grab a traditional Cusco dish for lunch at a very cheap price.
If you wander to the south of San Pedro Market, you will find many more local shops and market stalls spread across the nearby streets. This area is a gem for travel photographers seeking to capture the community spirit in Cusco (although, be respectful of course if taking photos of people, and be prepared to tip). Visit during the morning at weekends to witness the frenetic pace of local shopping at its peak.
The San Blas neighbourhood is another top spot for perusing markets, although it is focused a lot more heavily on selling to tourists than locals. The district has its own central market square where you can find local vendors selling their craftwork and souvenirs. If you explore further into the surrounding cobbled streets, you will encounter many more craft and gift shops to get an essence of the city's artisan scene.
If you have a limited amount of time for your journey, see our advice about how much time to spend here: