Madeira Islands On a Budget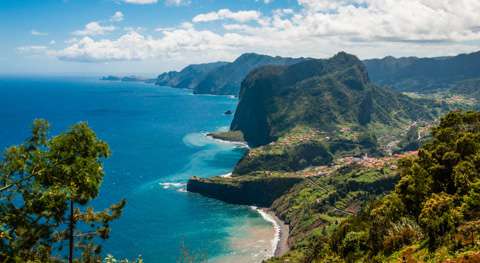 Madeira, Portugal is an archipelago consisting of four islands, each covered with lush vegetation and mountainous landscapes. Madeira is famous for its fresh fish and namesake Madeira wine, which can be found throughout the main island. This area is the perfect blend of relaxing beaches and thrill-inducing activities such as paragliding and mountain biking. Portuguese is the main language here, although English is spoken widely by those in the tourism industry.
Madeira offers lovely weather year round, with the warmest weather in the 70's Fahrenheit from June-September. Temperatures rarely dip below 60° F, even during winter which runs from November-March, making it the ideal destination any time of the year.
Sights
Madeira is all about natural beauty, especially in Funchal where you'll find the Jardin do Palherio, a huge garden full of lush vegetation and indigenous plants. There is plenty to explore at Palherio, as there are multiple gardens including a French Garden, Sunken Garden, Rose Garden, and even more. Funchal is also home to the Monte Palace, and old hotel with a Chinese Garden and lake for visitors to enjoy. In Paul do Mar, you can walk along the beaches or take a boat ride to catch a glimpse of the dolphins and whales. You can also find the
Caminho Real do Paul do Mar
, a trek that runs through the valley ending with a view of a beautiful waterfall. Or, head to Cabo Girao, one of the world's highest ocean cliffs for incredible views of the area.
Cities
Funchal: The capital city of Madeira home to plenty of tourist attractions and accommodation, it is also considered one of the most beautiful cities in Portugal.
Santa Cruz: Close to the airport and home to historical churches and pebble beaches.
Santana: Home to the Queimadas Forest Park and the Rocha do Navio Nature Reserve.
Camara do Lobos: A traditional fishing village with a sensational bay and home to the Cabo Girao
Ribeira Brava: A small town with a black sandy beach, great views of the surrounding area, and a church from the 16th century.
Machico: Often used as a starting point to some of the best beaches and treks through the mountains.
Calheta: A traditional fishing and agricultural village with great beaches and amazing seafood restaurants.
Paul do Mar: A popular fishing village with lovely beaches and a relaxed atmosphere.
Activities
Madeira offers some of the most thrilling activities, like paragliding, mountain biking, and Jeep safari tours which show you the hidden gems of Madeira from unpaved tracks. Other
things to do in the Madeira Islands
include scuba diving and snorkeling in the crystal clear waters of the Atlantic or take surf lessons at Paul do Mar where the 2001 World Surfing Championship was held. For something a little more relaxed, take a cable car ride in Funchal where you'll see amazing views of the city below and end up at the Monte Palace Gardens. If you happen to be around during New Years, Madeira puts on a truly stunning fireworks show to celebrate. Or, if you're here in August, check out the food festival in Machico.
Food and Dining
Madeira is most famous for their namesake wine, which is a very robust and unique wine that is either dry and served as an aperitif or sweet and served with dessert. You can easily find Madeira wine throughout the area as it is sold in nearly every restaurant.
Due to the location, fresh fish is phenomenal, and is incorporated into traditional dishes like lapas and espada com banana. Lapas is a type of fish that lives in seashells which is then fried in garlic and butter and served with beer wile espada com banana is a scabbard fish with banana and served with potatoes.
The city of Machico is one of the best places to find restaurants serving traditional cuisine, along with Paul do Mar where you'll find some of the best seafood. For more information, see this
amazing guide to food and dining in Madeira
.
Transportation
You can fly into Madeira through the Madeira International Airport in
Funchal
. From here, you can take a bus to downtown Funchal, a boat to one of the smaller islands, or rent a car. To really explore the area, you may want to rent a car which will allow you access to more remote areas. Otherwise, buses and taxis are readily available to get you from one city to another. The cities in Madeira are fairly small, meaning you can easily get around on foot.