Funchal On a Budget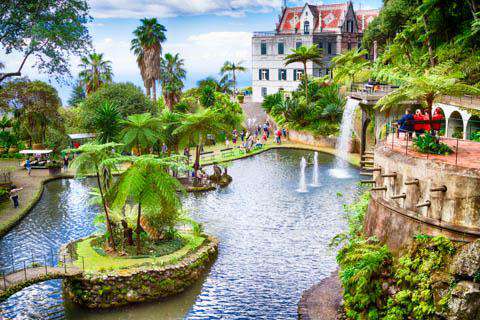 Funchal is the capital city of the autonomous region of Madeira on the island of Madeira. The city is located to the south between the cities of Santa Cruz and Camara de Lobos. It is actually named for the fennel plant which grows liberally on the island. The city was most significant as a shipping center between the 15th and 17th centuries. Today it has a population of over 100,000 people and is, arguably, one of the most picturesque cities in Portugal. It's appeal as a tourist destination has made it the leading Portuguese port for cruise line dockings.
The climate in Funchal is mild Mediterranean. Temperatures are relatively consistent throughout the year and there are two main seasons. The time between October and March has more rain and slightly cooler temperatures with highs ranging from 20 to 25 degrees Celsius. The time between April and September is drier and warmer, although June is sometimes notable for its persistent cloudiness over the bay. Average high temperatures range from 21 to 26 degrees Celsius. The city's elevation rises from sea level to 800 meters. In the northern suburbs, clouds, fog and rain are not uncommon, even when it is sunny near the sea. Temperatures are also somewhat cooler at the higher altitudes.
Sights
There are some interesting sights throughout Funchal. A popular place to spend some time is Jardins Do Palheiro, which is a manor with a nice public park. The manor is British colonial in style, but is not open to the public. The park is public though and is a pleasant place to explore. Madeira Botanical Gardens is also interesting. It has over 2000 plants and a view of the city that makes it well worth the visit. Santa Clara Convent dates back to the 15th century and is a national monument. Also be sure and head over to Mercado Dos Lavradores and pick up some fresh, locally grown fruit. It's a lovely market, but do ensure that you're not being overcharged for the fruit, particularly if a cruise ship is in town as vendors are known to hike prices up for travelers. Other popular sights include the Monte Palace Hotel Gardens, Sao Lourenco Palace, Se Cathedral and Colegio Church.
Neighborhoods
As a tourist, you will likely explore most of Funchal's waterfront area, as well as the market and the city squares. These areas have the best atmosphere and give you the most interesting experience while you're in town.
Activities
There are several interesting activities you can enjoy during your time in Funchal. If you have time, many people enjoy playing golf at the Palheiro Golf Course. Also make sure you take a ride on the Funchal Cable Car. It has a great view of the city and the upper station is at Monte, where you can visit the Monte Palace gardens as well as the church at Monte. You can then catch a different cable car down to the botanical gardens. It is best to purchase a combination ticket.
Madeira Paragliding Adventures is another unique activity in the area. There are tandem paragliding flights that have great views of the landscape and scenery.
Food and Dining
There are a good number of restaurants throughout town although the prices can be quite high. Many of the restaurants offer both traditional Madeiran and Portuguese food. One of the most common dishes, which you can find almost anywhere, is espada com banana, or scabbard fish with banana. It is usually served with a fresh salad and potatoes. Bacalhau, or dried and salted codfish, is a little more expensive but is worth trying. Bacalhau com natas, or codfish in cream sauce is a version that is both common and delicious.
If you want to grab a drink, you'll find that Funchal has a generally tame atmosphere and the bars are usually very quiet.
Transportation
There are several daily flights between Lisbon and Funchal, as well as connections to other cities in Portugal. Although the airport used to be nerve whacking with its short runway, it has now been expanded and can accommodate all types of planes.
Funchal's compact city center can easily be explored on foot, but to go elsewhere in the city you should take the orange buses. It's easy to buy a Giro Card for about 2.50 euros. This allows you two journeys, and you must then add additional money to make further trips, but the price remains cheaper than if you simply pay the bus driver. Most buses can be caught in the waterfront area.
Train and Bus Prices
The best prices for buses and trains in Portugal
can be found on Omio
(formerly
GoEuro
). They let you search across all train, bus, and plane routes throughout the region.