Lisbon On a Budget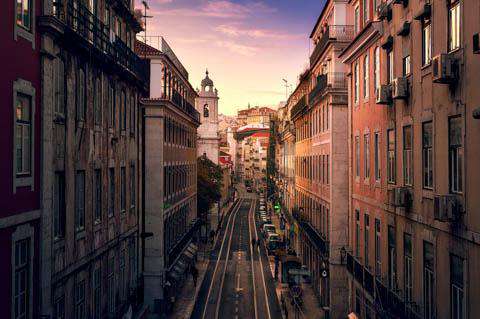 Portugal's capital city of Lisbon continues to grow in popularity as a travel destination. The cultural scene has come to life in recent years and the city itself is stunningly beautiful. It sits on the edge of the Atlantic Ocean and is made up of hills that create a dramatic and scenic layout. The city has many white-bleached limestone buildings, narrow alleyways, and a laidback charm that appeals to visitors.
The warm climate make it a popular travel destination year around. The winters are mild and the summers are quite warm. The Gulf Stream keeps the weather from turning too cold during the winter months and the average temperatures are above 15 degrees Celsius during the day. The summer season can stretch for six months between May and October and the average temperature is 25 degrees Celsius during the day. Winter sees the most rain and the summer months stay dry. Because the city is so close to the ocean, it can get very windy and there can be sudden and unexpected weather changes so it is best to come prepared for any temperature.
Sights
There are many sights spread throughout Lisbon as well as some great viewpoints of the city. Popular museums include
Museu Nacional de Arte Antiga
, The Calouste Gulbenkian Museum, Fundacao Arpad Szenes and Museu da Agua. Examples of the city's architecture include Castelo de Sao Jorge, Museu do Teatro Romano, Ponte 25 de Abril, Ponte Vasco da Gama, and Aqueduto das Aguas Livres. Gardens and parks are also popular. Some of the larger ones include Jardim Zoologico, Parque das Nacoes, Ajuda Botanical Gardens, and Lisbon Botanical Gardens.
With so much to do in this dynamic city, you'll have plenty of options. For more ideas, check out
this article about things to do in Lisbon
.
Neighborhoods
Lisbon is a city of neighborhoods. The business district is in Baixa. There is where you'll find a lot of Pombaline-style architecture and much of the financial centers. Chiado is to the west of Baixa and is a popular shopping district. Bairro Alto can be reached by trolley car and has a lot of charm and character. The Alfama is the oldest part of the city and is a great area to explore. Belem is in the west and has a lot in interesting monuments and Cacilhas is on the south side of the Tagus and is industrial in nature, but has a lot of great seafood restaurants.
Activities
One of the best ways to experience Lisbon is with a walking tour. There are many companies that offer organized tours or you can design your own by planning a route with a guide book. It's also possible to find cycling and boat tours.
Nightlife and music are popular in Lisbon. Many people enjoy taking advantage of the city's nightclub scene by going clubbing. There are almost always concerts going on around town. The genre of music can vary widely from jazz, to pop, to more traditional styles, so find something your interested in and enjoy the night out. But first make sure that you find one of the
best spots to see the sunset in Lisbon
, as the views over the city from various viewpoints can be amazing.
Clearly there are plenty of options, and for more ideas check out this guide to
things to do in Lisbon
.
Food and Dining
Like many countries in the Mediterranean, meals in Lisbon are scheduled around a siesta with dinner being served late, usually between 8pm and 11pm. The restaurants are usually small and locally owned. They are also quite affordable and usually offer a dish of the day that is available for a discount. The ingredients also tend to be fresher, so it is recommended that you choose this dish. Starters may arrive at your table, and you will be charged for them. If you don't want them, simply don't touch them and there should not be a charge. Read more about
what to eat in Lisbon
.
There are many different neighborhoods where you'll find good food. For the more traditional restaurants you can go to Chiado. It is best to avoid the Baixa area as this is where the touristy, more expensive, lower quality restaurants are. Chain restaurants tend to be concentrated around Doca de Santo Amaro and Parque das Nacoes. High end, fine dining is in Lapa and tour groups usually congregate in Alfama.
One experience to have in Lisbon is to hear traditional
fado
music along with your meal. There are some good restaurants that offer this, but you will likely pay more than you would at a typical restaurant. The food quality varies, so you are really paying for the music.
Transportation
Public transportation is a great way to get around Lisbon. It covers the entire city and even travels into the outskirts of town. The metro system has recently been renovated and it is very efficient, clean, and reliable. The announcements are made exclusively in Portuguese, but the signs are bilingual (English and Portuguese) as are the ticketing machines.
There is also a good bus and tram (electrico) system throughout the city. You can pay for rides with a rechargeable green card. It works on the metro, trams, urban trains, buses and even ferries. The buses that are not run by Carris, however, do not accept this card.
There are ferries that run between Lisbon and the suburbs that are across the Tejo river. A popular route for tourists is to take the ferry to Cacilhas, which lets you see the city from the water.