Saint Petersburg On a Budget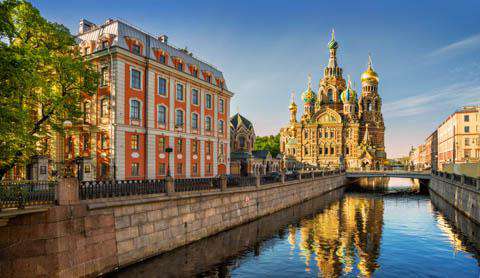 Saint Petersburg is a beautiful city that sits on the eastern edge of the Baltic Sea. Its historical city center is threaded with canals and architecturally impressive buildings, leaving little doubt as to why this city is a UNESCO World Heritage Site. It is the second largest city in Russia, but perhaps a favorite among travelers. The metropolitan area has a population of over 5 million as well as an impressive culture with fascinating museums, restaurants, and architecture. The city has no shortage of sights and attractions, and many days can be passed while you wander its intricate streets.
St. Petersburg has a humid continental climate. It can snow as late as April or even May and it is not uncommon to see sludge that lingers from the melted snow. June is the peak of the tourist season because it is famous for the White Nights when the sun sets for only a short period of time and the streets stay active throughout the night. During the latter part of the month there are performances, concerts, and festivals. The weather is warmest between the months of July and early September. Rain is not uncommon during this time. Winters are cold, but the advantage is that there are almost no tourists during these months. The snow can be beautiful but the temperatures often drop to -25 degrees Celsius with a cold wind chill.
Sights
While some of the best experiences in Saint Petersburg involve simply getting lost in the city, there are some true highlights that you shouldn't miss. Definitely make a point of visiting the
Hermitage Museum
, with its many fascinating items and stories. There is also the Russian Museum, the Peter and Paul Fortress, and the Admiralty which is not open to visitors, but worth viewing from the outside none the less. Also make a point of heading to the astern end of Nevskiy Prospekt next to the River Neva to visit Alexander Nevskiy Monastery. Here you will find Tikhvin Cemetery, which has tombs for some of the world's greatest composers. If you want to see a traditional Russian style church head to the Church of the Saviour on Spilled Blood. It was built on the spot where Tsar Alexander II was assassinated in 1881 and inside you will find some elaborate and impressive mosaics. For more information and details on all of this, check out these
travel tips for Saint Petersburg
.
Neighborhoods
At the historical heart of St. Petersburg is Palace Square. Other neighborhoods of interest for tourists in St. Petersburg include Nevsky Prospekt, the Square of the Arts and the Summer Gardens, the Taurida Gardens, the area referred to as "North of Nevsky" and "South of Nevsky", Vasilevsky Island and New Holland.
Activities
There are countless activities and festivals you can enjoy around St. Petersburg. Of particular interest are the opera or ballet. Russia is famous for these arts and the Mariinsky Theater has world class performances regularly. Other options include Mikhailovskiy Theater, St. Petersburg Opera, and the Conservatory Theater. Also look into other music concerts and films while you're in town.
Popular festivals in the city include the White Nights in June, NAVI day in July and New Years, which is the largest holiday in Russia. You can expect large crowds and lots of celebrations at this time of year.
St. Petersburg is also a popular destinations for cruises, especially river cruises. If this is your plan, check out this
Viking River Cruises packing list and tips
to make sure that you are prepared for your trip.
Food and Dining
Food in Saint Petersburg is generally expensive, but there are some cheaper options available. If your accommodation has a kitchen, you could also pick up some groceries and save money by preparing your own meals. One local specialty that you should definitely try is the hot Russian crepes with any of a number of toppings including caviar, mushrooms, caramel, or berries. They are typically served with a cup of tea. If you're in town during the winter, then this is particularly good.
Budget restaurant options include cafes that serve pirogies, or Russian style dumplings, several fast food chains, and sandwich cafes that are usually open at lunch. Affordable local chains include Chainaya Lozhka, Yolki-Palki Traktir, Kroshka Kartoshka, and Teremok, among others.
Transportation
The easiest, and probably the fastest way to travel around Saint Petersburg is by subway. The system is quite impressive and many visitors consider it an experience in and of itself. The stations are often elaborately decorated making it more than just a commuter rail. In the past, patrons were not allowed to take pictures, but recently those restriction have been lifted. It is still best to confirm that photography is allowed before you pull out your camera. The subway is the second largest underground rail system in Russia, after Moscow, and the trains are efficient and frequent. If you have to transfer trains then be prepared for a long walk in between.
The tram provides a better view, but is slower than the subway. The price is cheap but it is not the most efficient way to get around the city. Several lines have recently been removed as well.
Buses and trolleybuses are frequent and cheap. They travel to parts of the city that the metro doesn't cover as well as further into the suburbs. The main routes can become quite crowded, particular during rush hour.
Route taxis offer an efficient way to travel somewhere. They're white or yellow in color and marked with the letter K and the route number. They do not have regular stops so you have to let the driver know when you want off. You can wave one down from the road as well.
Related:
Traveling alone to
Moscow
,
St Petersburg
,
Stockholm
or
Riga
and need a hostel?
Looking for a
party in Copenhagen
or
Tallinn
?
Looking for
budget hostels in Scandinavia
?
Train and Bus Prices
The best prices for buses and trains in Russia
can be found on Omio
(formerly
GoEuro
). They let you search across all train, bus, and plane routes throughout the region.