Busan (Pusan) On a Budget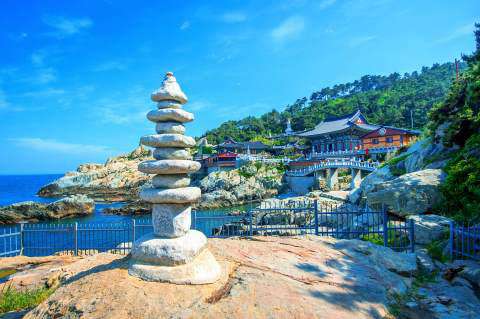 An important port city in South Korea, Busan is known for its beaches, mountains, and temples. With a thriving harbor, the city's main revenue comes from international shipping, although the area is quite popular with tourists from all over the globe, too. The place is bustling with sailors from around the world as well as tourists who come to enjoy the culture of this modern and dynamic city.
Sights
While it is a bustling modern city, Busan is also home to some amazing temple complexes that are worth the visit. Beomeosa Temple is located up in the nearby mountains, and though it is only a short drive, the aura of the place feels a world away. The temple gets very busy with worshippers, hikers, and tourists on the weekend. There is also a trail that leads to a beautiful view overlooking the city. Yonggungsa Temple is another Buddhist complex that spreads along the shoreline. It is well known for its Buddhist statues and sculptures, and has a unique feel with beautiful architecture and the sound of the ocean always in the air.
Other landmarks include Gwangandaegyo Bridge,
Busan Tower at Yongdusan Park
, Haeundae Beach, and
Gamcheon Cultural Village
. A picturesque setting with colorful and historic alleyways, Gamcheon is sometimes called "the Santorini of the East." As far as museums go, a few located within the city include the Busan Modern History Museum, Busan Museum, Busan Museum of Art, and the Radium Art Center. Each has much to offer in local art and history. For even more ideas and places to visit,
check out this 3 day itinerary for Busan
.
Neighborhoods
Nampo-dong is a popular shopping and commercial district of Busan. It is a bustling center of activity with a long main street lined with shops, cafes, restaurants, and outdoor sculptures. With plenty of walkways, tourists from all over are attracted to the cosmopolitan appeal of this neighborhood. The areas around Pukyong National University and Kyungsung University also have many cafes, bars, and restaurants that attract college students and the younger crowd. Good food, a lively atmosphere, and every appeal of a thriving city can be found wherever you might find yourself in Busan. Like any city, most blocks are lined with things to see and do.
Activities
Beyond sight-seeing, shopping, and wandering the city streets, Busan has an aquarium at Haeundae Beach, the Jagalchi Fish Market where you can buy and sample fresh seafood, the Spaland Centum City where you can enjoy a variety of spa facilities and hot rooms, as well as Hur Shim Chung Spa which claims to be one of the largest hot spring complexes in Asia. It contains hot, tepid, cold and strawberry milk-filled baths, saunas, pools, and an outdoor section too. Of course, one could hike along the grounds of the temple complexes mentioned earlier, taking in the decorative architecture and serenity of the environment. Beomeosa even offers temple stay for men and women who don't mind a monks' diet.
Being located right on the water, there are also opportunities to hop on a boat tour or cruise of the area, as well as relaxing beaches. Some of the best are Haeundae Beach where surfing and jet-skiing is available, Songjeong Beach which is smaller but less crowded, and Gwangalli Beach where you can catch great views of the Gwangan Grand Bridge lit up at night.
Food and Dining
Being a coastal city, Busan is well known for its seafood. Some dishes native to Busan in particular include a seafood and green onion pancake called dong-nae pajeon (
get it here
), a flaky cod soup with vegetables called daegu tang, and a soup called bokguk which is made with a very poisonous pufferfish that can be dangerous to eat if not prepared correctly. Check if the place is licensed to serve it before you indulge in the delicacy. Restaurants, bars, and cafes can be found all throughout the city, though street food is a very popular way to grab quick and tasty bites on the go. Typical to Korea, most dishes are served with rice and a staple side dish called kimchi. Though it is known to be spicy, most people, locals and visitors alike, tend to develop a taste for it. Since Busan is a major city, the selection of food is diverse from traditional Korean cuisine, fast food, and Western fare to other international selections. Tipping is not customary in Korea.
Transportation
Busan's International Gimhae Airport is the third most important airport in Korea and is located in Gangseo-gu, Busan. International flights include major cities in Japan, China, the Philippines, and Vietnam, plus flights to Russia (Vladivostok), Thailand (Bangkok), Malaysia (Kuala Lumpur), Taiwan (Taipei), Saipan, Macau, and Hong Kong. There are also domestic flights available. Bus, rail, and taxi provide connections to the airport.
Busan is well connected on the Korean rail network with high speed trains run by KTX. Cheaper but slower lines are run by Saemaeul and Mugunghwa.
By boat, Busan is connected to Japan at the International Ferry Terminal.
Since driving and parking in Busan can be difficult, the best way to navigate the city is by public transportation. The two major bus stations are the Dongbu Intercity Bus Terminal and the Seobu Intercity Bus Terminal.
Once you're in Busan, methods of local transport include subway, light rail, taxi, and bus.
Related
Busan is one of many cities in South Korea. If you're looking to see more of the country, read
this 7-day itinerary for South Korea
.
Traveling alone to
Seoul
or
Tokyo
? Are you a
student looking for a hostel in South Korea
? Find the
best hostels throughout South Korea
.