Pyeongchang On a Budget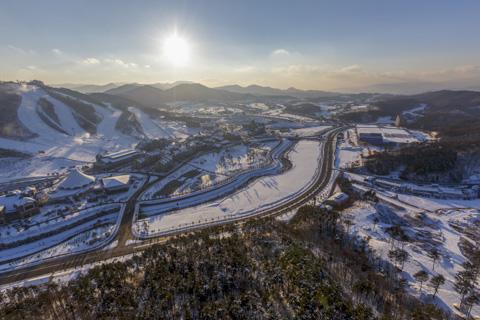 Pyeongchang is a county of South Korea situated in the Taebaek Mountains in Gangwon Province. A popular location for winter sports, it was chosen as the host city for the 2018 Winter Olympics. Other attractions include Buddhist temples, parks, villages, and natural scenery.
Sights
As far as sights go, the best-known hub of activity is the township of Daegwallyeong-myeon. It is home to the Alpensia ski resort, which is open year-round with 6 slopes for skiing and snowboarding. This resort will be the focus of the 2018 Cultural Olympiad, with a new concert hall built within the resort for the event.
On the eastern slopes of Mount Odaeson is the Buddhist temple Woljeongsa, which is another popular attraction for tourists. Founded in 643 by the Silla monk Jajang, the place has seen much history. It is also home to the Octagonal Nine Story Stone Pagoda, called the Sari-pagoda. Thought to have been constructed in the 10th Century, the stone layers are delicately carved with lotus flowers and other images. It has been designated as National Treasure Number 48 of South Korea. The pagoda, the Seated Stone Bodhisattva, the main temple, and the bronze bell of Sangwonsa inscribed with celestial figures are all sights that pay homage to the cultural heritage of the place. These and many more can be experienced during a visit to Woljeongsa.
Neighborhoods
Pyeongchang-eup is the district's only city, and it is surrounded by seven townships. It is small and located on the left bank of the river Pyeongchanggang. While local activities include the production of tobacco, silk, and honey, it is also a tourist resort area due to its vicinity near an area full of mountaineering and skiing activities. While Pyeongchang is the host city of the
2018 Olympic Winter Games
, the actual events will be held in the township of
Daegwallyeong-myeon
. It is home to the largest ski resort in South Korea called Yongpyong Ski Resort, as well as Alpensia Resort which will be the main venue of the Olympics, and the Daegwallyeong Sheep Farm. The rest of the townships include Bangnim-myeon, Bongpyeong-myeon, Daehwa-myeon, Jinbu-myeon, Mitan-myeon, and Yongpyeong-myeon.
Activities
In a land of mountains, the region surrounding Pyeongchang is very popular for mountain activities like hiking and winter sports. There are a handful of ski slopes and resorts that cater to these interests including Yongpyong Ski Resort, Alpensia Resort, and Phoenix Park.
Daegwanryeong Samyang Ranch is another popular place to visit, being the largest highlands farm in Asia. Visitors experience a rolling pastoral landscape with petting zoo type animals like sheep and goats to interact with. Daegwanryeong Yangtte Ranch is another such farm with interactive hands on activities for children to engage with the animals.
Other attractions worth a visit include the Ocean 700 water park near the ski slopes, Odaesan National Park, Yongpyeong Water Park Island, Sangwonsa Temple, Heungjeong Valley, and the Lee Hyo-seok Culture Village. The village is the birthplace of a well-known author who wrote by the pen name of Gasan in the 1930s.
Food and Dining
A staple food item of Pyeongchang cuisine is buckwheat. It is used in many ways to create dishes of many different flavors and textures. Memil Guksu is a type of noodle dish based in buckwheat, Memil JeonByeong is a dish that incorporated a buckwheat crepe wrapped around stir fry cabbage, Memil Muk Muchim is buckwheat in jelly form sliced and topped with a peppery cabbage salad, Memil BaechuJeon is a type of rustic pancake cooked with cabbage and spring onion in an oiled pan, Memil Muk Sabal serves the buckwheat jelly in a chilled tangy vegetable-laden broth, and finally Heo Saeng Won Memil Ggot Sul is a type of beer made from the buckwheat flower. The spicy paste called kimchi accompanies every meal, which is made from fermented cabbage with chili and other spices. Pyeongchang is also abundant in potatoes and known for a local delicacy called hwangtae, or dried Pollock.
Transportation
South Korea Bus and Train Prices
The best prices for buses and trains in South Korea
can be found on 12Go
. They let you search across all bus, train, and airline routes throughout Asia.
Yangyang International Airport is the nearest by air, located in Yangyang County of Gangwon Province. It serves the nearby areas of Sokcho, Gangneung and Pyeongchang with flights run by Korea Express Air.
Incheon International Airport is perhaps one of the better methods since it is the largest in South Korea, and possibly the largest and busiest in the world. It is the primary airport serving the Seoul Capital Area, and it has a golf course, spa, private sleeping rooms, ice skating rink, a casino, indoor gardens, and a Museum of Korean Culture.
In preparation for the 2018 Pyeongchang Olympic Winter Games, South Korea has begun building a direct high-speed rail that will connect Incheon to Pyeongchang in an effort to aid the ease and convenience of transport from the airport to the Olympic Winter Games location itself (via a KTX line).
Related:
Traveling alone to
Seoul
or
Tokyo
? Are you a
student looking for a hostel in South Korea
? Find the
best hostels throughout South Korea
.