Cheju (Jeju) On a Budget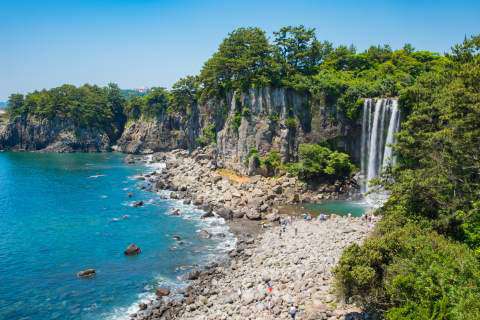 Cheju is an island located just off the southern coast of South Korea in the Korean Strait. It is known for its volcanic landscape full of craters and cave-like lava tubes, which many visitors venture to hike and explore. With the main industry invested in tourism, it is a popular vacation spot for Koreans and foreigners alike, and remains the top honeymoon destination for Korean newlyweds.
Sights
Visible throughout the island is Hallasan Mountain, a dormant volcano that features hiking trails, nearby Gwaneumsa Temple and a crater lake at the 1,950 meter summit. Exploring the natural wonders of the island provides sight-seeing opportunities like no other. The Manjanggul Lava-tube, for example, reaches 23 meters high-created by lava streams running through. Gimnyeonggul Cave is a similar attraction nearby, though it is for the daring adventurers since it is technically closed to the public.
Seongsan Ilchubong, also known as Sunrise Peak, is a round almost-island-the peak of a tuff volcano that many hike up to watch the sunrise. You will see pictures of it all over the island, and it's about a 25 minute walk to the top. Other popular attractions include beaches like Hyeop-jae and Iho, Jungmun Lava Columns with a cove of vertical boulders that lead to the sea, Cheonjiyeon Waterfall, Hallim Park's botanical gardens and lava caves, and Yeomiji Botanic Garden with a selection of cacti, tropical fruits, flowers, water lilies, and many others for a total of 2000 species of rare plants and 1700 species of flowers and trees.
Neighborhoods
Jeju city is the capital city of the province and usually the first and last stop for tourists due to its hosting of the Jeju International Airport and main ferry terminal. The city centre, just east of the airport, has a few historic structures, plenty of shopping, and lively bars opposite the old City Hall. Tapdong-ro has a plethora of seafood and pork restaurants, and the coastal road starting at Yongduam Rock has nice seaside views and many more restaurants, cafes, bars. Seogwipo is the other main city, occupying the south half of the island. Spread out along the coastline, Seogwipo is home to the Jeju International Convention Centre, Jungmun Tourist Resort Complex, 2002 FIFA World Cup Stadium, a port, beaches, and upscale hotels. The landscape consists of sheer cliffs, dark caves, and beautiful waterfalls.
Activities
With all of Jeju's natural volcanic wonders, it is very common for visitors to hike Mount Halla, Jeju's most distinctive landmark, one of three UNESCO World Natural Heritage Sites on the island, and South Korea's highest peak. The webpage of Hallasan National Park gives details and hiking advice on all of the park's trails. There are five hiking routes available: Yeongsil, Eorimok, Donnaeko, Gwaneumsa, and Seongpanak.
Another popular activity is to experience the culture of Jeju's folk villages which include Seongeup Folklore Village, Jeju Folk Village Museum, and the Folklore and Natural History Museum. There is also a vast selection of museums in history, art, wildlife, and culture to be found in locations throughout the island-the Green Tea Museum, African Art Museum, and Aqua Planet Aquarium are just a few.
The Jeongwol Daeboreum Fire Festival is another popular activity that is usually held in February, while the Loveland sculpture park, Kimyoung Maze of hedges, and Glass Castle theme park which specializes in glass sculptures can all be visited year round.
Food and Dining
The food of Jeju largely consists of seafood, as fishing is very popular in the island's villages. Instead of rice-beans, barley, millets, and buckwheat make up the major crops. Most dishes of Jeju are made with saltwater fish into soups and gruels, served with vegetables and seaweed and usually seasoned with soybean paste. Pork and chicken are used to made pyeonyuk, a type of sliced boiled meat, and most dishes are salty. Kimchi is less popular here than on the mainland. Some local delicacies include the hallabong fruit and pork from black haired pigs. Restaurants can be found all over the island though the urbans centers of Jeju City and Jungmun/Seogwipo will have the most selections. The cities serve local cuisine as well as international flavors from Mexico, France, India, Pakistan, Thailand, and many others.
Transportation
Jeju international airport has a total of 23 airlines, thirteen local and ten international, which provide direct flights. Most flights to Jeju are from Gimpo or Busan, and other cities in Asia. Travel between Jeju and almost anywhere outside of Asia is not very convenient, and will most likely require a change in airports.
By boat, Jeju port has just a handful of direct routes: Busan, Mokpo, Incheon, Wando, Nokdong, and Nolyeogdo.
Buses and taxis are the main method of public transportation, though bicycles are popular as well.
Related:
Traveling alone to
Seoul
or
Tokyo
? Are you a
student looking for a hostel in South Korea
? Find the
best hostels throughout South Korea
.