Arusha On a Budget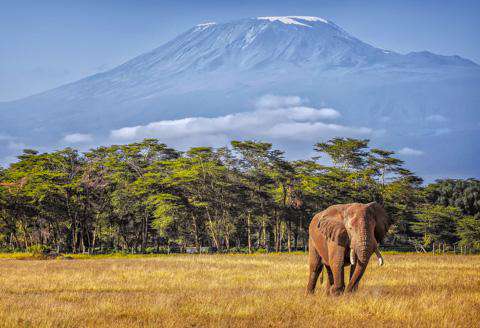 Arusha is a city in East Africa's
Tanzania
, located at the base of volcanic Mt. Meru. It's a gateway to safari destinations and to Africa's highest peak, Mt. Kilimanjaro, lying some 100 kilometers northeast. To the west lies Serengeti National Park, home to wildlife including lions, rhinoceros, giraffes and leopards. Annual migrations feature huge herds of wildebeests crossing its plains. Arusha is Tanzania's gateway to the northern circuit of stellar national parks and the starting point of many a memorable safari. It's also a large, sprawling city which offers a nice break from the rigors of life on the African road – it has excellent places to stay and eat and, for the most part, it's lush and green and enjoys a temperate climate throughout the year. Arusha is a great destination, and you're sure to enjoy your time here, no matter what your interests are.
Sights
The city hosts the National Natural History Museum, which contains three exhibits on early man, plants, and animals of the region, and the history of the city. The museum used to be an administration outpost for the Germans in the 1900s. It was opened in 1987 as a public museum and displays important assets to the scientific community such as models of Australopithecus people, human ancestors that lived over 2 million years ago.
A small museum adjacent to the Uhuru monument displays information about the proceedings of the Arusha Declaration in 1967.
Masai Market is the local handicrafts and curios market. The Cultural Heritage Center has a large handicrafts store, Tanzanite, and art gallery.
The Cultural Arts Centre offers workshops in traditional Tanzanian dancing and drumming as well as high energy music/dance performances from a professional dance troupe. You can also learn to cook a traditional Tanzanian meal, or make a coastal drum, which you can take away with you.
Neighborhoods
Downtown
There's plenty available to keep you busy in the downtown area, from restaurants to cultural experiences. The city's downtown area and the main road towards Dodoma are noisy and packed with people and traffic. This is also where you're most likely to encounter touts offering safaris, souvenirs and all manner of deals, some genuine, many of them not.
Kijenge
Kijenge is three miles away from Arusha and features a variety of attractions such as the crater lake, Lake Duluti.
Sakina
A newly built area on the slopes of Mount Meru, Sakina is strategically located on the northern side of Arusha. It provides a quick getaway to the nearby Kilimanjaro and Arusha national parks, the Ngorongoro conservation area, Lake Manyara and the Serengeti game reserve. There is a good supermarket, a couple of mid-range hotels, a few guesthouses and a number of places serving the traditional "nyama choma" (roasted meat) including "Trooper", the local favorite.
Tengeru
Tengeru is easily accessible by bus. Here you can try grinding your own coffee or just wander the streets and marvel at the beautiful village.
Activities
Climb
Mount Meru
. It can be done in 2-4 days, depending on your physical condition. You are not required to take guides and porters up Mount Meru, but you must be escorted by armed rangers. Temperatures can be freezing, so prepare warm clothing and sleeping bags. Comfortable and enjoyable climbing of Mount Meru would need a professional mountain guide in addition to armed rangers. Most mountain guides and porters are employed by local tour operators, so your best bet is to search out a reputable tour operator.
Go on a Safari! There are many types of
safari trips in Tanzania for many budgets
; usually the pricier ones get you out farther into the Serengeti and the Ngorogongoro Crater, to places that are a little less touched by man. The less expensive excursions to reserves and parks are specialized, of a shorter duration, and worthwhile. If there's one trip that will change your perspective on life, it's an African safari. You can even try a safari by camel. Camel safaris are done at slopes of Mt. Meru at Maasai village. Camel safaris offer great opportunity for wildlife safaris, Masai culture tour and adventures.
Experience the local wildlife at the
Ngorongoro Conservation Area
, home to the volcanic Ngorongoro Crater and boasting a wealth of majestic animals such as elephants, lions, leopards, buffaloes and rhinos, as well as herds of wildebeests and zebras, which migrate annually through the plains. If you're looking for a fantastic area to visit,
taking a safari to Ngorongoro Crater
is highly recommended. Other highlights of the area include the hominid fossils in the Olduvai Gorge, which date back millions of years. The area is part of the Serengeti and borders the southern plains.
Explore the Wetlands. The sixth largest park in Tanzania,
Tarangire National Park
, located in the Manyara Region, is divided by the Tarangire River. Known for its large populations of elephants, zebras, wildebeests and cape buffaloes, which are attracted to its fresh water reserves, the landscape also features Acacia and Commiphora-Combretum woodlands and Baobab trees. Stretching over 1,100 square miles, the area also features waterbucks, giraffes, impalas, and vervet monkeys, as well as predators such as lions, leopards, cheetahs and wild dogs.
Food and Dining
The city's cuisine is a blend of dishes from various parts of Tanzania as well as global culinary traditions. Ugali (stiff maize meal polenta) with meat sauce, beans, and greens is a staple dish. Nyama ndizi (a soup of meat and starchy cooking bananas) is also popular. Nyama choma, which translates from Kiswahili to English as 'roast meat' from either Cows, Lamb, Goat, and kuku choma are popular barbecue dishes usually served a side of french fries with local cold beer and pili pili. Chips mayai or zege is another popular local dish of chips (fried potatoes) and egg. Indian and Chinese cuisines are also widely available. Look for delicious roadside snacks on the streets of Arusha or visit the Arusha Farmers Market for a wide selection of Tanzanian delicacies.
Transportation
Arusha is served by two airports. Kilimanjaro International Airport has regular flights to Amsterdam with KLM, and to Addis Ababa, Dar es Salaam, Zanzibar and Nairobi. Kilimanjaro Airport is approximately 60km (45min) from the city center. Taxis are available to get to the city from the airport, but many airlines run shittles for much cheaper. Arusha Municipal Airport is on the outskirts of the city but only runs domestic flights, mostly to Zanzibar and Dar es Salaam, and charters. Visas-on-arrival are available at Kilimanjaro International Airport. Arusha can be reached by express coach from Nairobi, Dar es Salaam, and Kampala with direct services also available from Mwanza, Tanga, and Lushoto. The main mode of public transport is daladala, the ubiquitous minibuses which ply their trade on all the main routes in town. Daladala is very cramped and safety is something to consider. Taxis are plentiful and cheap; make sure to agree on a price before leaving for your destination. Car hire is possible, but most companies prefer to provide their own drivers.