Moshi On a Budget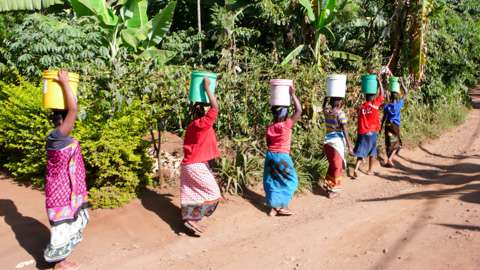 Moshi is a town in northern Tanzania, near the Kenyan border. It's known as a gateway to Kilimanjaro National Park, home to Africa's highest mountain, Mount Kilimanjaro. Trails run up the mountain's cloud-ringed, snow-capped dome, through alpine forests and meadows home to elephants and leopards. The noticeably clean capital of the densely populated Kilimanjaro region sits at the foot of Mt Kilimanjaro and makes a good introduction to the splendors of the north. It's a low-key place with an appealing blend of African and Asian influences and a self-sufficient, prosperous feel, due in large part to its being the center of one of Tanzania's major coffee-growing regions. Virtually all visitors are here to climb Mt Kilimanjaro or to recover after having done so. Yet there's much more to do, including cultural tours and hikes on the mountain's lower slopes.
Sights
The main sight in this area is Mt Kilimanjaro and the natural beauty around it. This is the primary point of interest and is what draws the majority of visitors to the region, but there are other things to see as well.
The town market can be fun to visit, even if you're not interested in buying anything. It can be a fun and interesting glimpse into the culture of the area and is a good way to meet some locals too.
There are many religious institutions to see, most notably the mosque near the center of town. You can also visit the Commonwealth War Cemetery located opposite the magistrate's court. It is also interesting to visit the former German administration office located between Kilimanjaro Co-operative Bank and BP petrol station on Mawenzi Road/Nyerere Road. You can still see the old military camp metal hanging pillar used for Germans and natives who broke German military law.
There are several smaller communities outside of the main town of Moshi that are worth taking a look around as well.
Neighborhoods
Downtown
Downtown Moshi has all the makings of a traditional East African city – bustling marketplaces, rushing rivers, distant mountains and bumpy dirt roads – but there's one thing that sets it apart from the rest: the people. To fully experience the people of Moshi, head to the busy, bustling marketplaces downtown. It's the central meeting place for local residents, whether they're selling goods or gabbing away.
Soweto
Has many more expensive homes and is also home base for a large European volunteer organization. There is the FalconCrest Hotel and Pub, as well as the Scorpion Pub for a night out. There is a good market near the Scorpion Pub.
Shantytown
An area of relative wealth. Several restaurants are located out here as well as a few hostels and hotels.
Majengo
A significantly worse off, more impoverished area than main Moshi.
Activities
Climbing
Mount Kilimanjaro
is the obvious reason for being in Moshi. Safaris are also essential, as well as a visit to
Ngorongoro Conservation Area
. Lake Manyara National Park and Arusha National Park are within a fairly easy distance, too.
Honey Badger Lodge and Safaris is a hotel, campsite, lodge and safari company. This is a family run place with an excellent swimming pool, bar area and children's play area. They can organize all your local tours and safaris, including anything ranging from a night of local drumming and food to climbing the mountain or seeing the national parks.
Cultural trips to Maasai villages are very worthwhile and informative. Although most of the villages are not completely authentic, it does give you an idea and information of native life.
Day trips to
Marangu Waterfalls
are often fun, you can stand underneath the waterfall, even jump off one and go swimming. Day trips to Lake Nyumba ya Mungu can also be interesting, lots of local fishing culture, aloe vera plantations and sugar cane plantations. There is also a snake park and camel riding center nearby.
Food and Dining
Although Moshi might be considered a small town, you'd be surprised by the variety of restaurants to choose from. From local Swahili-style food to Indian and Italian cuisine or even a combination of different styles, there is a world of food to be found in Moshi. But perhaps one of the best ways of experiencing local life is to sample Swahili dishes. You will find things like pilau – spiced rice with vegetables and/or meat/fish, mishikaki – grilled meat skewers, or ndizi nyama – a beef stew with bananas and vegetables. In Moshi, the 'trekking capital' of Tanzania, you may find travelers from all over the world, but also food from all over the world. Enjoy!
Transportation
To get into Tanzania you will first need to obtain a visa. This can be done in your home country by finding an embassy or consulate, or when you arrive in the airport or at a border crossing. Cutting cost on travel in Tanzania is not always the best choice. Generally if a price seems too good to be true, it probably is, and the safety standards may be compromised, so be careful to book a ride with a legitimate company. Kilimanjaro International Airport is about 45 mins by taxi from Moshi. Precision Air operates reliable shuttle buses to Moshi and they leave the airport whenever they are full and depart from Moshi roughly 3 hours before any Precision Air flight. Flights come from various non-domestic destinations, and this is how most tourists arrive. Buses arrive in Moshi from all of the main cities in Tanzania, and this is the cheapest way to travel. Getting around in the city is easy on foot. There are also plenty of taxis available. Always agree a price before you get in the car. Local transport around Kilimanjaro can be easy if you take local buses called Daladalas. They are 16 seater minibuses which usually transport about 30 people and/or children and livestock at any given time. Daladalas can be used to go within Moshi or to the surrounding villages. You can also hire your own land cruiser and driver if you prefer to have more control over your schedule.