Zanzibar On a Budget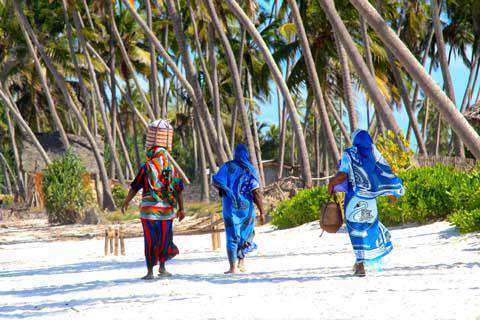 Just off the coast of Tanzania lies an entrancing archipelago known as Zanzibar. This gorgeous string of islands is the land of sultans, palaces beaches and spice-filled markets. Once an important trading center, many restorations have been done in recent years to restore Zanzibar to its ancient grandeur - earning its capital city UNESCO World Heritage status in 2000.
As you explore this mysteriously enchanting area, remember you are still visiting a largely Muslim community. Try to remain covered up and hold off on the PDA. Keep your alcohol intake discreet, and be very respectful of fasting traditions during the months of Ramadan.
Sights
Your first journey outside of your hotel should be the charming capital city of Stone Town. Lining the streets are nineteenth century buildings decorated with elaborately detailed doors. Stroll through the streets and just feel the vibrancy of this area.
For a little evening snack, take a short walk along the
Forodhani Gardens
. This popular waterfront spot is full of vendors selling all sorts of treats. Enjoy a fish skewer. Nibble on some mango slices dipped in chile salt. And if you're absolutely stuffed, you should still sip on a cup of sugar can juice infused with ginger and lime.
What vacation would be complete without an afternoon relaxing by the waves? The Mangapwani Beach is covered in perfect white sand and lined with resorts offering all the luxuries you can imagine. From daybeds to restaurants, all your vacation goals are met. Be sure to check tide predictions before you go. With low tide moving out miles, it can make swimming very tricky. The beach is, after all, one of the
best things to do in Zanzibar
.
These places are just a few of the many great things to see and do here. For more ideas, check out this very comprehensive
Zanzibar travel guide
which covers a lot more of the breathtaking scenery.
Neighborhoods
The Zanzibar archipelago is comprised of several islands including Unguja – the main island usually referred to as Zanzibar - and Pemba. Each island has its own unique cities from the enchanting Stone Two capital, to the northern city of Nungwi covered in swimming tourists, to the southern city of Paje and its amazing restaurants.
Activities
Most travelers are searching for grand adventures to write home about when they explore new worlds. For this unique experience, make your way to
Chumbe Island Coral Park
for a snorkeling adventure. This marine protected island is completely uninhabited and only allows fourteen people to visit everyday. If you can arrange to be one of those lucky four, you'll have the opportunity to witness undisturbed wildlife. Dip your head beneath the surface to see over 400 species of fish and rainbow coral.
If you're up for visiting more islands, be sure to tour Spice Island. While here, you'll see where your common kitchen spices like nutmeg, vanilla and cloves come from - from back peppercorns found by climbing up a plant over ten feet high.
Be sure to check the
Mtoni Palace Ruins
for any concert or shows going on. You'll love being surrounded by the island's celebrated music, taarab. It's a combination of all the different cultures that have passed through Zanzibar - Swahili, Arab and Indian.
For a nice relaxing way to end the day, kick back at the Old Dispensary in Stone Town with a smooth hookah. Enjoy the ocean view with 70 types of shisha including cinnamon and jasmine. As you settle into your relaxation, look around and take in the traditional elaborate woodcarvings and stained glass.
Food and Dining
With all the cultures passing through Zanzibar, the food reflects that. You really can find any dish you're craving. While there, though, be sure to take advantage of the amazing seafood selections like crab claws, calamari steaks, shrimp on a stick and coriander-spiced tuna.
Transportation
The easiest and cheapest way to travel around Zanzibar is by dala-dala, or mini buses. They operate much like taxis and are available to hire.
Renting a car is always an option in Zanzibar. Take precautions when selecting a rental car service, however. Many of the cars are between 15 and 20 years old and aren't regularly serviced. Since backup or exchange services aren't typically offered, should the car break down or need repairs, they will be your responsibility.
Also, if you do decide to drive yourself around, keep a few things in mind for the frequent police checks on the road. Always have your driver's license, your temporary Zanzibar driver's permit, car insurance on you, and be sure the proper road license stickers are on your windshield.
Related
Looking for a
hostel in Marrakesh
,
Cape Town
,
Nairobi
, or
Zanzibar
?