Tanzania On a Budget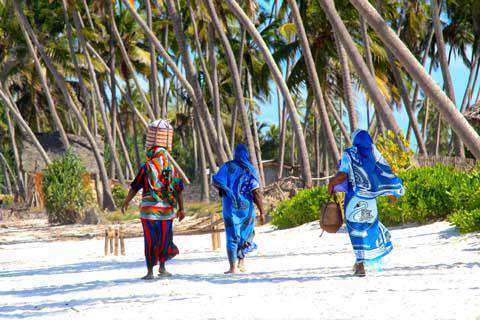 Tanzania is the largest country is East Africa, and a popular destination for wildlife safaris. The Serengeti National Park is a highlight for almost any trip. The park is a great place to see anything from lions, to cheetahs, to giraffes and elephants.
Many of the most popular and diverse national parks are found in the northern part of the country. These parks are great places to visit for wildlife viewing, luxury safari vacations, and guided tours. If you're looking to get a little more off the beaten path then consider heading to the southern part of the country. These parks are less visited and more affordable.
If you're planning a trip to Tanzania, consider going during January and February, which is the best time to do a safari. Alternatively, the weather is quite comfortable between June and August, at the end of the rainy season.
Many people also hope to pick up some African handicrafts during their trip. There are many local shops that sell everything from beaded jewelry to carved soapstone or Masai blankets. Bartering is a fun part of the experience so don't hesitated to negotiate a price. Keep the exchange light and fun and you'll enjoy the bartering as much as the shopping.
At A Glance
One of the best ways to travel around Tanzania is by bus. It's possible to fly into Nairobi, Kenya and then take the bus down to Arusha. Arusha serves as a good base for exploring Mount Meru and Ngorongoro Crater. While there are no highways in Tanzania, and the road conditions may not by ideal, buses still offer the most reliable and affordable way to get around. They stop in most small towns along the way so trips can be slow. It is best to be prepared for unexpected stops and situations.


Many visitors, particularly those short on time, choose to hire a car to travel in Tanzania. This is generally an affordable option and there are many reliable 4 wheel drive vehicles available. This option is the most comfortable and convenient way to explore the country. Because the road conditions can be challenging, it is recommended that you hire a Landcruiser or a Landrover.


Many people visit Tanzania specifically for the national parks and wildlife viewing opportunities. The northern part of the country is where you will find the more popular parks. These parks are generally packed with tourists but offer a great diversity of wildlife viewing opportunities. If you're looking to travel to the south then Ruaha National Park is your best option. It is less touristy and offers a more authentic and "real" experience.


Safaris in the country range from a basic tour which includes fly-tents, self-catering and a guide and vehicle to luxury tours with accommodation in luxury lodges and tented camps. Visitors often benefit from hiring a guide and a vehicle as the guides are familiar with the wildlife and the vehicles are designed specifically for wildlife viewing. Many of the basic tours travel to the smaller parks, while the luxury tours are prevalent in parks like Serengeti. That being said, you can find a variety of options wherever you decide to visit.


Mount Kilimanjaro is the highest peak in Africa and is a popular destination for many visitors to Tanzania. It can become crowded with tourists but is a very rewarding experience regardless. If you organizing your climb through a travel agency based in your home country you will likely pay substantially more but will have the convenience of knowing arrangements have been made. If you make arrangements after arrival make sure you read reviews and get referrals for the guide and company you choose to use. This option will save you significant amounts of money though.
Related:
Looking for a
hostel in Marrakesh
,
Cape Town
,
Nairobi
, or
Zanzibar
?
Top Tourist Attractions
Serengeti National Park:
Serengeti National Park is a top location for wildlife safaris. Visitors can view such animals as lions, cheetahs, leopards, hippopotamuses, elephants and more. The most popular time to visit the park is during the wildebeest migration between Serengeti National Park and Kenya's Masai Mara. Visitors are required to have a guide with a 4-wheel drive vehicle.
Ngorongoro Conservation Area:
This area is another popular stop for those hoping to view wildlife. The Ngorongoro crater was formed by volcanic activity and is rich is wildlife including elephants and a small population of black rhinos.
Zanzibar:
Zanzibar is a popular island destination that is off the coast of Tanzania. It offers beautiful beaches and a historic stone town. It's a great place for those who enjoy scuba diving, snorkeling, and swimming with dolphins. There are also red Colobus monkeys, the Jozani Forest, and spice tours available to visitors.
Popular Foods
Tanzanian cuisine makes use of the high quality produce found in the country. Vegetables are quite good. Coffee is also popular and delicious throughout the country. Use caution if you consume meats or dairy products as the freshness and quality can be variable. It is best to make sure the meat is thoroughly cooked so as to avoid any potential problems.
Mtori Soup:
This Tanzanian dish is made with plantains and beef. It is most often prepared for breakfast and is cooked over an open fire in a clay pot.
Mchicha:
This vegetable stew is a favorite in the country. It is usually prepared with peanuts, spinach, curry, and coconut and is often served with a meat such as fish or beef in it.
Mandazi:
This doughnut like pastry is usually made fresh first thing in the morning. It is served with coffee and also makes a great, sweet snack.