Kiawah Island is one of the best beach resort areas in the southeast, especially for families. The gorgeous beach is just the beginning, as the island also has swimming pools, tennis, bike trails, golf courses, a resort area with kids' activities, nearby shopping and dining in a family-friendly atmosphere, and more. It's also not very crowded, as the island's homes and condos are spread out amongst the palm and pine forest that is intertwined with tidal creeks and beautiful marshland. So you'll have the quiet relaxation that you need while still having plenty of nearby activities. And with Charleston not too far away, you can always make a trip into the city for some great cuisine, interesting history, and boutique shopping.
Kiawah Island is the perfect family getaway, and this article will help you find the perfect spot to stay during your vacation.
Places to Stay on Kiawah Island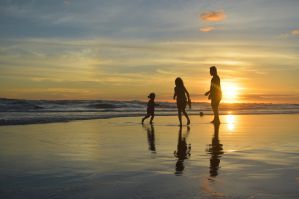 Kiawah Island has a variety of types of accommodations
on AirBnB
and
VRBO
. From condos to smaller cottages to larger individual houses, families of every size can find something that's perfect for them. Many of the condominium and cottage areas have shared amenities such as swimming pools and tennis courts. Parking is included for the condos and villas, too. Some also provide access to the golf courses. The private homes vary in size (and price), and some have their own swimming pools, too. The location of the private homes will vary, and those closest to the beach tend to be the highest in price.
Condos & Villas
Several different condominium complexes can be found on the beach on Kiawah Island. These units are quite nice, but vary depending on how the individual owners have decorated them. Some are very luxurious and are priced higher. Many of these condos have beachfront views.
With 2 bedrooms and 2 bathrooms being the norm, these units are terrific for smaller families. They are very close to the beach if not right on it, and also have access to the fantastic swimming pools, tennis courts, bike trails, and more.
One of the best options is one of the "Villas" (large condos) in the Windswept complex, which have very spacious layouts with upgraded kitchens, ocean views, and easy access to the tennis, golf and the swimming pool. For example,
this 2 bedroom villa
has been fully furnished with luxury styling and has a gorgeous kitchen. As an alternative,
this slightly less expensive villa
is also on the 3rd floor with high ceilings and fantastic views.
Fairway Oaks
One of the more affordable options is
this 2 bedroom / 2 bath condo
in Fairway Oaks Villas. It's just a short walk from the beach. Another similar condo is
this 2 bedroom unit
that has been recently renovated and has a view over the golf course.
Cottages
At the southern end of Kiawah lies a complex of standalone houses that are large enough for a small to medium sized family, as most have 3 bedrooms and 2 bathrooms. Each cottage is reasonably priced, while the specific styling and level of luxury depends on the property owner. These cottages have access to a shared swimming pool and are just a few minutes on foot to the beach. Within a short distance are the tennis and golf facilities, as well as some shopping and dining options. They also have some nice amenities such as plenty of parking, in-house washer and dryer, spacious kitchens, and porches or decks.
Renovated Pool Cottage
One of the best, which also happens to be quite close to the beach, is
this recently renovated cottage
with a fantastic deck. The beautiful and comfortable styling of the interior will have you relaxing in no time at all.
80 Inlet Cove
Another slightly more affordable cottage is
this one
, also located close to the beach and pool, as well as the nearby tidal creek. It's also appointed nicely and has a great kitchen.
Updated Kiawah Cottage
One more great option is
this updated cottage
with enough beds to sleep 8 people, along with a fully stocked kitchen, a location close to the beach and pool, and large bunk beds which the kids will love!
Houses
Kiawah Island is fairly large and offers a wide variety of houses available as vacation rentals. These houses come in all different sizes and locations. Some are right on the beach, while others are tucked a few blocks back into the palm forest or on the golf course. As the island is somewhat narrow, all of the houses are not far from the beach. Furthermore, the golf and tennis facilities are spread throughout the island, so no matter which area you find yourself in, you're not far from what you need.
A few of our favorite houses are the ones that have their own swimming pools.
5 Bedroom Home
This fantastic house has 5 bedrooms and a pool
. The spacious living room and kitchen area can play host for all of the guests, which can be up to 10 people staying here. The kitchen is spectacular, and the large sunroom is also a great place to lounge. Surprisingly, this house is fairly affordable compared to many of the similarly sized houses on the island. This is probably due to the location as this house is about 1 mile from the beach, which is perhaps a bit too far to walk for most families. But if you're willing to drive (or ride the included bicycles) to the beach, then you can live in luxury with your own pool.
Beach & Pool House
In our opinion, one of the best options on Kiawah is
this house which is just a few minutes to the beach
on foot. It also has its own pool in the back, as well as 4 bedrooms and 7 beds to accommodate a large group. The spacious kitchen and dining areas are a nice feature, as is the large living room and other recreational spaces for kids. It's reasonably priced for what you get: close to the beach, plenty of space, and a pool.
Ocean Green Drive
4 Bedrooms, Walk to Beach
If you want plenty of space in a house that's a little more affordable but still centrally located,
this large house offers plenty of amenities
while not breaking the bank. With 4 bedrooms and 5 beds, a large family (or several) could stay here. It's only a 10-minute walk to the beach and also has access to a nearby neighborhood pool. The home sits in an area of land surrounded by the golf courses and palm forests. The huge kitchen and living room areas are very comfortable and luxurious, too. You'll need to see the photos to believe it.
Beach Front Luxury
Our final recommendation is
this amazing beach-front home
. With 4 bedrooms and plenty of space in the living room and kitchen, a large family or several families would have an absolutely fantastic vacation here. The huge back deck overlooks the beach and ocean as well as part of the golf course. The 10-mile stretch of Kiawah beach is just out the back door. Also, the community swimming pool is just around the corner. Luxuriously appointed and very comfortable, anyone would be happy here.
Happy Travels!
Also check out out guide to
Places to Stay in Hilton Head for Families
.