Seabrook Island is a relaxing beach paradise. Located less than an hour south of Charleston, South Carolina, Seabrook is one of those vacation gems which brings back families year after year. It feels secluded due to it's slightly remote location, but it still has access to everything you could want. The nearby shopping areas have groceries and a few casual restaurants, while the pools, bike trails, tennis courts, and golf courses provide ample entertainment when you're not hanging out at the beach. You can also find horse stables here, too.
As Seabrook Island is not too large, it's easy to navigate around the island. The homes that are not on the beach are usually only a few minutes away on foot.
Various Types of Vacation Rentals
Seabrook Island has a range of places to stay in both size and level of luxury. From one bedroom condos to larger villa-type houses, to even larger full-sized homes, every family or group can find an option that fits their needs and budget. We start with the smaller condos first, but if you need more space,
skip down to the houses below
.
Also, almost all of the places for rent on Seabrook Island include access to the spacious community swimming pool which is located at the beach near the golf club.
Condos on Seabrook Island
Several condo buildings are located on the island, and most are either very close to the beach or right near the golf course.
Golf Course Condo
1 Bedroom, Full Kitchen, Beachfront
This one bedroom condo
is nicely appointed and fairly typical of the condos on the island. It has a nicely updated kitchen, and can sleep up to 4 people with the sofa bed in the living room area. The bedroom is on the 2nd floor which offers more privacy. It also has a washer and dryer.
Golf View Townhouse
Here's another one bedroom condo
with the same layout. As it's very similar to the one mentioned above, and in the same general location, you can see that many of these condos are a great option for a smaller family.
Cottages & Houses on Seabrook Island
Seabook offers a number of houses that are slightly smaller than a typical home on the island, but still larger than a condo. Many have 2 or 3 bedrooms and are located near the beach. They often have spacious decks and are built up on stilts in the classic southeastern beach style that is popular in the region.
Pedestal House
This fantastic and affordable "pedestal house"
is not far from the beach and overlooks a lagoon. The kitchen and bathrooms are perfect, and it offers plenty of space for a family, as it's just a few minutes on foot to the shore.
Renovated Home - Marsh Views
This recently renovated cottage
offers 3 bedrooms, a luxurious and modern kitchen, ample deck space and refreshing decor. It's less than 10 minutes on foot to the beach, and not far from the other amenities on the island. With room for up to 8 people, this is a great and affordable option. The kids will love the loft space, too!
Pedestal Beach House
This 2 bedroom villa has plenty of charm
in a more compact space that's large enough for a smaller family. It's also one of the "pedestal houses" that has been upgraded. It has an open layout with a self-described "tree house" atmosphere. And they have bikes for you to use, too.
Chic Resort Villa
As
this house was recently renovated
, the level of comfort here is quite nice. With a modern kitchen and 2 bedrooms, up to 6 people will be comfortable here. It's not far from the beach and pool, too.
Spacious Pool House
If you need more space and your own pool,
this large and modern home offers everything you could ask for
. Four bedrooms and the extra pull-out sofas provide room for up to 12 people. And with a pool in the back, plus a billiards table and foosball, the entire family will be entertained. The kids will love having their own space with bunk beds in the special games room. The kitchen is majestic, and the outdoor deck space is perfect for enjoying the weather. It also has a washer and dryer.
Check out the photos!
Brand New Island Getaway
Finally,
this updated 3 bedroom house
has a very modern kitchen, some gorgeous bathrooms, and elegant decor. We think it's almost too good for the kids, but you should probably bring them anyway, right? After all, it has a foosball table, and you're at the beach. The views out the large windows are of the surrounding marsh, and it's quite nice and provides a relaxing atmosphere. While it's a bit more expensive than some of the similarly sized homes, it's definitely a step up in style.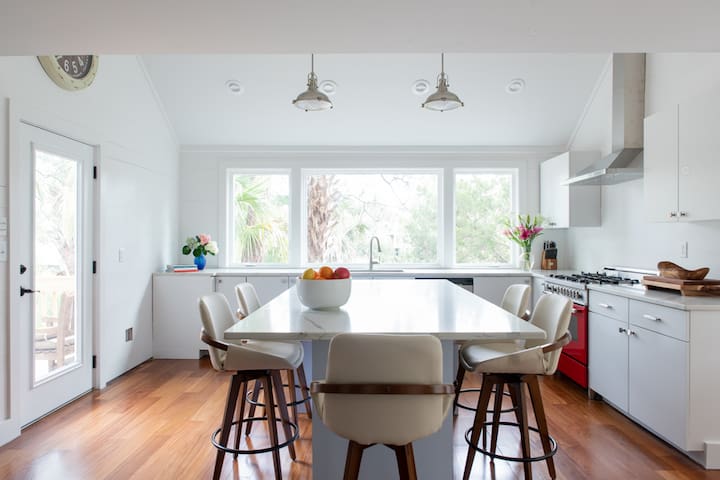 And that wraps it up. Have a great time at the beach, and happy travels!
See also
our roundup of the
best AirBnB's for families on Kiawah Island
, as well as
AirBnB's for families in Charleston
which includes Folly Beach and Sullivan's Island.