If you have a larger group of friends looking for a place to stay, then you probably know that a hotel room is not going to be large enough. So, we have researched the best airbnb cabins and condos for groups in Beaver Creek, Avon, and Eagle Vail. These rental properties have multiple bedrooms, kitchens, laundry, and easy access to the ski slopes. These airbnb's are also perfect for bachelor or bachelorette trips, a girls' weekend getaway, or a group of couples looking for some time away from the daily grind.
Beaver Creek, Avon, and Eagle Vail are all within close proximity to each other. Many first time visitors confuse the options and are curious about similarities and differences among each town. Below we offer a brief description of what makes each area unique along with the best vacation rentals in the area. So, read on for the best airbnb places to stay for groups in Beaver Creek and the surrounding towns.
Beaver Creek
For groups that want to take full advantage of the area's skiing, Beaver Creek is a great place to stay. It's located up the mountain from Avon and has a more resort and village vibe than the other areas. It's a small village and popular ski resort with some nice restaurants and shops. During the ski season, Beaver Creek comes to life with tons of people and activity. During the summer months the area moves at a much slower pace. It makes a great summer destination for groups that want to escape into nature and enjoy hiking and other outdoor activities. Two of the more popular hotels in Beaver Creek are Park Hyatt and Anchor Hotel. The area also has a number of condos and AirBnBs that groups often prefer because of their space and nice kitchen facilities.
Below are a couple of great properties for groups headed to Beaver Creek.
Park Plaza Ski in/Ski out Villa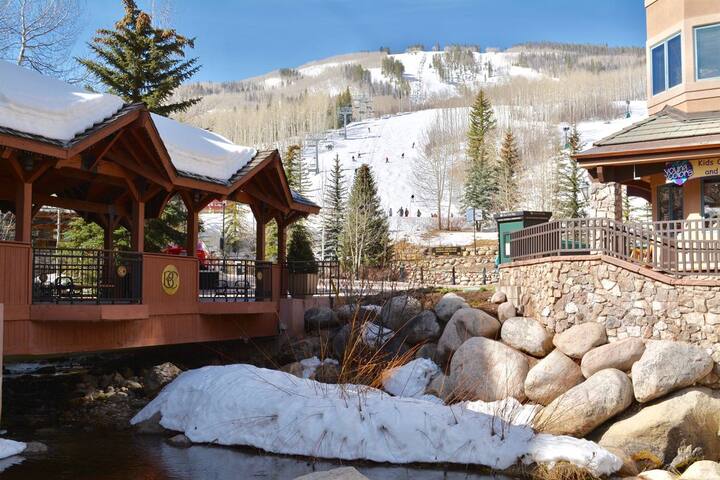 3 Bedroom/3 Bathroom, Ski In/Ski Out, Community Pool, Fireplace, Washer/Dryer
Park Plaza is one of the premier properties in Beaver Creek. This 3 bedroom unit is perfect for groups that want space and amenities. It's located at the base of Beaver Creek Mountain and offers a Ski in/Ski out location with easy accessibility to skiing, hiking, and other year round outdoor activities.
The property offers access to a community pool, steam room, sauna, and hot tub. The unit is furnished with a fireplace, full kitchen, and an entertainment center that kids and adults alike appreciate.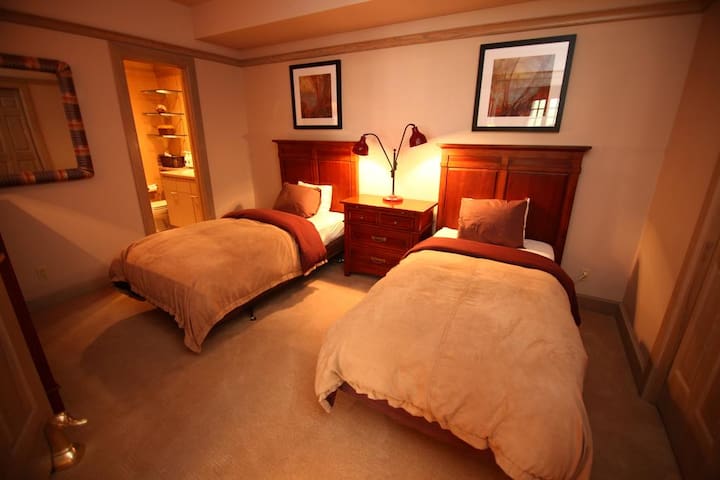 Ski In/Ski Out Townhouse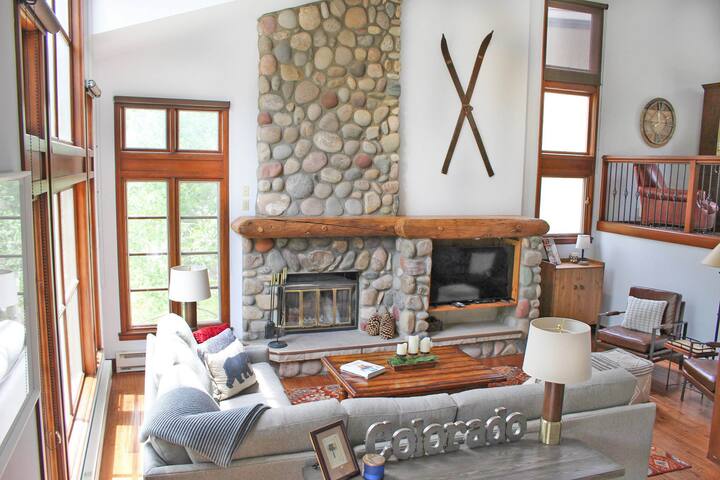 5 Bedrooms/5.5 Bathrooms, Community Pool, Private Hot Tub, Grill and Deck
This townhome is part of The Meadows Townhomes, which is walking distance to everything that Beaver Creek Village has to offer. The townhome is perfect for larger groups or family gatherings. There's an excellent outdoor space with a private hot tub, a nice deck, and a grill. The unit also has a wood burning fireplace and a full kitchen.
Guests can also take advantage of the community pool (outdoor and heated) as well as several community hot tubs.
Meadows Townhome
3 Bedrooms/5 Bathrooms, Ski In/Ski Out Access, Community Hot Tubs
A 3 bedroom townhome, also in The Meadows, this unit offers impressive mountain views of Strawberry Park and Beaver Creek Mountain and there's a good amount of space that groups appreciate. The complex has community hot tubs and guests can use the Highlands Lodge pool.
A Grand Townhome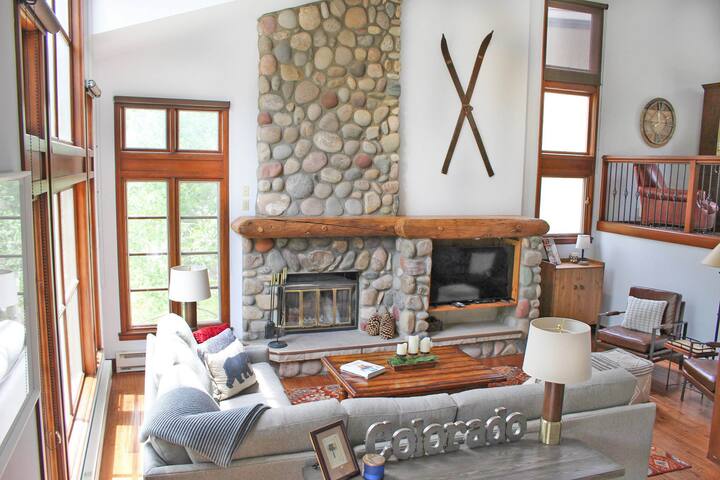 5 Bedrooms/5.5 Bathrooms, Ski In/Ski Out, Community Pool, Private Hot Tub
This large townhome, also found in The Meadows, has 5 bedrooms and is perfect for very large groups who want a lot of space to spread out. The complex is popular because of its prime location and outdoor heated swimming pool. This unit is particularly nice because it has a private deck, grill, and a private hot tub.
Avon
Avon is located down the mountain by I-70. It has a good sized commercial area with a high concentration of hotels and condos, but it doesn't have as much of a "village" vibe as Beaver Creek. Many of the properties are also close to I-70, which can affect the atmosphere. But Avon offers an affordable alternative to Beaver Creek. It's a great area for groups that want a good value.
One of the nicest hotels in the area is also found in Avon. Westin Riverfront offers a luxury resort experience with plenty of amenities and nice rooms. For groups that want more space, there are plenty of other condos nearby, some of which we mention below.
Avon Value Condo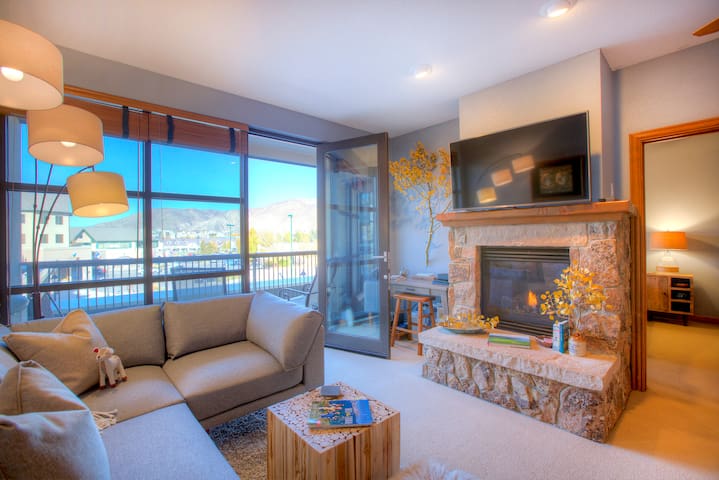 2 Bedrooms/2 Bathrooms, Fireplace, Fitness Center
Located on the 2nd floor of Chapel Place, this condo is a good value for small groups that want convenience but also affordability. It's near restaurants and shops, and there's a grocery store very close so you can use the kitchen to prepare your own meals.
Large Avon Condo
3 Bedrooms/3 Bathrooms, Community Pool and Hot Tub, Fireplace
This large condo is a great option for groups that want space for everyone. It's walking distance to the Westin gondola or there are shuttle buses that take you most places in the area. The complex has a pool and hot tub and the unit is well decorated with a cozy style. The complex is also walking distance to Nottingham Lake.
Mountain Chalet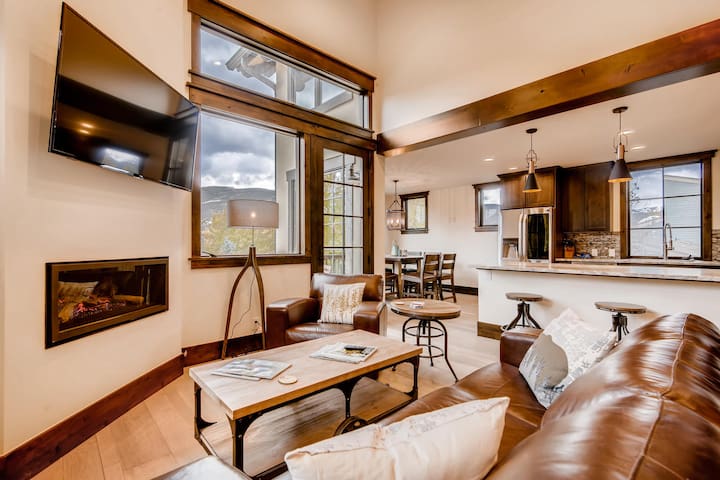 4 Bedrooms/4.5 Bathrooms, Private Hot Tub, 2 Car Garage
This 4 bedroom home is actually located between Avon and Eagle Vail. It makes a beautiful mountain retreat for large groups (up to 12 people). The property has a private hot tub, a luxury kitchen, and a 2 car garage. The house is convenient for hiking and other year round activities.
Eagle Vail
About 10 miles away along I-70 is Eagle Vail. This area offers visitors a number of great community amenities including a golf course, tennis courts, basketball courts, and more. The area has hiking and biking trails and a nice natural setting. Many of the homes have views of the mountains and lots of outdoor space that groups enjoy. Some great options are listed below.
Large Tranquil Escape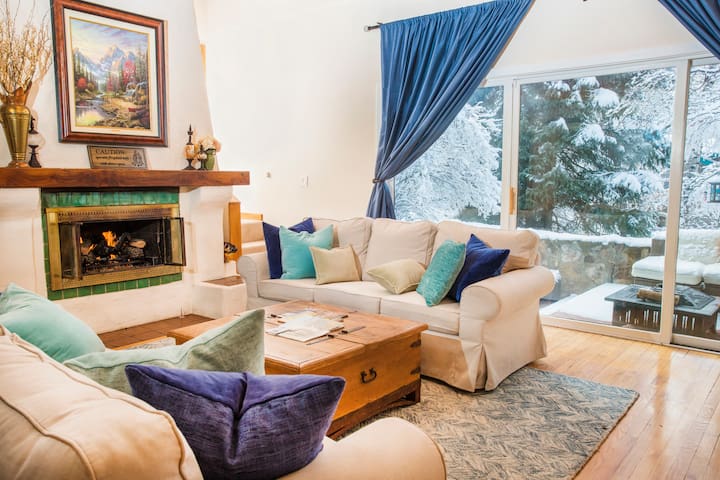 5 Bedrooms/4 Bathrooms, In-law Suite with Separate Kitchenette, Private Hot Tub
This house is surrounded by nature and offers a tranquil escape for large groups that want to enjoy skiing, hiking, and a beautiful natural setting. It's a short drive to both Beaver Creek and Vail Resort, and there are a number of hiking trails in the area. There's also a private hot tub and a separate in-law suite that has its own kitchenette.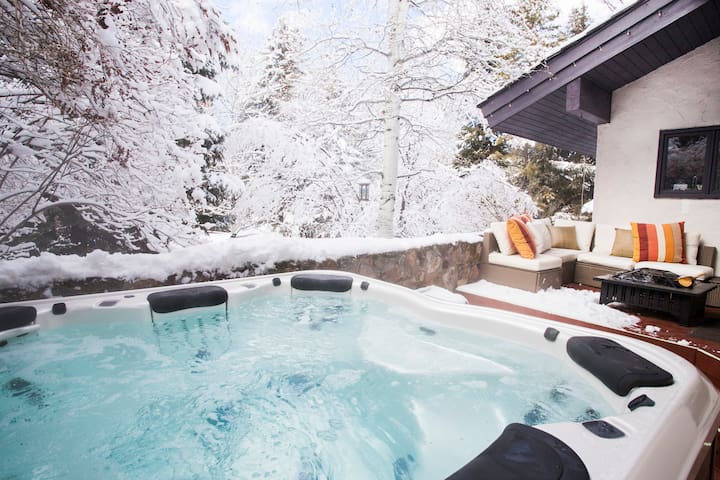 Serene Home in Nature
3 Bedrooms/3 Bathrooms, Wrap Around Deck, Community Pool, Tennis Courts
Groups love this house because of its impressive outdoor space with a wrap around deck and stunning mountain views. The community has a number of great amenities including access to a community pool, tennis courts, hiking and more. For groups that want to take full advantage of the area's natural setting, this house is a great option.
Grand Mountain Escape
5 Bedrooms/4.5 Bathrooms, 2 Master Bedrooms, Private Hot Tub, Beautiful Outdoor Space
This house also offers access to community amenities like tennis courts, hiking trails, and a swimming pool. It's a grand house with two master bedrooms, a private hot tub, and plenty of space for large groups. There are also a couple of decks and plenty of outdoor space that the whole group can enjoy.
Modern Mountain House
3 Bedrooms/3 Bathrooms, Golf Course, Community Pool, Private Hot Tub
The house has a nice yard with a hot tub and 2 car garage. The space is a nice option for smaller groups that want a modern setting with lots of amenities. The neighborhood has a pool and golf course among other amenities.
Sports Lovers Retreat
2 Bedrooms/2.5 Bathrooms, Golf, Tennis, and Basketball Courts, Parking
This 2 bedroom condo offers a great retreat for skiers and golfers alike. It's a good option for small groups. The complex has a number of great amenities including golf, tennis, and basketball courts. There's a private balcony, gas grill, and a full kitchen that makes the perfect escape for groups.
Happy Travels!
For more ideas about places to stay in Beaver Creek, you might also be interested in
The Best Family-Friendly Places to Stay on Airbnb in Beaver Creek, Avon, and Eagle Vail
and
The Best Romantic Airbnb Places to Stay for Couples in Beaver Creek & Avon
.