The Best Airbnb Condos and Cabins at Shawnee Mountain in the Poconos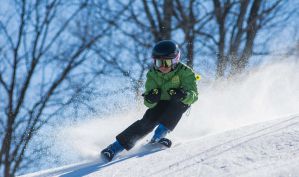 A popular ski resort in winter, and a fun summer destination as well, Shawnee Mountain is an affordable place to visit in the Pocono Mountains. This part of Eastern Pennsylvania is very family-friendly, as the ski slopes are fun but not too steep. And with snow tubing that kids and adults will love, as well as ski lessons for kids and terrain parks for snowboarders, they have something for everyone.
Located about halfway between Stroudsburg and Bushkill, Shawnee Mountain is surrounded by a small town area with plenty of restaurants and shops, as well as grocery stores and other fun activities for year-round entertainment.
If you're looking for a place to stay, we have researched the best Airbnb's around Shawnee Mountain in the Poconos for your next trip. Whether you're traveling as a family, a group of friends, or just a couple, these condos and cabins have plenty of features and some amazing amenities such as full kitchens, hot tubs, laundry, indoor swimming pools, game rooms, and more.
Where are the best places to stay at Shawnee Mountain?
Contents: Magnolia House | Modern 4BR Townhouse | Family Friendly 3BR | Cozy Country Getaway | Charming Getaway Townhouse
Shawnee Mountain
,
Pennsylvania
This
2-bedroom
townhouse has a new, modern feel to it because it has been well decorated and has undergone recent renovations. The modern, new kitchen has all of the appliances you would need to comfortably cook your own meals. The bathrooms are also clean and modern. And with comfortable bedrooms, a nice fireplace, and a very convenient location, you really can't go wrong here. It sleeps up to 8 guests, so it's perfect for a family, group of friends, or even just a couple that wants some space. Staying here also grants you access to the community pools (indoor and outdoor), as well as nearby playgrounds and parks.
Shawnee Mountain
,
Pennsylvania
If you need more space, up to 12 people can stay at this
4-bedroom
house with modern, luxurious design touches and a completely renovated kitchen and bathrooms. It's gorgeous! Check out the photos. The open kitchen dining area, along with the atrium-style central area of the house will let you keep an eye on everyone. The kids will love the bunk bed room and included games, while the adults will enjoy the relaxing sofas and spacious bedrooms with elegant bathrooms. Multiple TV's can be found through the house, too. The outdoor deck areas are also nice, and include some outdoor seating and a grill. This stunningly beautiful house is also very close to the Shawnee ski slopes, so it sits in the perfect location for your next ski trip or a warm-weather summer getaway.
Shawnee Mountain
,
Pennsylvania
This modern and clean
3-bedroom
townhouse is perfect for a family or larger group of friends looking for a getaway to the Poconos for skiing or summer activities. With a bunk bed in one of the bedrooms, kids will love this place. Adults will too because of the fantastic fully-equipped kitchen and spacious living room with a nice fireplace. The kitchen and bathrooms are obviously newly renovated as they are well designed and upgraded. And out back is a nice little deck with a grill, too. You'll also have access to the community pool, tennis courts, playground, and more.
If you're interested in more accommodation options in East Stroudsburg, you should also see The Best Airbnb Cabins and Houses in Bushkill, Pennsylvania in the Poconos.
Shawnee Mountain
,
Pennsylvania
This
2-bedroom
townhouse has plenty of space for a small family or a group of friends, or perhaps even a couple looking to stay for a while. It's also very
affordable
! The kitchen opens up into a spacious living room area with a fireplace, TV, and plenty of relaxing seating. Upstairs you'll find a cool loft seating area. The master bedroom has a nice jacuzzi tub in its bathroom, and out back you'll find a good deck with a grill. This is a great value, and you really can't go wrong here. Check out the photos!
Shawnee Mountain
,
Pennsylvania
This modern and clean
2-bedroom
townhouse has room for up to 6 people (or more if you use the sofas) and everything you would expect from a modern vacation home. The fully-equipped kitchen has everything you need to cook your own meals with modern appliances. The open-concept floor plan lets you keep up with your family or friends while you cook. The bathrooms are clean and updated, too. The townhouse includes access to the community indoor pool as well. Located right near the Shawnee Mountain ski slopes, as well as plenty of summer activities if you visit in the warmer months, this vacation rental is perfect for anyone visiting the area.
Some photos are courtesy of airbnb.com.
Share This Article