The Best Airbnb Places to Stay in Jim Thorpe, Pennsylvania in the Poconos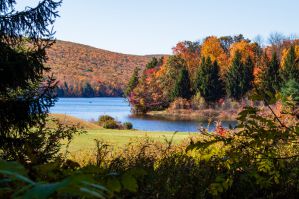 Named after the famous Native American athlete, the town of Jim Thorpe has plenty of historical charm surrounded by natural areas and fun experiences. For example, you can take a ride on the historic Lehigh Gorge Scenic Railway, visit an old mine at the No. 9 Mine and Museum, or hide away at the Old Jail Museum. The Mauch Chunk Museum & Cultural Center has lots of interesting history of the area, too. If you want to get out of town, hike up to nearby Glen Onoko Falls or head down to Beltzville Lake. And the Asa Packer Mansion is also worth a visit if you're a history buff.
If you're planning a trip to Jim Thorpe, plenty of great places to stay can be found in town and in the surrounding area. We have researched the best Airbnb cabins and apartments in Jim Thorpe for your next trip to the Poconos. So if you're a couple looking for a getaway, or a family that needs more space, one of these Airbnbs should be perfect for you.
What are the best Airbnb's in Jim Thorpe, Pennsylvania?
Contents: Whimsical on High, Historic Downtown | Cabin in the Trees | Lake House 3BR | Apartment F, High Street Guesthouse | Pohopoco Place | Josephine's Place | Historic Home
This historical home has been renovated quite nicely. With
2 bedrooms
, there's plenty of room for a couple or a small family. The elegant kitchen is nicely appointed and fully-equipped. The rest of the interior decor is gorgeous, too. Outdoor seating is also provided on the nice patio area. This house is located in the heart of town, but away from the busy areas. For the price, this is a great find, as it's hard to find the perfect mix of historical and modern with the level of comfort provided by this house. Check out the photos!
If you want to get out of town a bit, this gorgeous
1-bedroom
cabin is cozy and comfortable and has modern amenities. It's perfect for a couple. The outdoor garden area also has a grill, porch seating, and a nice outdoor table. On the inside you'll find a fully-equipped kitchen, a clean bathroom, and a cozy loft bedroom area. The location is also convenient to town and all of the park areas nearby.
Here's a
3-bedroom
lake house with room for up to 8 people. This is a great house for a family or group of friends looking for a more natural setting. As it sits near Beltzville Lake, you'll be able to visit one of the lake beaches only a mile away, and you'll have views of the lake from the house. The house has a hot tub, electric fireplace, DVD's, games, and a fun 80's decor. The large living room and full kitchen have plenty of space. The huge deck has nice views along with more seating.
Recently renovated and full of luxurious touches, this
1-bedroom
apartment has a whirlpool tub, a full kitchen, and a comfortable bed. As it's located close to everything in town, you can walk or drive to many of Jim Thorpe's sights, shops, and restaurants. Perfect for a couple. Check out the photos!
Here's a quaint
3-bedroom
cabin with room for up to 8 people. It has a nice deck with plenty of outdoor seating and a fire pit. Along with a full kitchen and a cozy living room, the bathroom is clean and modern, and the bedrooms are comfortable. It's great for a family because one of the bedrooms has bunk beds, too. This house is a bit out in the woods from Jim Thorpe and Lehighton, which is perfect if you want to get out into nature.
This
3-bedroom
townhouse is right in the heart of the town of Jim Thorpe, and is close to all of the shops and restaurants in town. With room for 8 people, and with 2 bathrooms, this is a great house for a family or group of friends looking to explore the area. The spacious kitchen with a large kitchen table opens up into the cozy living room with a great fireplace. It also has a small covered porch and nice views of the surrounding hills.
Located right in the heart of the historic area of Jim Thorpe, this house was built in 1896. With
3 bedrooms
, you'll have enough room for your entire family or everyone in your group. The interior has an elegant and antique style. The kitchen, though, is modern and fully-equipped with everything you would need to cook meals for everyone in your group. The bathroom is spacious and clean, too. You'll love the bay window that looks out onto the street below.
Some photos are courtesy of airbnb.com.
Share This Article