The Best Airbnb Condos in Snowshoe, WV for Couples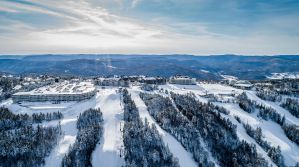 Snowshoe Mountain in West Virginia is one of the premier ski resort areas in the eastern half of the U.S. Not only is the skiing and snowboarding world-class, but the gorgeous mountain scenery, numerous activities, and terrific dining and shopping options bring in numerous visitors every year. It's really no surprise that this area is so popular once you've been here, because it has something for everyone.
In the winter, skiing is obviously the most popular activity. But Snowshoe also offers tubing for the kids. Also, you can take snowmobile and winter 4-wheeler tours. You can even ride a snowmobile up to a mountain lodge for an exciting remote dinner. And did you know that many of the swimming pools are heated? You can swim year-round.
In the warmer months, Snowshoe also offers hiking, camping, mountain biking, swimming, horseback riding, yoga, and more. The nearby lake offers even more activities such as paddleboarding, kayaking, and swimming.
With so many options, you can get away to Snowshoe any time of the year.
If you're a couple looking for a place to stay, we have assembled a list of the best condos and cabins on Airbnb. These affordable vacation rentals provide kitchens, laundry, wi-fi, and are within a short distance of everything you could need or want in the area. So, let's get started and find the perfect place to stay in Snowshoe.
Where should couples stay in Snowshoe?
Contents: Village/Slope View Studio | Powderidge 1BR | Base Mountain I | Mountain Lodge 1BR | Sky High Studio | Mountain Views
Plenty of natural light flows into this place because of its tall ceilings and large windows. This studio apartment has a queen sized bed which folds out of the wall (murphy bed), a sizable living room with a fireplace, and a kitchenette with a stove, microwave, sink, and fridge. The bathroom is clean and modern, too. A large TV, wi-fi, laundry, and other amenities are available, too.
The location is perfect. This condo is located right in the middle of the village, right above shops and restaurants. You can step out the door to the ski slopes, too. The building has a hot tub, sauna, and exercise room all included. The Split Rock pools are next door and can be used for a small fee (year round).
Powderidge is a condo complex with easy access to the slopes and the surrounding shops and restaurants. This ski-in ski-out condo has 1 bedroom and a very comfortable living room with a modern kitchen. Having been recently renovated, you can see the nice touches and upgraded kitchen and bathroom. Cook all of your meals here in the fully-equipped kitchen if you like. The bed is comfortable, too. The living room has a fireplace and plenty of seating. Extra guests could stay on the sleeper sofa. The balcony is another nice place to relax and enjoy the mountain air. A TV, wi-fi, and other amenities are included, too.
The door to the condo is within a stone's throw of one of the ski lifts. Just roll out of bed onto the mountain! This is a great find.
Here's a comfortable studio that is perfect for couples. With a queen sized bed, a sofa and living room area, and a fully-equipped kitchen, this condo has everything in an efficient space. You also get a TV with streaming services, Wi-Fi, a coffee machine, and a modern and clean bathroom. This is a great value for anyone traveling on a budget, as it's clean, comfortable, and convenient.
The building is a short drive from the village and the ski slopes (around 10 minutes or so at the most). You also have access to the shared hot tub in the complex.
If you're interested in more accommodation options in Snowshoe, you should also see The Best Cabins and Condos on Airbnb For Families in Snowshoe, The Best Airbnb Cabins in Snowshoe for Groups of Friends, and The Best Cabins on Airbnb at Snowshoe for Large Groups.
Here is another affordable and comfortable 1 bedroom condo in an amazing location in the Mountain Lodge. The owner says that it's only 50 steps to the slopes, so you can easily ski in and out of this place. The kitchen is fully equipped so you can cook your own meals. Or head out to the nearby restaurants, bars, and shops in the village which is just a few minutes away on foot. The bedroom is also cozy, and the bathroom is modern and kept very clean. Ski storage is available within the room, too. Additional storage lockers are located in this building as well.
If you're looking for a modern and updated place, this is a nice one. This studio apartment has a kitchenette and bathroom that is very clean and modern. The kitchen has a stove, microwave, and mini-fridge, which is great if you want to make some simple meals or bring back takeout. The large bed is very comfortable, too.
This place essentially has the feel of a large hotel room with modern touches and extra amenities. It's a great value.
The location can't be beat. It's right in the middle of the Showshoe village at Expedition Station. Just outside you'll have all of the shops and restaurants, not to mention the short walk to the ski lifts. During the summer months, just step outside for live music and festivals.
This very comfortable 1-bedroom condo sleeps up to 4 people and is in the Mountain Lodge building. The location is perfect, as it's just a short walk from everything in Snowshoe village such as restaurants, shops, and bars. And the ski lift is also just a few minutes away on foot, too.
The views from the balcony and the living room are terrific, as they look out over the mountains. The open kitchen flows into the living room. The fully-equipped kitchen has everything you need to cook all of your meals. The bedroom has a queen sized bed, and the bathroom is clean and modern.
A ski rack is in the hallway, and storage lockers for skis, bikes, and other equipment is also in the building. So is laundry. Wi-Fi, a TV, and other amenities are also included. The building also has a game room and other lounge areas in the large lobby.
Some photos are courtesy of airbnb.com.
Share This Article