The 7 Best Airbnbs in Wintergreen Resort for Families: Cabins, Resort Condos & Airbnbs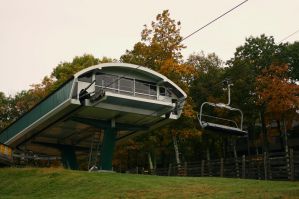 Are you looking for a family getaway? In the mountains of central Virginia lies the perfect destination: Wintergreen. This winter ski resort area is open year-round with amazing activities for the entire family. But you probably already knew that, and that's why you're here.
Below we've assembled some of the most affordable and comfortable places to stay for a family looking to get away from home in a safe and private setting. Most of these vacation rentals are single family homes or cabins with all of the amenities a family would need such as a kitchen, washer/dryer, and multiple bedrooms.
If you're looking to get away for a week or a weekend from Washington D.C., Richmond, Charlottesville, or anywhere else on the east coast, then Wintergreen is an ideal and convenient destination.
First of all, hiking options are plentiful and not too challenging for children. From the Humpback Rocks to the awe-inspiring views of Ravens Roost Overlook, your family will love the opportunity to get out into nature. You can also check out the Shamokin Springs trails, Crabtree falls, or even the nearby Rockfish Valley Natural History Museum.
And Wintergreen itself has plenty of great activities. Of course, skiing and snowboarding are the main attraction in the winter, but don't forget about tubing. In fact, the tube runs are open in the summer, too!
Speaking of summer, Wintergreen has a fun area known as Discovery Ridge where you can go rock climbing, gem mining, learn archery, go zip lining, play mini-golf, and more. They also have an indoor Ninja Warrior course. Little kids will also love the activities found at the Treehouse play center.
Golf and tennis are also on the agenda. And a trip out to the Hill Top Berry Farm is also a fun trip for the kids. Get some home made jams after seeing everything grow on the farm.
But enough of that, let's get to the best places to stay and the vacation rentals at Wintergreen so that you can get this trip started!
What are the best Airbnb places to stay for families in Wintergreen?
Contents: Overlook Views at Wintergreen | Mountain Getaway - Unbeatable Views | Cozy Mountain Home | Private Cabin w/ Hot Tub | Charming Mountain 3BR | Saltbox 4 Bedroom | Squirrel's Nest
Wintergreen Resort
,
Virginia
USA
With amazing views, this appropriately named vacation rental has large windows overlooking the surrounding mountains. The 2 bedroom condo has 2 bathrooms and can sleep up to 6 people, which makes it the perfect size for a family with several kids. The fully-equipped kitchen is nicely appointed in this luxury condo which has obviously been renovated with top-notch fixtures. From the cozy fireplace to the nice comfortable furniture, any family would be very relaxed here. The deck is also nice, and makes for a great spot to enjoy the winter or summer views with your morning coffee or evening meals.
The location is also great, as you're right in the middle of everything. The ski slopes, hiking trails, and other activities are just a short drive away. And for a small fee you can have access to the swimming pool and a few other resort amenities, too.
Wintergreen Resort
,
Virginia
USA
The views from this elegant yet affordable vacation condo are terrific. The large balcony overlooks the surrounding mountains and has amazing sunset views above the clouds. Both bedrooms have king sized beds, which makes this a great condo for a smaller family. With a fireplace, fully-equipped kitchen, wi-fi, laundry, free parking, and more, anyone would be truly comfortable and relaxed here.
And as you're only 1 and a half miles from the resort, everything in the Wintergreen area is just a short drive away.
Wintergreen Resort
,
Virginia
USA
Here is a 4 bedroom house with room for up to 8 people. With plenty of comfortable amenities, and situated in a great location, anyone would be comfortable here. The large living room, dining room, and open kitchen area make for a great place for the whole group to hang out and have fun. With a nice fireplace you can stay cozy while watching TV. The large deck has a grill, too, and plenty of space to enjoy the fresh mountain air. There's also laundry, wi-fi, free parking, and more.
Pool access is included, too, as is access to the lake. Whether you visit in the winter ski season or the warmer months which are perfect for hiking, this house is just the right spot for any getaway.
Wintergreen Resort
,
Virginia
USA
If you're looking for a quintessential mountain cabin, this 3 bedroom house is what you need. The spacious living room is nicely appointed and very cozy as it centers around the nice fireplace. The upper deck is a great spot to enjoy the weather, too. The open concept kitchen is fully equipped, modern, and elegant. It's probably nicer than what you have at home, so why not spoil yourself a little? The bedrooms are also large and comfortable, with very nicely appointed bathrooms. In the basement, you'll find another living room area with a large TV, laundry, and a lower deck with a nice hot tub.
The views from the property are stunning, as you'll be able to look out over the mountains that surround the valley. And you're not far from everything in the Wintergreen resort area, too, which just adds to the appeal of this vacation rental. Check out the photos!
Wintergreen Resort
,
Virginia
USA
Here is a relaxing and affordable 3 bedroom house with enough space for a good sized group looking for a fun adventure. Why not relax on the deck, or inside in the open concept living room and kitchen area? The upper loft has another seating and TV area, too, so your group doesn't have to fight over what to watch! The rustic decor has a mountain vibe, but it's also elegant and luxurious, so anyone would be comfortable here. The bedrooms and bathrooms are very warm and comfortable.
The location is terrific, as it's only 1 minute by car to the Mountain Inn as well as close to the ski slopes, hiking trails, Discovery Ridge, and more. And access to 2 nearby outdoor pools is also included. This house is a great value for sure.
Wintergreen Resort
,
Virginia
USA
With room for up to 10 guests, this 4 bedroom vacation rental cabin has the perfect mix of size and amenities to make everyone comfortable. The location is great, as it's close to the main resort area: only a few minutes by car. It's also close to plenty of restaurants, shops, hiking trails, and the ski slopes.
The cabin itself is tucked away in the woods. The open kitchen area overlooks the lower level living room. The kitchen itself is nicely appointed and well equipped for everything your group could want to prepare. The owners and many guests say that the terraced layout of the house feels like a large treehouse with fantastic forest views. The bedrooms are well appointed and very comfortable, too. Two of the bedrooms are smaller, which are great for kids or even a baby that needs some peace and quiet away from everyone else. With nice bathrooms, multiple TVs, Wi-Fi, laundry, streaming services, and more amenities, anyone would be comfortable here.
Wintergreen Resort
,
Virginia
USA
Here's a 2 bedroom condo that is perfect for a smaller family that wants to relax in comfort close to everything that Wintergreen has to offer. The elegant kitchen (fully-equipped and very luxurious) opens up into the living room which includes a fireplace and relaxing furniture. Board games are included, too. The outdoor deck area is quite comfortable, too, and is surrounded by the forest and has a grill. The bedrooms are very elegant, too. The master is appointed in such a way that anyone would feel comfortable here, and feels like a luxury hotel.
As this condo is also just a few minutes from the ski slopes and main resort area, you really can't go wrong with this vacation rental. Check out the photos, it will win you over!
Some photos are courtesy of airbnb.com.
Share This Article