The Best Cabins, Condos & Airbnbs in Wintergreen for a Girls Weekend Getaway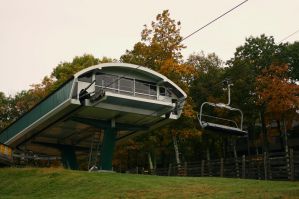 If you're looking for an idea for your next girls' weekend getaway, Wintergreen is a terrific choice. With plenty of activities, as well as some amazing places to stay, your group will have a blast.
First of all, the vacation rental houses are top-notch but also quite affordable. And second, you'll have so many choices of activities that you probably will need more than just a weekend. If you're coming from Washington D.C., Richmond, Charlottesville, or Hampton Roads, then Wintergreen is a convenient and fun place to visit because of its location and cost. With hiking trails, wineries and breweries, restaurants and bars, and other activities, everyone will have a great time. After all, this is a very popular destination for bachelorette parties, showers, birthday getaways, or other girls' retreats.
If you're in the area, visit Flying Fox Vineyard or Delfosse Vineyards to take in the views and have more than your fair share of tastings. Or if you're more into the beer scene, plenty of breweries can be found in the area such as Devils Backbone.
And if you want to go hiking, several easy but gorgeous trails can be found here such as the Ravens Roost Overlook, the Humpback Rocks trail, or Crabtree Falls.
Ski season is, of course, the best time to visit. So if you're into skiing or snowboarding, this is the place to be. Or just hit the tube hill if you just want to have some casual fun.
So, let's get to it. Here are the most affordable and best vacation rental houses and condos for a group of girls looking for a fun weekend getaway.
What are the best places to stay for a Girls' Weekend Getaway in Wintergreen Resort?
Contents: Fawn Ridge Cabin | 5 Peaks Luxury Home | Relaxing 3BR Cabin | Overlook Views at Wintergreen | Cozy Mountain Home | Private Cabin w/ Hot Tub | Charming Mountain 3BR | Saltbox 4 Bedroom
Wintergreen Resort
,
Virginia
USA
The quintessential mountain cabin for rent on Fawn Ridge road has plenty of mountain charm. The large windows in the main living area bring in plenty of natural light and provide forested views of the surrounding trees. The nice kitchen opens up into this living room area so that your entire group can chat and have a good time during meal times (or wine time). With 3 bedrooms, the cabin has room for up to 8 people. The master bedroom is on the main floor, while the other 2 bedrooms are upstairs. One of the upstairs bedrooms has a set of bunk beds in addition to the full sized bed. Each bedroom is comfortable, cozy, and charming. The large outdoor deck is a great place to relax, and also has a grill. You really can't go wrong here.
Wintergreen Resort
,
Virginia
USA
After your group of girlfriends walk into this house, they will be stunned. The large living room with a vaulted ceiling is the perfect backdrop for a group looking to have a great time relaxing in front of the fireplace, drinking wine from the nearby vineyards, and planning their next outing on the slopes or hiking trails. No matter what time of year you visit, this house is close to everything and offers plenty of comfortable amenities. It's near the ski resort, near the hiking trails, and has easy access to the surrounding areas where you'll find the breweries and wineries.
The large, luxurious, and fully-equipped kitchen flows out into the dining and living room areas, making this a great social cabin for any group of ladies looking for a fun experience away from home. The bedrooms are all nicely appointed, especially the master. You'll probably fight over who gets the big bed with it's massive ensuite bathroom. The large shower has three (yes, 3) showerheads! More sleeping space is found up in the loft, in the other bedrooms (which are all large), and in the studio which has its own fireplace.
And did we mention the hot tub outside on the spacious and beautiful deck? Wander out to experience the forest surrounding you and hang out in the screened-in gazebo. It's just one more place in this great house to enjoy a glass of wine or your morning coffee.
Wi-Fi, laundry, multiple TVs, a 2-car garage, and more amenities are included. This is the place to be for your girls weekend getaway, so check out the photos!
Wintergreen Resort
,
Virginia
USA
Here's a nice and affordable 3 bedroom cabin with space for up to 6 people. The living room has a cozy fireplace which is a great spot to sip your wine while planning your next outing in the Wintergreen area. The fully-equipped kitchen has everything you need for all of your meals. Why not eat out on the huge deck if the weather is nice? Both upstairs and downstairs you'll find some great bedrooms with plenty of modern comforts, cozy beds, and nice views.
The location is nice, as this rental house is close to everything in the resort area. Just a short drive away are all of the ski slopes, hiking trails, restaurants, and more.
Wintergreen Resort
,
Virginia
USA
This perfectly named condo has gorgeous windows overlooking the surrounding mountains providing the amazing views that you can see in the photos. With 2 bedrooms and 2 bathrooms, your group of ladies can make this a base to explore the area as it sleeps up to 6 people. The fully-equipped kitchen is nicely appointed, and it's very obvious that the entire condo has been renovated with top-notch fixtures. From the warm relaxing fireplace (great for after your days on the slopes or hiking trails) to the comfortable furniture, the open spaces and nice views are perfect for those evenings with a bottle of wine and great friends. The outside deck is also nice, and makes for a great place to enjoy the mountain views with your morning coffee or meals before heading out to the nearby bars and breweries.
The location of this vacation rental is also fantastic, as you're right in the middle of Wintergreen's resort area. The ski slopes, hiking trails, and other activities are just a short drive away. And for a small fee you can have access to the swimming pool and a few other nearby resort amenities, too.
Wintergreen Resort
,
Virginia
USA
This terrific 4 bedroom house has space for up to 8 people. The comfortable amenities, and perfect location mean that this is an ideal spot for a group of girls looking for a getaway. The large living room, dining room, and open kitchen area make for a great place for everyone to hang out and have fun with the bottles of wine you found at the nearby wineries. The nice fireplace will help you relax after your days on the slopes or hiking trails. The large deck has a grill, too, and plenty of space to enjoy the fresh mountain air. There's also laundry, wi-fi, free parking, and more.
Pool access is included along with access to the nearby lake. Whether you visit in the winter ski season or the warmer hiking months, this house has everything you need to plan a great getaway for all of your girlfriends.
Wintergreen Resort
,
Virginia
USA
This 3 bedroom house can be described as the picturesque mountain cabin that you've been looking for. The large and comfortable living room is nicely appointed and very relaxing as it centers around the warm fireplace, making it the ideal spot for a group of girls to unwind with wine after a day on the slopes or hiking trails. The outdoor deck is a great spot to enjoy the weather, too. The luxurious open concept kitchen is fully equipped, modern, and elegant. It has everything you need for your meals, and then some, as it has clearly been well designed (see the photos). The bedrooms are also large and comfortable, with modern, clean, and well appointed bathrooms. In the basement, you'll find another living room area with a large TV. The lower deck is screened in and has a large hot tub. Now the girls can enjoy the comforts of the hot tub while enjoying the mountain air.
The views from this mountain cabin are amazing! You'll be able to look out over the mountains that surround the valley. And you're not far from everything in the Wintergreen resort area, too. This location absolutely adds to the appeal of this cabin, as you're close to everything. Check out the photos!
Wintergreen Resort
,
Virginia
USA
This affordable yet well appointed 3 bedroom house has enough space for a good sized group of girls looking for a weekend or week with friends. Why not relax on the deck, or inside in the open concept living room and kitchen area? The upper loft has another seating and TV area, too, so your group doesn't have to fight over what to watch! The rustic decor has a mountain vibe, but it's also elegant and luxurious, so anyone would be comfortable here. The bedrooms and bathrooms are very warm and comfortable.
The location is terrific, as it's only 1 minute by car to the Mountain Inn as well as close to the ski slopes, hiking trails, wineries, and more. And access to 2 nearby outdoor pools is also included. This house is a great value for sure.
Wintergreen Resort
,
Virginia
USA
With room for up to 10 guests, this 4 bedroom cabin in the forest has the perfect mix of size and amenities to make everyone comfortable. The location is great, as it's just a few minutes by car to the main resort area. It's also close to plenty of bars, restaurants, shops, hiking trails, and the ski slopes.
The cabin itself is tucked away in the woods. The open kitchen area overlooks the lower level living room. The fully equipped kitchen has everything your group of girls would want to prepare. The terraced layout of the house feels like a large treehouse with fantastic forest views, providing privacy and a relaxed natural vibe. The bedrooms are well appointed and very comfortable, too. Two of the bedrooms are smaller, which are great for singles that want some peace and quiet away from everyone else. With nice bathrooms, multiple TVs, Wi-Fi, laundry, streaming services, and more amenities, your group of friends will be quite comfortable here.
Some photos are courtesy of airbnb.com.
Share This Article