The Best Cabins on Airbnb at Snowshoe for Large Groups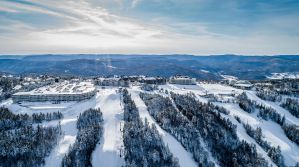 Are you thinking of taking all of your friends up to Snowshoe for an amazing weekend away? That sounds amazing, let's do it! (And I want to come, too!)
As you already know, Snowshoe offers some of the best skiing and snowboarding in the eastern half of the U.S. And the list of activities doesn't stop there. Snowmobile tours, tubing, swimming, visiting the spa, and the numerous bars and restaurants are just the beginning. And if you're thinking about going in the summer or fall, the activities are even more numerous with hiking, golf, yoga, the nearby lake, and more.
If you're planning a trip with a large group, then as you probably know, a small 2 bedroom condo is not going to be enough. The same could be said for a school group, a church group, or even for a scouts trip. You just need more room for more people.
Or, perhaps you want to have a girls' weekend getaway? These cabins would be perfect for that type of trip, too. The following mountain houses are very comfortable and relaxing. So bring your wine and enjoy the mountains.
We have put together a list of the best larger cabins in the area with multiple bedrooms that sleep at least 8 or 10 people, if not more. Some of these places also sleep up to 16 people! They also have everything you need such as fully-equipped kitchens, spacious living room areas, parking, multiple bathrooms, and gorgeous views. Also, they are all within the resort area or just a few minutes away by car.
So, let's get started and find the best cabins on Airbnb in Showshoe for a large group.
Where are the best large cabins in Snowshoe?
Contents: North Westridge 36 | South Westridge 5BR Cabin | Top of the Ridge Cabin | Blue Heaven | 6BR House with Deck | Walk to Slopes - 4BR Cabin
Here's an affordably priced 5-bedroom cabin with room for up to 15 of your favorite friends. And it's also within walking distance to Cupp Run. The location is terrific at this place!
This house has been recently renovated, so everything is modern, clean, and upgraded. The terrific kitchen has everything you need to cook meals for everyone. It flows out into the open living room with a nice fireplace and comfortable sofas. The bedrooms are also nicely decorated with comfortable beds, clean bathrooms, and more. This would be a great house for a group of ladies on a girls weekend getaway, or a group of guys on a ski trip, too.
Wow! This large and gorgeous cabin can sleep up to 16 people across 5 bedrooms. The views from the deck and windows are amazing, and just the first part of the long list of terrific and convenient features that this mountain cabin offers. The living room has a sunken seating area around a fireplace with lots of seating. This is a great place for everyone to have some wine, relax, and enjoy their time together. The spacious open kitchen is just off of the living room and is fully equipped so that you can cook all of your meals for your group if you like. It has plenty of counter space and modern appliances.
The bedrooms are all comfortably appointed in a rustic mountain decor. One of the bedrooms has 2 sets of bunk beds, both of which has a full sized bed on the bottom part of the bunk. The other bedrooms are comfortable and luxurious, too. As expected, the bathrooms are clean and modern, and well appointed. Wi-Fi, TVs, laundry, and more are included. The huge deck has ample space and amazing views overlooking the surrounding mountains and forest.
The location is convenient, as it's just a short drive to the central area Showshoe village and resort. The shuttle stops near the house so that you don't have to drive your own car and park, too.
This large house has room for 12 guests in 5 separate bedrooms (with 4 bathrooms). This is a very nice cabin-style house with great views overlooking the surrounding mountains and forest, and is surrounded by 12 open acres of land. The location is convenient, as it's a short drive to Snowshoe mountain and the ski resort area.
This house truly has everything you could need. The large kitchen opens up into a spacious living room area. This is a nice spot for everyone to hang out. Or, head downstairs to the game room with a pool table, wet bar, and more. Don't forget about the massive deck with outdoor seating (and a grill). Below the deck is a hot tub which is always nice to have, especially this one which lets you admire the mountains in the distance. The bedrooms are all nicely appointed with custom beds and clean, modern bathrooms.
If you need some space for your group at a reasonable price, this is the place to check out!
Make sure you also see The Best VRBO Condos in Snowshoe for Couples, The Best Cabins and Condos on VRBO For Families in Snowshoe, and The Best VRBO Cabins in Snowshoe for Groups of Friends if you're interested in more places to stay in Snowshoe.
The incredible views from the large deck of this beautiful 3 bedroom cabin will make you want to live here forever. Situated on the top of the mountain, this is an ideal setting for a mountain house. With room for up to
10 people
, all of your friends will have enough space to hang out, relax, enjoy skiing, eat delicious food, and chat over some beer or wine. The main living room area is open to the kitchen and dining space, and has plenty of cozy seating around the gorgeous stone fireplace and TV. The kitchen is a nice size for everyone that can fit in the house, and has everything you need to cook your own meals. The views from the living room are great, as the doors open onto the huge deck with its grand views over the mountain range. Use the outdoor grill for some of your meals, too. And don't forget about the
hot tub
, either!
The bedrooms are well appointed and very comfortable. They also have TVs of their own. The bathrooms are modern and updated with nice finishes. Of course, they are kept extremely clean. You will also find that this house has a neat loft, which can also become a nice spot to relax, do some work, or have a little privacy. The cabin also has plenty of storage space for skis, bikes, and gear, as well as wi-fi, laundry, and parking.
Located only 1 mile from the main stretch of Snowshoe village, this ski cabin is at the top of the mountain with easy access to everything in town and on the slopes.
Check out the photos!
This spacious 6 bedroom house has over 4200 square feed and has views of the surrounding mountains, golf course, and a pond. The large kitchen has everything you need (plus extras) for cooking all of your meals. The large island is a nice spot to feed everyone, or head to the dining table. The kitchen is part of an open concept layout with the large living room where you'll find a warm fireplace and some cozy sofas. The large windows let in plenty of natural light. The master bedroom has a great bed and a modern, luxury bathroom with a tub and a separate standing shower. The other bedrooms have a mix of bed sizes, some of which have 2 queens and 2 full sized beds to accommodate all of the extra guests that you're bringing with you for those fun evenings after skiing or hiking. Most bedrooms have their own TV, too. One of the bedrooms also has bunk beds. The downstairs living room is a game room with a foosball table, another TV and sitting area, and access to the spacious backyard. Your group will have even more space to spread out and have a good time.
Located only about 15 minutes from the resort village by car, this house is in a great location. You're close to everything but have the space that your family needs to be comfortable. The price is ideal for the amount of space you can have here, too.
Wow! This house is amazing! With 4 bedrooms, 4 bathrooms, and plenty of space for everyone. It also has a large
hot tub
, a deck, and some extra living room areas. The main living room and kitchen has a fun and inviting open concept layout where everyone can hang out, cook meals, enjoy some beers or wine, and relax in front of the warm fireplace. This really is the ideal setting for a group of friends on a ski trip (or a summer hiking trip). As this house is fairly new, the kitchen is not just fully-equipped, but it's also modern and elegant. The bathrooms are the same, with nice walk-in showers and modern comforts. The cabin also has laundry, Wi-Fi, TV's, and a grill (burgers, anyone?).
The location is also amazing, as you can walk to the slopes. The free shuttle is nearby, too, so you can get around the village area quite easily to visit the shops, bars, and restaurants. And did we mention the views of the surrounding mountains? You have to see the photos of this place to believe it.
Some photos are courtesy of airbnb.com.
Share This Article