The 6 Best Airbnb Vacation Rentals for Couples on Marco Island, Florida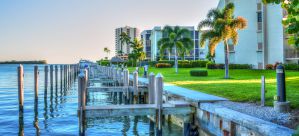 Marco Island is a barrier island in Southwest Florida. It's a popular travel destination with many resorts and places to stay. Many of the resorts are concentrated in the south of the island and there's a long beach on the west coast. Tigertail Beach Park is also a popular tidal lagoon for kayaking and water sports. Another fun destination is Briggs Nature Center, which has a short boardwalk where you can see wildlife. Marco Island is also not far from the Florida Everglades and is connected to Naples by bridges.
There are a number of great vacation rentals on Marco Island that are fun options for couples. Options include condos and vacation houses. Below are a couple of places that appeal to couples headed to Marco Island.
Where are the best places to stay for couples on Marco Island?
Contents: Coastal Contemporary Condo | San Marco Residences Condo | Seaview 2 Bedroom Condo | South Seas Condo | 1 Bedroom Beachfront Condo | Marco Island 1 Bedroom Condo
This coastal contemporary 1 bedroom condo is an excellent option for couples who want to enjoy nice amenities, easy beach access, and a modern condo. The beach is just 200 ft away and there are 2 bikes available that guests can use to explore the area.
The unit is a 1 bedroom with a covered lanai and a kitchen. The complex also has a pool and nearby public beach access. There are also a few restaurants within walking distance.
Another nearby unit in San Marco Residences, this condo offers affordability with easy access to the beach. It's not beachfront, but it's still right by the public beach access as well as the JW Marriott. It's a 5th floor unit that has a kitchen and a king-sized bed. The complex has a pool, tennis, and nice tropical landscaping.
This 2 bedroom condo in the Seaview complex is located on the beautiful south end of Marco Island. It's across the street from public beach access and the end unit offers plenty of space for couples to relax during their beach vacation. It's also conveniently close to Mission Plaza, which has a number of restaurants and shops.
For couples that want to enjoy the beach but don't want to pay a high price, this is a good option on Marco Island. The complex is comfortable, the location is great, and the amenities are nice, all for a very reasonable price.
This modern 2 bedroom condo has a nice style and plenty of space for a couple. It has nice views and a king-sized bed in the master bedroom. There's also a queen bed in the guest bedroom. The kitchen is modern with nice appliances and the complex has a heated pool among other nice amenities.
There is beach equipment and a wagon available to guests, but just a heads up that the beach access is a pretty long walk.
This 1 bedroom condo, part of Apollo Condominiums, offers an affordable beachfront unit for couples. Although it doesn't have the updated furnishings or larger kitchen of some other properties, you can look out on the beach from the balcony and enjoy views of the blue water and white sands, all at an affordable price.
For couples that want waterfront but don't want to pay the high price tag, this is a nice option. The furnishings are simple but reliable and the kitchen allows you to prepare basic meals. Otherwise you could head to one of the nearby restaurants for some delicious local seafood.
This 1 bedroom unit is also part of Apollo Condominiums. It's a beachfront unit with a private balcony that looks out on the water and sandy beaches. The furnishings are comfortable and the location is convenient. There's a small kitchen where you can prepare simple meals or you can grab an easy and convenient meal at the downstairs Sunset Grill.
This unit is another comfortable and affordable option at a great location. It's a great option for couples who don't want to break the bank but do want to enjoy everything that the beach has to offer.
Some photos are courtesy of airbnb.com.
Share This Article