The 6 Best Family-Friendly Airbnb Vacation Rentals on Marco Island, Florida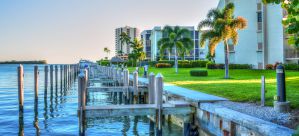 Marco Island is a barrier island in Southwest Florida. It's a popular family-friendly travel destination with many resorts, beaches, marinas, and golf courses. Many of the resorts are concentrated in the southern part of the island. There's also a long beach on the west coast.
Families love the natural setting that the island offers. Tigertail Beach Park is a popular tidal lagoon for kayaking and water sports and Briggs Nature Center is a fun spot to look for wildlife. Marco Island is also not far from the Florida Everglades and is connected to Naples by bridges.
There are a number of great family-friendly vacation rentals on Marco Island. Options include condos and vacation houses, with some of our favorites listed below.
Where are the best places to stay for families on Marco Island?
Contents: Dreamy Sunsets Vacation Rental | Island Style Life - 3 Bedroom Kingston Vacation House | Prestigious Estates - Salvadore Ct 4 Bedroom Vacation House | Seaview 2 Bedroom Condo | 4 Bedroom Marco Island Vacation House | Beachfront Beauty - Somerset Vacation Rental
This 3 bedroom home is a great option for families of up to 6 people. There's a king-sized bed in one bedroom, a queen in another, and 2 twin beds in the third. The house is conveniently located less than a mile from the beach in a central location near everything that you might need. The house has a number of great amenities available including a heated private pool.
There's a full, well-stocked kitchen where you can prepare family meals, or you could hop on a bike and be at a restaurant in just a few minutes. Whatever your style, this house has it all.
This 3 bedroom vacation home sits on a waterway in a nice location. It has an open floor plan, a nice kitchen, and a screened lanai with seating and grilling. The decor is modern and stylish and the amenities are great. There's also a heated pool that families love and beach supplies are available.
The home has 3 bedrooms. The master bedroom has a king-sized bed and an en-suite bathroom. One guest bedroom has a queen-sized bed, and the other has 2 twin beds.
For families that want a comfortable, homey place to stay, this is a nice option.
This beautiful 4 bedroom house offers a waterfront setting that looks out on a scenic bay. The space is beautifully decorated and offers large windows and lots of natural light. There's an open kitchen and family room area and a separate main living room. There's also a formal dining room that's the perfect setting for family meals.
The house has 4 bedrooms and space for up to 8 guests. There's a king-sized bed in the master bedroom as well as one of the guest bedrooms. The other 2 bedrooms have twin beds that are perfect for kids.
Outside there's a screened lanai and a nice heated pool. There's also a dock with a boat lift that offers access to the Gulf of Mexico.
This 2 bedroom condo in the Seaview complex is located on the beautiful south end of Marco Island. It's across the street from public beach access and the end unit offers enough space for small families to be comfortable. There's a king sized bed in one bedroom and 2 twin beds in the other. There's also a pull out sofa in the living room. The complex is conveniently close to Mission Plaza, which has a number of restaurants and shops.
For families that want to enjoy the beach but don't want to pay a high price, this is a good option on Marco Island. The complex is comfortable, the location is great, and the amenities are nice, all for a very reasonable price.
This beautiful vacation home is conveniently located just a block from the beach. The house has beautiful furnishings and plenty of amenities that the whole family can enjoy. The owner's live on the island, so it's easy to reach out if there are any inconveniences.
The house has a private heated pool, a foosball table, and 2 separate sitting areas that guests can enjoy. The kitchen is well stocked for preparing family meals and there's a nice dining area where you can eat.
This 2 bedroom beachfront condo offers it's own private balcony and views of the Gulf. It has a comfortable style with a king sized bed in the master bedroom and twin beds in the guest bedroom. There's a kitchen where families can prepare meals and a nice dining table where you can enjoy family meals. Alternatively, there are a number of great restaurants nearby. The complex also has a pool that families love.
This is a nice and affordable space for small families that want to be by the beach in a beautiful location.
Some photos are courtesy of airbnb.com.
Share This Article