The Best VRBO & Airbnb Condos in Snowshoe, WV for Couples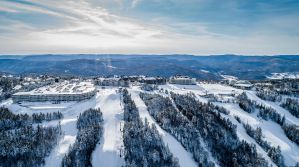 Snowshoe Mountain in West Virginia is one of the premier ski resort areas in the eastern half of the U.S. Not only is the skiing and snowboarding world-class, but the gorgeous mountain scenery, numerous activities, and terrific dining and shopping options bring in numerous visitors every year. It's really no surprise that this area is so popular once you've been here, because it has something for everyone.
In the winter, skiing is obviously the most popular activity. But Snowshoe also offers tubing for the kids. Also, you can take snowmobile and winter 4-wheeler tours. You can even ride a snowmobile up to a mountain lodge for an exciting remote dinner. And did you know that many of the swimming pools are heated? You can swim year-round.
In the warmer months, Snowshoe also offers hiking, camping, mountain biking, swimming, horseback riding, yoga, and more. The nearby lake offers even more activities such as paddleboarding, kayaking, and swimming.
With so many options, you can get away to Snowshoe any time of the year.
If you're a couple looking for a place to stay, we have assembled a list of the best condos and cabins on VRBO. These affordable vacation rentals provide kitchens, laundry, wi-fi, and are within a short distance of everything you could need or want in the area. So, let's get started and find the perfect place to stay in Snowshoe.
Where should couples stay in Snowshoe?
Contents: Ski-in/Ski-out Snowshoe Condo | Snowshoe 2 Bedroom Condo | Allegheny Springs Slope Side Penthouse | Allegheny Springs Studio | Cozy Slopeside Condo | Snowshoe Summit 3 Bedroom Condo | Summit Condo 201A
With 2 bedrooms, this ski in/ski out condo has more than enough space for a couple. The building is located right at the top of Ballhooter lift, giving it a prime location.
As for the interior, this condo has all of the comforts you need. Cook all of your meals in the kitchen. You'll also find nice furnishings in both bedrooms, which both have queen sized beds. The living room, which offers even more space to relax, will make you feel right at home. There's also a pool that guests can use, but come prepared to pay extra for it.
Relax here after a day in the mountains and this place will quickly feel like a home away from home.
This vacation rental is a great option if you want to make the most of your ski vacation. Couples love the space and convenience of the condo. It's a 2-bedroom, 2-bathroom vacation rental that has a king-sized bed in the master and a a queen in the extra bedroom. There's an open floor plan and a modern kitchen that is perfect for couples who enjoy cooking..
Step onto the balcony and enjoy the gorgeous views and romantic setting. The building also includes fire pits and several hot tubs.
This property is all about the stunning views! For skiing in the winter and hiking in the summer, this place is a good option. It's a 2-bedroom, 2-bathroom mountain view condo that can fit up to 8 people. The balcony offers a chance to spend time outdoors and soak up the beautiful setting.
Both bedrooms offer everything that guests could need. There are queen-sized beds in both of the bedrooms and there's a full kitchen as well that is well stocked and convenient.
The building has a heated pool and a hot tub where guests can relax.
For more ideas about places to stay in Snowshoe, you might also be interested in The Best Cabins and Condos on VRBO For Families in Snowshoe, The Best VRBO Cabins in Snowshoe for Groups of Friends, and The Best Cabins on Airbnb at Snowshoe for Large Groups.
This studio is a popular option in Snowshoe and it's a great spot for couples. The layout of this studio is convenient as well and the complex has a heated pool and a hot tub that guests can use. You can relax in the king sized bed and prepare meals in the well-stocked kitchen. There's also a fireplace in the unit.
Enjoy the mountain atmosphere and romantic setting on the couple's getaway.
This is a rustic and charming condo that is perfect for couples looking for a cozy get away. The 2-bedroom, 2-bathroom mountain view condo has a great location and is easily accessible to the slopes and the village. This is a comfortable option for anyone headed to Snowshoe.
Guests appreciate the convenience of this property's full kitchen. The 2 bedrooms provide plenty of of space and you can relax on the queen-sized bed. An indoor pool, games, parking, and internet are also included. This property has hundreds of reviews from other guests and it is loved by its many visitors.
This is a 3-bedroom, 2-bathroom mountain view condo that is roomy and gorgeous. It can accommodate up to 8 guests, but it's also perfect for couples who want to spread out. All of the bedrooms are nicely furnished. The queen-sized beds in two of the bedrooms both have nice mattresses. This condo also has a living room and dining area, which will let you relax comfortably on your trip. The kitchen in this condo is very nice, and with a microwave and refrigerator you'll be able to cook for everyone.
Wake up and enjoy your morning coffee and breakfast from the balcony. It's also the perfect place to watch romantic sunsets. It's hard to find a place like this, so check it out before it's booked up.
If you're looking for a vacation rental in Snowshoe, this 3-bedroom, 2-bathroom condo is a great option. This place will quickly feel like a home away from home. Couples appreciate the great balcony where you can relax and enjoy the nice mountain views. All of the bedrooms offer everything that guests could need. The full kitchen is well stocked and convenient, and features a microwave and refrigerator.
This condo also has modern amenities such as fire pit and internet.
Some photos are courtesy of VRBO.com.
Share This Article