Breckenridge On a Budget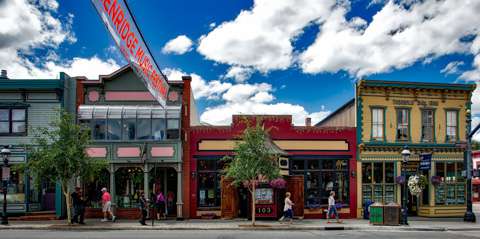 Breckenridge is a charming ski town that is notable for its quaint downtown area and impressive ski slopes. Most visitors head to Breckenridge to enjoy the winter ski season, so you can expect prices to jump during these times, but Breckenridge also has a lot to offer visitors during the warmer seasons as well. Hiking, mountain biking, and fly fishing are all popular activities during these times, and the prices are usually a bit more moderate.
Sights
Breckenridge is a destination in itself, with the beautiful mountain setting that can be seen from almost anywhere in town. Head to the historic
Main Street
to learn about the area's rich mining history and some of the traditional architecture. There are art galleries, shops, and even mining ruins that you can explore. Other popular sights around Breckenridge include Breckenridge Terrain Park, Lake Dillon, Blue River, and Imperial Express SuperChair. Kids love the Mountain Top Children's Museum as well.
Neighborhoods
Breckenridge has a charming
downtown and Main Street
area. This is where you'll find the highest concentration of restaurants, shops, and historic architecture.
Peak Nine
is another convenient area to stay where you can enjoy easy access to the ski slopes but also be walking distance to Main Street. To the south of town is the
Four Seasons
neighborhood. This area also offers convenient access to the slopes as well as hiking and biking trails. It's connected to Peak Nine by a pedestrian bridge that crosses over Maggie Pond.
Four O'Clock
is another neighborhood that's near the Snowflake lift and Four O'Clock Ski Run.
Warrior's Mark
is located near the black diamond terrain of Peak 10. The area is residential with a peaceful and beautiful setting. Finally, north of downtown is the
Highlands
area. This area is known for its luxurious homes and beautiful forest setting.
Activities
Skiing is the most popular activity in Breckenridge, but during the summer months there are many great outdoor activities that everyone can enjoy. Hiking, mountain biking, fly fishing, boating, and more are all common. There are also parks that offer ziplining, roller coasters, slides, golf, putt putt, and more. For a scenic view of the area, head to the SuperChair.
Festivals are also common in Breckenridge. During the winter months there's the International Snow Sculpture Championships, The Ullr Fest parade (for the Norse god of snow Ullr), and the Backcountry Film Fest. There are also a number of skiing and snowboarding events held throughout the season.
During the summer months there are concerts put on by the National Repertory Orchestra and the Breckenridge Music Institute.
Food and Dining
Breckenridge has a wide variety of restaurants to choose from including everything from fine dining high end restaurants to casual bistros and quick stop sandwich shops. You'll find a number of interesting places to eat along Main Street. For visitors on a budget, most condos and property rentals come with kitchens, so it's easy to cook some of your own meals and save some money.
Transportation
If you're planning to spend all of your time in Breckenridge, then you don't really need a car. There are several shuttle companies in the area that offer direct trips to and from Denver International Airport. There are also free buses that travel around town - just look for a Breckenridge Free Ride bus stop which are found all around town. The buses run between 6:15 a.m. and 11:15 p.m. and come every 15 to 30 minutes. If you're headed to other nearby towns in the area, there are a few bus companies that travel around the county.
If you're driving, there is often parking available at hotels and resorts. You'll want to make sure your car has mud and snow-rated tires and be prepared for quick weather changes. Also note that during the winter months I-70 between Denver and Breckenridge gets very congested and slow moving during the weekends.