Sarasota On a Budget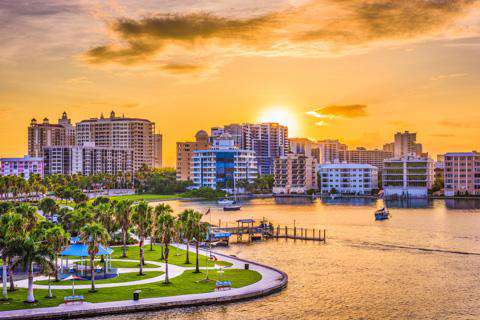 Located on the Gulf Coast of southwest Florida, Sarasota is a popular city known for its thriving arts scene, selection of restaurants, plenty of shopping, and beautiful beaches. The metropolitan area is a hub of city culture, while the beaches offer escapes of fine white sand and aqua waters.
Sights
Once the winter home of the Ringling Brothers Circus, Sarasota houses the Ringling Estate which features Mable's Rose Garden, the John and Mable Ringling Museum of Art, the Circus Museum, the Ca d'Zan Mansion, the Tibbals Learning Center, and the Historic Asolo Theater located in the Visitor's Pavilion. The Museum of Art, built by John Ringling to house his personal collection of masterpieces, today features pieces from some of the great Old Masters plus internationally renowned European, American, and Asian art with masterpieces from the Renaissance and Baroque periods. The Circus Museum exhibits the rich history of the circus with a collection of items from posters and art prints to costumes, props, and other performance equipment. As far as the Ca d'Zan Mansion goes, the architecture takes on the air of a Venetian palace, while the interior has 56 incredible rooms filled with art and original furnishings. Other attractions include the Marie Selby Botanical Gardens, Mote Marine Laboratory and Aquarium, Sarasota National Cemetery, Myakka River State Park, and the Big Cat Habitat and Gulf Coast Sanctuary.
Neighborhoods
The best known hub of downtown Sarasota is the Historic Palm Avenue. Lined with palm trees, galleries, restaurants, antique and specialty shops, this street is known as the best walk in town. "Palm Avenue's First Friday Art Walks" are held the first Friday of every month from 6PM-9PM. Here visitors and locals alike enjoy gallery openings, live performances, and hors d'oeuvres served by the Palm Avenue Merchants. St. Armands Circle, located just across the John Ringling Causeway over Sarasota Bay, is a quieter hub removed from the bustling downtown. The charming circular landscape is lined with a selection of shops, galleries, and restaurants, and is a pleasant atmosphere for an afternoon walk by the air of the ocean.
Activities
The beaches are a major draw to the Sarasota area. Siesta Key Beach is consistently ranked among the most beautiful beaches on Earth, with some of the cleanest whitest sand in the world. Amenities on this beach include an athletic area equipped with volleyball courts, a cookout area complete with grills (bring your own charcoal), and life guards on duty all day. Crescent Beach, Turtle Beach, Lido Beach, and the beach running the 15 mile span of Longboat Key are just as beautiful and accessible to visitors.
For those seeking an experience closer to outdoor adventure, there is a vast wilderness area of more than 100,000 acres within driving distance from Sarasota. The beautiful wilderness of the Myakka River State Park can be explored via horseback, mountain bike, canoe or kayak, and on foot.
Food and Dining
Like any popular vacation destination, Sarasota has plenty of dining options to satisfy all tastes and budgets. There are a number of places serving anything from small bites to indulgent meals, especially in the downtown area. With its location along the gulf coast, Sarasota also has a number of great seafood restaurants to match. From rustic oyster bars and open-air cafes to candlelit restaurants, any eatery in in the city will offer a wide variety of fresh fish and seafood. Though the seafood is sure to please, you can also find familiar chain restaurants and other eateries serving just about anything you could crave - steak, sushi, wood-oven-fired pizzas, authentic Asian cuisine, or a hearty hamburger. Some of the top restaurants as rated on TripAdvisor include Antoine's Restaurant, Sofrito Mama's, Solorzanos Late Night Pizzeria, Dolce Italia, Mozzarella Fella, Duval's, KaCey's Seafood and More, Selva Grill, Clayton's Siesta Grille, Michael's On East, Shore Diner, and Toasted Mango, amongst others. Most dining options can be found in the downtown area or in the vicinity of St. Armand's Circle.
Transportation
The nearest major airport is Sarasota/Bradenton International Airport, located three miles north of Sarasota and six miles south of Bradenton on the border between Sarasota and Manatee counties.
By car, Sarasota has one primary expressway, Interstate 75, which runs north to south. Other major roads include the Tamiami Trail (or US 41, between Tampa and Miami), US Route 301, Beneva Road, Tuttle Ave/Swift Road, Honore Avenue and Cattleman Road - all which run north-to-south. Those running east-to-west include Clark Road, Proctor Road, Bee Ridge Road, Fruitville Road, and University Parkway.
Related:
Looking for a
party hostel in Hawaii
or
Miami
? Traveling alone to
LA
or
New Orleans
? Want a budget hostel in
NYC
?