The 5 Best Airbnb Vacation Rentals for Couples on North Captiva Island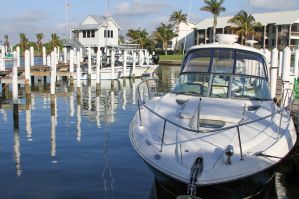 North Captiva Island, sometimes called Upper Captiva, is not to be confused with Captiva. North Captiva Island is a secluded island in southwest Florida, just south of Cayo Costa Island. It offers one of the few unspoiled tropical paradises in the area. The island can only be reached by boat or small plane. It truly is a magical place where you can escape the world and enjoy a tranquil oasis away from everything.
Large parts of the island are undeveloped. The roads are really just sandy paths and most people get around by golf cart.
The island has many beautiful vacation rentals that make for a romantic couples retreat. Below are some great options.
Where are the best places to stay for couples on North Captiva Island?
Contents: The Pearl Beach House | Seaclusion Too - Tropical Private Vacation Island | Beach Daze | Seacluded - North Captiva Island Vacation Home | Old Friday South - A Casual Island Townhouse
This beautiful waterfront property has luxury furnishings, and a beautiful outdoor space with views of the Gulf of Mexico. There's a Main House and a Guest Cottage which share a large deck area and a beautifully landscaped yard. Both houses are available for rent. The houses have large windows that let in plenty of natural light.
The Pearl Beach House sits on half an acre of land and is surrounded by undeveloped lots and nature preserves, so the privacy is unmatched. The setting is serene and peaceful, so this location is perfect for honeymoons and special occasions.
This vacation home offers a romantic and rustic experience on a truly one of a kind island. The cottage is private and tranquil with 2 bedrooms and a beautiful location. There's a large patio area and a tropical setting outside. Inside there are vaulted ceilings and an open kitchen. The large windows let in plenty of natural light.
It's just a short walk to the beach and there are grills, kayaks, and a golf cart available.
This 2 bedroom beachfront condo is located right on the beach. There's a large living area, 2 master suites, and a jacuzzi. The screened in porch looks out on the water and there's a balcony off one of the bedrooms. This private villa makes a romantic and beautiful setting for a couples getaway.
Guests can also enjoy access to the community pools, hot tub, bikes, kayaks, and tennis courts.
This charming 2 bedroom home offers another peaceful retreat for couples headed to North Captiva Island. Guests are given access to the North Captiva Island Club, which has a couple of pools, a hot tub, tennis courts, bicycles, and kayaks, among other things.
This 3 bedroom house offers another tranquil retreat for couples. It's a rustic but comfortable house that is close to the dock and the ferry. There's a kitchen and comfortable furnishings that make this the perfect getaway for couples who want to get away from everything.
Some photos are courtesy of airbnb.com.
Share This Article