The Best Airbnb Vacation Rentals for Groups at Boca Grande & Gasparilla Island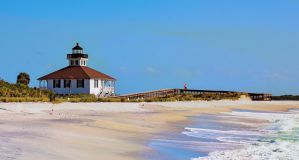 Boca Grande is a small residential community on Gasparilla Island in southwest Florida. It's an upscale area with a mix of seasonal residents as well as a small year-round population. The community has many classic homes and lots of old Florida charm. There are also luxury resorts, miles of pristine beaches, and natural areas such as the nearby Cayo Costa, which can only be accessed by boat.
Boca Grande is a nice option for groups that want a serene setting and a luxurious atmosphere. There are many grand vacation homes that have nice pools and tropical landscaping. Prices can be a bit higher than other parts of Florida, but the money is often well spent and the experience is truly unique. Below are some nice options for groups headed to Boca Grande.
Where are the best places to stay for groups of friends in Boca Grande?
Contents: Boca Grande All-Inclusive Island Escape | The Beachfront Sanctuary on Shore Lake | Custom Designed Beach House | Boca Grande Beach House | Unique "Old Florida" Vacation House | Gasparilla Getaway
This truly unique private estate makes for a one of a kind vacation. There are 5 bedrooms and room for groups of up to 14 people. The house has over 4,500 sq ft of luxuriously furnished rooms. There's a 50' pool, an elevator, and state-of-the-art furnishings throughout. The grounds are fenced and private. There are also 2 golf carts and 10 bicycles available for guests. Paddle boards, snorkeling gear, and beach equipment is also available.
The backyard offers a true oasis for guests. There's over 3,500 sq ft of outdoor terraces and lanais around the home. There's an outdoor kitchen, a pergola, fountain, and pool, all available to the guests. From the tropical landscaping to the serene setting, the location truly is one of a kind.
The house offers private access to a private beach that is accessible to the limited number of homes in the area.
This 3 bedroom "sanctuary" offers a true beach escape. It's modern decor, bright and airy atmosphere, and rooms filled with natural light make it a true modern paradise. The house is a nice option for groups of up to 8 people.
The house offers privacy, luxury, and a pristine sandy beach. Inside there's an open floor plan and designer furnishings. The large open windows look out on the blue waters of the Gulf of Mexico. There's a state-of-the-art kitchen and bedrooms that are professionally designed.
Outside there's a grand deck, a private pool, and lounge chairs that are perfect for relaxing. The ocean is just steps away.
Another truly stunning home, this 5 bedroom beach house is perfect for groups of up to 10 people. It has 3,500 sq ft and is just 300 yards from the beach. There's a beautiful private pool and state-of-the-art furnishings throughout. The gourmet kitchen is perfect for preparing 5 star meals and the bedrooms are comfortable and stylish.
The house comes equipped with beach equipment. Golf carts are available at request as well. The house is about a 15 minute walk from town but the beach is just steps away.
This beautifully decorated beach house is located on Pilot Street, which offers a quiet setting for guests. It's also close to the beach and walking distance to town.
There are 3 bedrooms and enough space for small groups of up to 6 people. There's a large great room and a nice kitchen, but the real selling point is the outdoor space. There's a private deck with a seating area, a grill, and landscaping that makes the area private and peaceful.
This beautiful 3 story house has an "Old Florida" style. It's decorated with a classic beach theme and there are decks on both the 2nd and 3rd floors. There's also 4 bedrooms and enough space for up to 8 guests. The kitchen and most of the bedrooms are on the 2nd floor, with one bedroom on the 3rd floor.
Outside there is an eating area, seating, and a pool (not heated). The house is located on a cul-de-sac with minimal traffic in a quiet neighborhood.
There's also private beach access to a very small beach. There are a number of larger beautiful beaches in the area as well that can be reached with a golf cart.
This 3 bedroom property offers a comfortable space for groups of up to 6 people. It has an open layout that's nice for groups. There's also private beach access. The house is light and airy with a beachy vibe. There's a screened porch and a balcony off the master bedroom. There's beach equipment and a 6 seater golf cart available to guests as well.
Some photos are courtesy of airbnb.com.
Share This Article