With it's beautiful sandy beach, blue water, luxurious lifestyle, and rich culture, Miami Beach is a popular year-round destination. The nightlife, cuisine, and Latin culture all mix together to bring a lively and fun atmosphere.
Beachfront properties are often in modern or art deco buildings. The apartments rarely have more than 1 or 2 bedrooms, but the pools, hot tubs, and nearby nightclubs make this a fun destination for groups, couples, or anybody who wants to enjoy warm weather and beautiful coastlines.
Miami Beach is divided into
South Beach
,
Mid-Beach
, and
North Beach
. Below are properties in each area.
South Beach Miami Vacation Rentals
Located at the southern tip of Miami Beach, South Beach is one of the most famous areas. It really does have a personality that's all its own. From neon signs to Cuban culture, you'll find plenty of trendy places filled with young party-goers in South Beach. There's an energy and vibe here that you can't find anywhere else. There are Art Deco hotels, beach resorts, and plenty of condos to choose from. If you're looking for the comfort and convenience of an AirBnb, below are just a few options in South Beach.
Boss Penthouse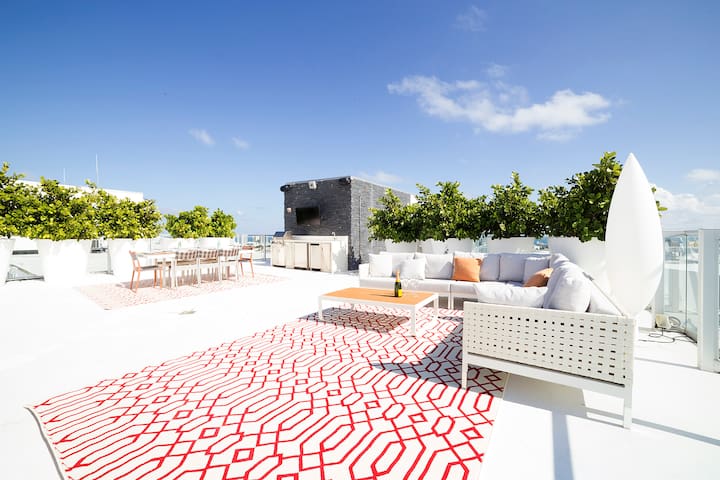 South Beach Penthouse
The building is located conveniently just 5 minutes from the beach and 5 minutes from Lincoln Road where you'll find great restaurants and shops.
Jurny's Coastal Breeze
2 Bedroom Apartment
This vacation rental also has a simple kitchen where you can prepare your own meals (as long as you don't need an oven, which it doesn't have!).
This building is a little older, but it's generally well maintained. Also take note that there isn't an elevator.
Well Located South Beach Room
Guests really appreciate the convenient location. It's easy to get anywhere in the area without a car, and the balcony is a nice place to relax.
Boutique Hotel Room
Guests have their own private suites and there's a shared lobby area with couches and tables. The room has a king-sized bed and there is free parking nearby.
Modern South Beach Apartment
Mid-Beach
Tucked in between North and South Beach is the Mid-Beach area. It's filled with a number of historic hotels, including the famous Fontainebleau Hotel (a few rooms are mentioned below).
The Collins Waterfront Architectural District is filled with several impressive examples of Art Deco architecture. The area also has plenty of high end dining and trendy bars. For travelers on a budget, this area also has a number of affordable hotels that offer a good value. Below are a diversity of AirBnB's that may meet any traveler's needs.
FontaineBleau Resort
1 Bedroom Beach Apartment
Collins Avenue Apartment
Fontainebleau Bayview Apartment
This hotel's amenities include a number of restaurants, a fitness center, pool, and spa. There's also a famous nightclub which regularly hosts events.
2 Bedroom Apartment
The unit has 2 bedrooms and 2 full bathrooms. There are queen-sized beds in the bedrooms and there's also a pull-out sofa bed. The apartment also has a full kitchen and a washer and dryer.
North Beach
North Beach may not have the glamorous reputation of South Beach, but it still pulls in plenty of tourists. There's plenty of Modernist architecture in the area. This is also a popular spot for budget travelers, as prices are a bit more affordable in North Beach. There are a range of hotels to choose from, as well as a number of nice AirBnBs.
In general, you can expect a laid back and relaxed vibe in North Beach. There are a number of great local cafes and shops, as well as stunningly beautiful beaches.
Collins Avenue 1 Bedroom Apartment
Boutique Hotel Studio
The room is cozy but clean and comfortable with a queen sized bed. This hotel is a great value for travelers who want a convenient location without spending too much money.
Beachfront Penthouse
Beachfront 1 Bedroom with View
Ocean View Studio
The building has a number of great amenities including a pool, fitness center, and valet parking.
Luxury Waterfront Apartment
The building also has a large pool, a fitness center, and a sauna. It's only a block from the beach and near many restaurants and anything else you could need.
2 Bedroom Apartment
Modern Ocean View Suite
Happy Travels!