The Best Airbnb Vacation Rentals for Groups in Jensen Beach & Hutchinson Island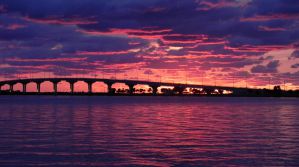 Jensen beach, on Hutchinson Island, is a quiet and tranquil town in the heart of Florida's Treasure Coast. This beautiful stretch of the Atlantic coast between Cape Canaveral and the Miami metro area is home to gorgeous beaches with clear water along with plenty of activities. While the area is quiet and relaxing, it can be a great destination for a group of friends visiting the beach because it offers plenty of activities at reasonable prices. A group of friends on a girls' weekend getaway, a college reunion, or a guy's fishing trip at the beach are all great possibilities here.
Visitors can find plenty to do such as snorkeling, scuba diving, fishing, golf, tennis, water sports, and more. You can also view wildlife by witnessing turtles nesting (visit the Environmental Studies Center), spotting dolphins and whales, and uncovering the manatees in shallow waters. Kayaking, stand-up paddling, and other outdoor activities are some of the best things to do here, too. Also, if you visit during the annual pineapple festival, you're sure to find plenty of live music and entertainment. A variety of bars, restaurants, and shops can also be found in town on the mainland as well as along the beachfront.
If you're a group of friends planning a fun trip to Jensen Beach, we have researched the best Airbnb vacation rentals near the beach for your next trip. All of these places have full kitchens, extra bedrooms for your whole group, and amazing beach locations right near the water. Many also have swimming pools and other fun amenities such as boat docks.
What are the best places to stay for groups in Jensen Beach, Florida?
Contents: Beach House with Pool | Jensen Beach Island Paradise 4BR | Jensen Beach Vacation Home | Nettles Island 3BR House | Beach Getaway House (Affordable)
This
2-bedroom
house has room for up to 6 people which makes it great for a group of friends. One of the best features is the swimming pool and spa in the back with lounge seating and surrounded by nice tropical plants. It's a short walk to the beach, as well as a short walk to the docks on the canal side of the island for fishing, boating, and more watersports.
Inside you'll find a terrific home with a fully-equipped kitchen, nice furnishings, modern bathrooms, and more. The living room space has a comfortable seating area with a big TV, as well as a bar with more seating. The master bedroom is elegant with a king bed and modern bathroom. The kitchen is open to the dining area and living room so you can keep up with the conversations, too. This house is perfect for a group of friends because of the amenities, location, and layout of the house. It's spacious but cozy and relaxing, and also fairly affordable!
Here's a beautiful
4-bedroom
house that has plenty of space for up to 10 people and is just a short walk to the beach. It's a relatively new and modern house with nice features. The full kitchen is modern with updated appliances so you can cook all of your meals for the whole group in style. The open layout of the kitchen and living room lets you keep up with the conversation to make plans while everyone watches TV on the comfortable sofas. The master bedroom has a nice bathroom, too. Another bedroom has a large bed as well, and another has twin beds which can become a king if needed. The bonus room can also be used as a bedroom, and is also a convenient work area. With 3 balconies, you'll be able to see the ocean and surrounding gardens. Close to shops and restaurants as well as the water on both sides, this modern house sits in a great spot, too. And there's a community swimming pool! Perfect for a group such as a girls' weekend getaway, bachelor weekend, or a group of couples, this is a fantastic house with lots of amenities, so check out the photos.
Here's a great
2-bedroom
house with room for up to 6 people, making it a great option for a group of friends on a trip to the beach, such as for a girls' weekend getaway or a bachelor trip. It features a fully-equipped kitchen with everything you need to cook for the whole group. Out back you'll find a little bar along with a BBQ grill and some outdoor seating. The spacious and relaxing living room has a large TV and flows into the open kitchen with bar seating at the counter, along with a dining table. The master has a king bed and a luxurious remodeled bathroom. The 2nd bedroom has 2 queen beds, too, and it's own bathroom. Laundry, Wi-Fi, parking, and other amenities are included. Located just a short walk to the beach, it's very convenient. It's also close to the other side of the narrow island so you can get to the boat docks if you want to fish, kayak, or stand-up-paddle.
Nettles Island is a small island that sticks off the western side of Hutchinson Island, and is a short walk to the beach. This
3-bedroom
, 2.5-bathroom house has room for up to 6 people making it ideal for a group of friends. The private dock is a nice spot to relax or fish, and enjoy the great sunset views over the water. With a nice, fully-equipped kitchen, spacious living room, modern dining set, and relaxing bedrooms, this is an ideal getaway for a family. The master has a large bed, the 2nd bedroom has 2 twins. The living room has a large TV and the bedrooms also have TV's. The community has two swimming pools, tennis, a game room with ping-pong and billiards, boat rentals, a short walk to the beach, and other things to do.
This small but affordable
2-bedroom
house sits near the beach and near the canals on the back side of the island. It's also close to shops and restaurants in the nearby community. 2 swimming pools are part of the package, as this house is part of a fun neighborhood that also includes tennis courts, boat rentals, mini-golf, and more. A seafood restaurant and bar is also a short walk away.
Inside you'll find a compact but comfortable space with everything you need. The fully equipped kitchen is not large but has everything you need to cook all of your own meals. The bathroom is modern, and laundry machines are included, too.
Some photos are courtesy of airbnb.com.
Share This Article