Ocean City, Maryland is a popular beach destination for families coming from Washington D.C. and other nearby metropolitan areas. The beach has a fun and lively vibe with plenty of activities for kids. There's a Boardwalk that draws a crowd on summer days when you can enjoy a classic beach snack while wandering the promenade.
Accommodation in Ocean City is predominantly high rise condos and hotels, but some areas do have smaller houses. Location can dramatically affect price, with properties right on the beach costing the most.
Boardwalk/Downtown
Inlet to 30th Street
Downtown Ocean City is where you'll find the city's iconic Boardwalk, which offers the quintessential beach vibe that people love. It's lined with restaurants, shops, food stands, games, and rides, so it's the perfect place to grab a hot dog and snow cone or ride a classic beach roller coaster.
This is the place to stay if you want to be at the center of the action. The area attracts the largest crowds, particularly during festivals, so parking can be a bit challenging. Fortunately here's the Ocean City Beach Bus that offers all day rides with a full day pass for only $3. There's also a more expensive Boardwalk tram that you can take.
The area is filled with high rise condos that offer beachfront views, modern amenities, and often pools or other fun activities. Below are just a couple of the best AirBnbs in the area.
Getaway Cottage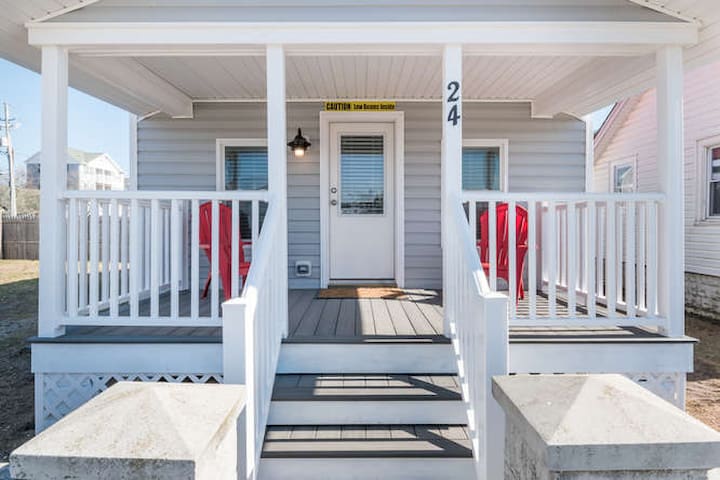 This charming cottage is a bit cozy but perfectly located. It's a nice option for small families who want to be near the boardwalk and everything that this area has to offer.
Coconut Beach
This 2 bedroom condo is just a few minutes on foot from the beach. It has a great fully-equipped kitchen, comfortable living room, and can sleep up to 6 people with the sofa pullout. There's also a pool in the summer months!
Walkable 2BR Condo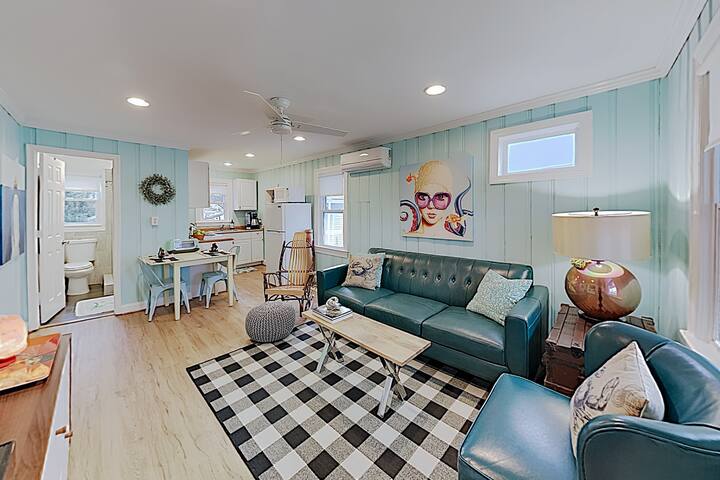 This open floorplan condo has 2 bedrooms with a set of bunk beds in the second bedroom. The kitchen is fully equipped, and the living room is comfortable and spacious. The location is great, as it's only a few short blocks from the beach, too.
Mid-Town
31st to 93rd Street
Mid-Town is still conveniently close to the Boardwalk and all of the action of Downtown, but it's a bit quieter than the hustle and bustle that you find in the Downtown area. It offers a nice compromise for families that want to enjoy the fun filled days of a festive beach setting, but still want to be able to return to a quieter and more peaceful nights sleep.
Most parts of Mid-Town can be reached on foot in a short walk. Popular activities include putt-putt, visiting water parks, or catching a show at the Ocean City Performing Arts Center. There is also no shortage of great local restaurants in the area, so don't miss your chance to try seafood.
There are a diverse range of properties for rent in this area. In the southern part of Mid-Town you'll find mostly small homes but as you head north you'll see more condos and high rise hotels. Below are just a couple of our favorites.
Updated 2BR Condo
This condo is beautifully updated with modern furnishings. It's just steps from the beach and is walking distance to everything you could need. The kitchen is brand new and very luxurious. Also, the 2nd bedroom has a large bed plus a set of bunk beds for the kids, so there's plenty of room for everyone. Check out the photos!
Direct Beachfront 2BR
This condo is all about the view. It's the perfect place to watch the sunrise as you sip your morning coffee. The unit is modern, clean, and comfortable and the location is excellent as it's right on the beach! The bunk beds in the second bedroom are perfect for the kids, too.
North Ocean City
94th to 145th Street
If you're looking for a little more privacy, space, and a quieter setting, then North Ocean City is probably more your style. Most properties offer a bit more space, but there are still a number of condos and high rises in the area. This is one of the more popular areas for families, because it's quieter and easier to find a property that's large enough for the entire family. Even though it's quieter and more family oriented, that doesn't mean the area's short on activities. There are plenty of parks, restaurants, entertainment options, and even a movie theater in the area.
This area is a few miles from the Boardwalk, but it's close to
DiscoverSea Shipwreck Museum
and Fenwick Island.
Below are a couple of our top picks for vacation rentals in North Ocean City.
Ocean Views 2BR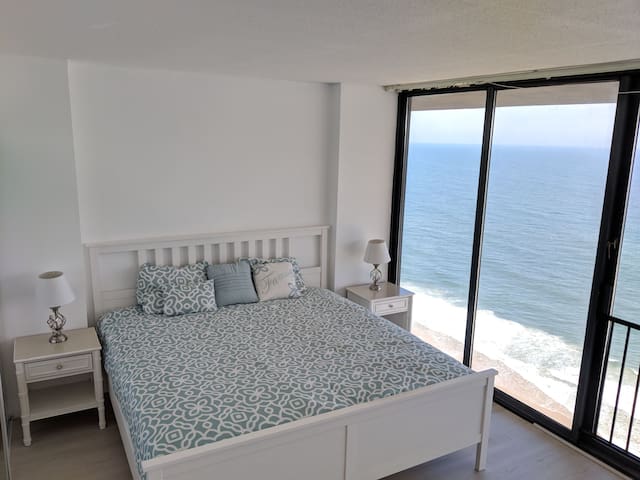 This place is all about the large windows and you'll wake up at this condo feeling like you're right on the beach. It's not uncommon to see dolphins in the morning or if you're an early riser you can catch a stunning sunrise. Located in an upper floor of a high-rise building, you'll also have access to the building's indoor pool, exercise room, and more. The kids room has bunk beds, and there's plenty of room to spread out if you're a larger family.
Ocean View 1BR w/ Pool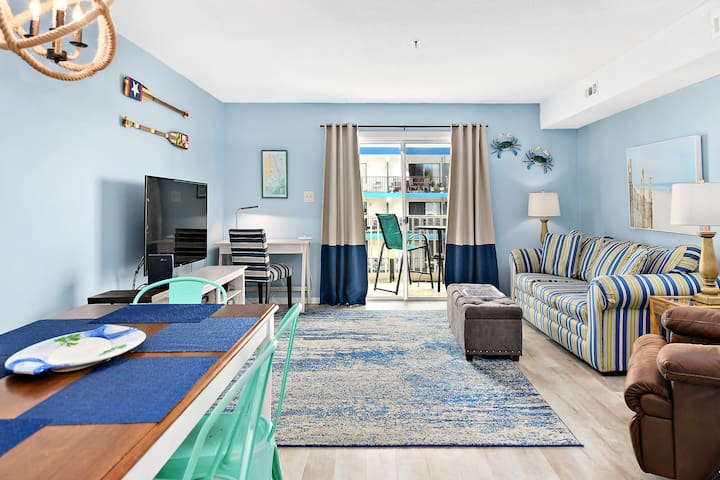 This condo is a great option for a family that doesn't mind having a smaller space at a more affordable price. It offers a good value, and there's a park nearby that the whole family can enjoy. They also have a PlayStation that the kids will love. You can use the building's indoor pool, too.
West Ocean City
West Ocean City is a more recently developed area that's right across the bay from the Boardwalk. It offers a number of more leisurely activities including golfing, yachting, and boating. Families often enjoy renting kayaks or jet skis to explore the bay. Crabbing is another fun activity for the whole family. Bigger groups will appreciate the larger space that properties in this area usually have.
Spacious 4 Bedroom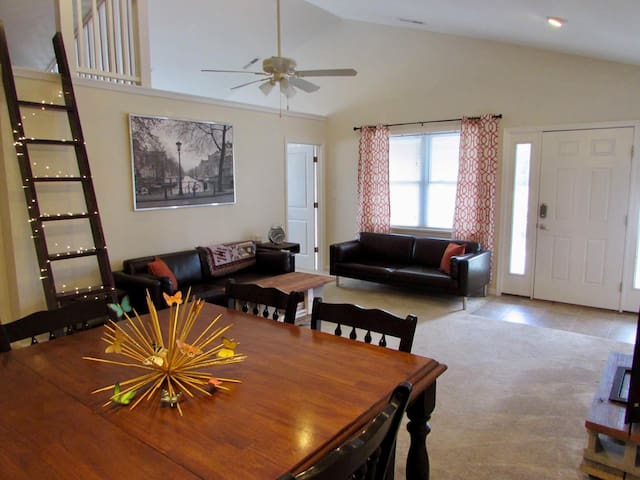 4 Bedroom, 4.5 Bathroom, Sleeps 12
For a large group, this place is affordable and nicely located. It's a bit removed from the party scene, so you can enjoy a quiet night and drive to the beach in a few short minutes. With 4 bedrooms, it has plenty of space! The kitchen is modern and fully-equipped. The bathrooms are clean, comfortable, and modern, too. Several of the bedrooms have TVs. One of the bedrooms is great for the kids, because it has two sets of bunk beds (4 beds).
Anchor House
This cute house is perfect for large multi-generational families. There's a downstairs apartment that's a great option for anyone who might struggle with mobility. The property offers an impressive view of the marsh, and the space is clean and very comfortable. It has 4 bedrooms, 3.5 baths, a huge kitchen plus another full kitchen in the other apartment. It's essentially 2 units together in one house that makes for a great option for anyone looking for extra space. A nice covered dock can be found in the back over the marsh.
Getaway Cottage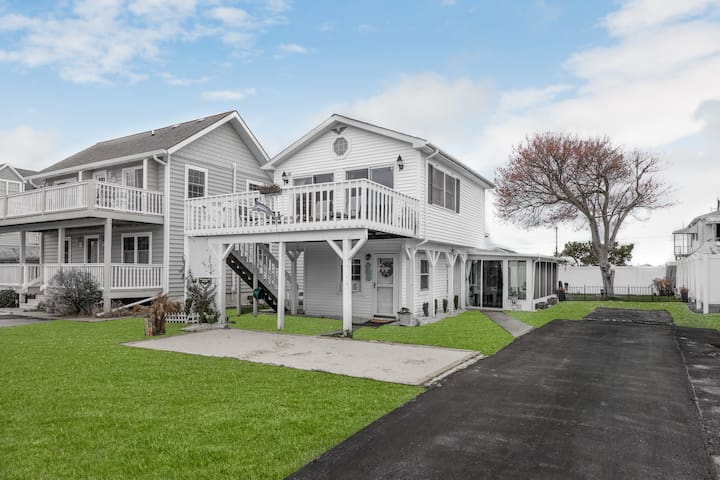 This charming cottage is perfect for a family traveling with dogs. It's in a great spot and filled with character. It has and upgraded and renovated kitchen and bathrooms. It also has some great outdoor space, including the upper level deck.
Ocean Pines
Ocean Pines is located on Maryland's Eastern Shore. It's a peaceful residential community that's surrounded by forest in a more natural setting.
Waterfront Beach Home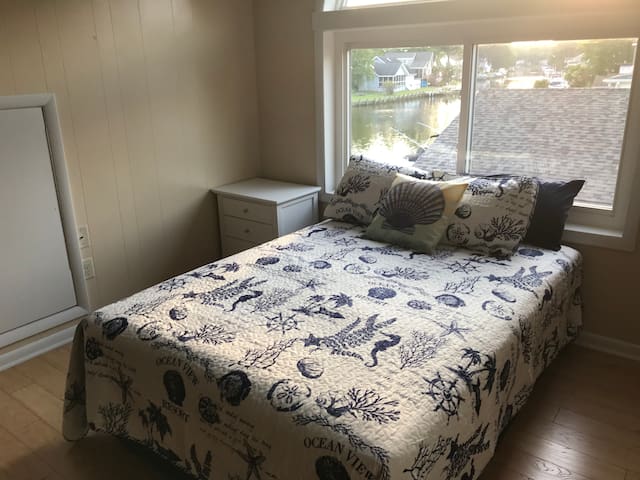 This property is a hidden gem in a quiet area. It makes a great retreat for a family that wants to enjoy some time together. It has a
dock on the canal
for a boat (bring your own), a full kitchen, and plenty of space.
Happy Travels!
Make sure you also see
Places to Stay for Couples in Ocean City, MD
if you're interested in more places to stay in Ocean City.