Ocean City, Maryland is a popular beach destination because of its close proximity to Washington DC and other major metropolitan areas. This is a great beach for couples who want a laid back beach setting, fun bars and restaurants, and a vibrant beach vibe. There's a Boardwalk that stays active and fun during the summer months, and a variety of shops, cafes, and food stands that are fun to explore.
Accommodation in Ocean City is predominantly high rise condos and hotels, but but they tend to be fairly expensive, and as you probably have already guessed, it's much more affordable to stay in a private house or condo that you find on AirBnB. As you'd expect, the closer you are to the beach, the more you can expect to pay for a rental.
Boardwalk & Downtown
Inlet to 30th Street
Downtown Ocean City offers visitors a quintessential beach experience with its classic Boardwalk and lively vibe. The area has tons of restaurants, bars, food stands, amusement parks, and entertainment options. For couples who want to be near all of the action, this is the place to stay. It is where you'll find the city's iconic Boardwalk, which offers the quintessential beach vibe that people love. It's the perfect place to grab a hot dog and snow cone while you wander down the promenade.
This area is also the most crowded part of Ocean City, particularly during festivals. Parking can be kind of difficult but fortunately there's the Ocean City Beach Bus that offers a full day pass for only $3. There's also a more expensive Boardwalk tram that you can take.
This area has a large concentration of high rise condos that offer beachfront views and modern amenities. Many buildings also have pools or other fun activities. Below are just a couple of the best AirBnbs in the area.
Renovated Condo
This property is in a surprisingly quiet area, but still just a short walk from the boardwalk. The complex has a pool and the condo itself has a great kitchen and new furnishings.
1BR with Boat Dock
Another great option for a couple's getaway, this cozy condo is in on a quiet street, but still close to everything. It has access to a boat dock, too.
Mid-Town
31st to 93rd Street
If you're looking for a slightly quieter setting, but still want to be close to the Boardwalk and all of the activity, then Mid-Town is the place to stay. It's not far from everything and there are still tons of restaurants, bars, and activities in the area. It's just a little more laid back and relaxed, so it makes a nice place to return to after a night on the town.
Most parts of Mid-Town can be walked to, which is convenient for those who don't want to drive (or lose their parking space). A great date night activity is enjoying a meal at a local seafood restaurant, then catching a show at the Ocean City Performing Arts Center.
There are a diverse range of property options in this area. In the southern part of Mid-Town you'll find mostly small homes but as you head north you'll see more condos and high rise hotels. Below are just a couple of our favorites.
Midtown Beach Apartment
1 Bedroom, Full Kitchen, Beach
This cozy condo is perfect for couples. It's just steps from the beach and near a number of great restaurants. Parking is convenient as well.
Ocean Block Condo
1 Bedroom, Beach, Full Kitchen
This clean and comfortable condo has all of the things you might need to enjoy your time away together. The fully-equipped kitchen is nice, as is the bathroom. The bedroom is quite comfortable, too.
North Ocean City
94th to 145th Street
For couples who want a bit more privacy and a quieter setting, North Ocean City, is the place to stay. It's a few miles from the Boardwalk and the properties are slightly larger than you'll find in the Downtown and Mid-Town areas. There's a relaxed vibe and the area is a bit removed from the party scene. There's still plenty to do nearby including nice restaurants, parks, and even a movie theater.
For couples who want to relax, hang out at the beach, and spend time together, this is the place to stay. It's also close to Fenwick Island and Discover Sea Shipwreck Museum.
Below are a few of the top picks for places to stay in North Ocean City.
Caramar Retreat
Beachfront, Studio, Full Kitchen
Just steps from the beach and with a spectacular view, this condo is the perfect space for couples who want a relaxing retreat.
Oceanfront Studio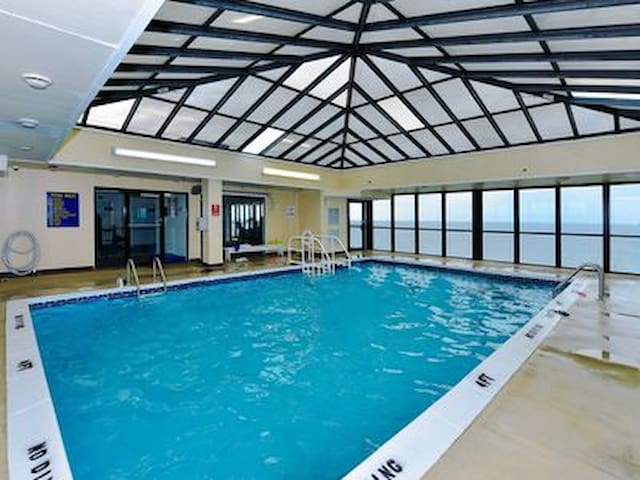 Another great option, this condo has a beautiful beach view and a cozy setting that's perfect for couples. It also has an outdoor pool with a tiki bar, indoor pool, gym and exercise room, games room with billiards, sauna, fully-equipped kitchen, and more.
Oceanfront Condo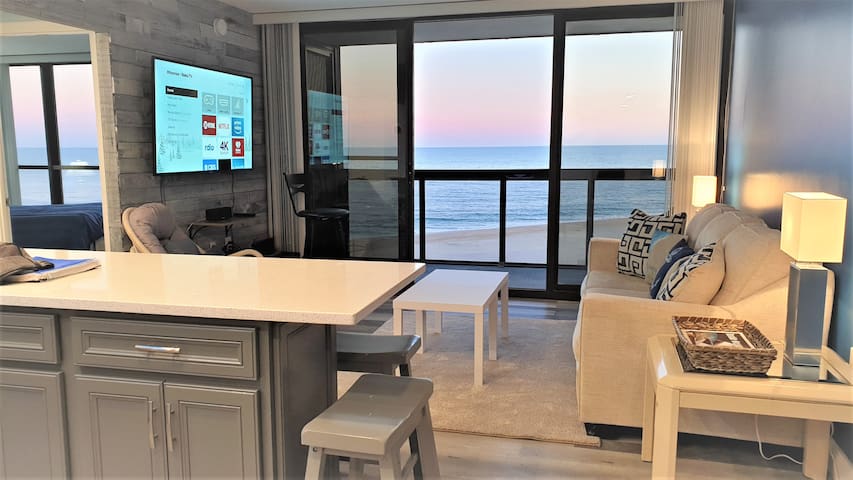 You'll wake up to stunning views of the sunrise at this gorgeous condo which is in the same building as the one mentioned above. The complex is great with its own tiki bar and nearby restaurants, and the amenities are impressive with an indoor and outdoor pool, gym, and more. This condo is a little larger than the one mentioned before, too.
West Ocean City
West Ocean City is a more recently developed area that's right across the bay from the Boardwalk. For couples who enjoy space and leisure activities like golfing or boating, then this is a great area. It makes a peaceful retreat with a number of unique activities like crabbing and fishing.
Ocean Pines
Located on Maryland's Eastern Shore, Ocean Pines makes a romantic and peaceful retreat. The area feels very natural and serene with wooded forest and a relaxed pace.
Waterfront Home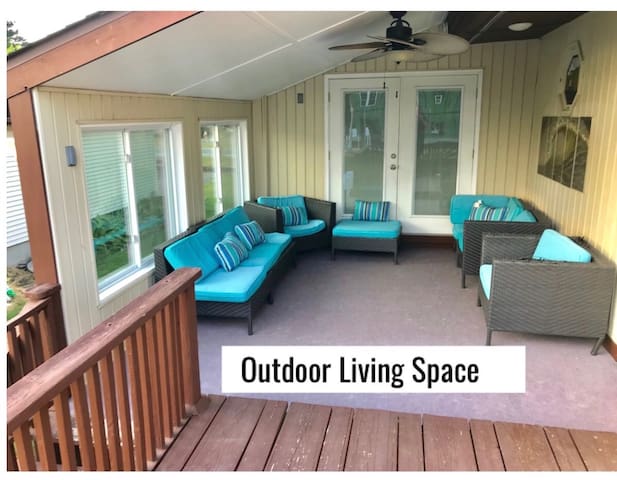 This property is a hidden gem in a quiet area. It makes a great retreat for a couple that wants to enjoy some time together. It's on a canal with a dock so you can explore the water, and the house has plenty of nice amenities, too.
Happy Travels!
If you're interested in more accommodation options in Ocean City, you should also see
Places to Stay in Ocean City, Maryland for Families
.